Easter Brunch Ideas – Spoon Fork Bacon
[ad_1]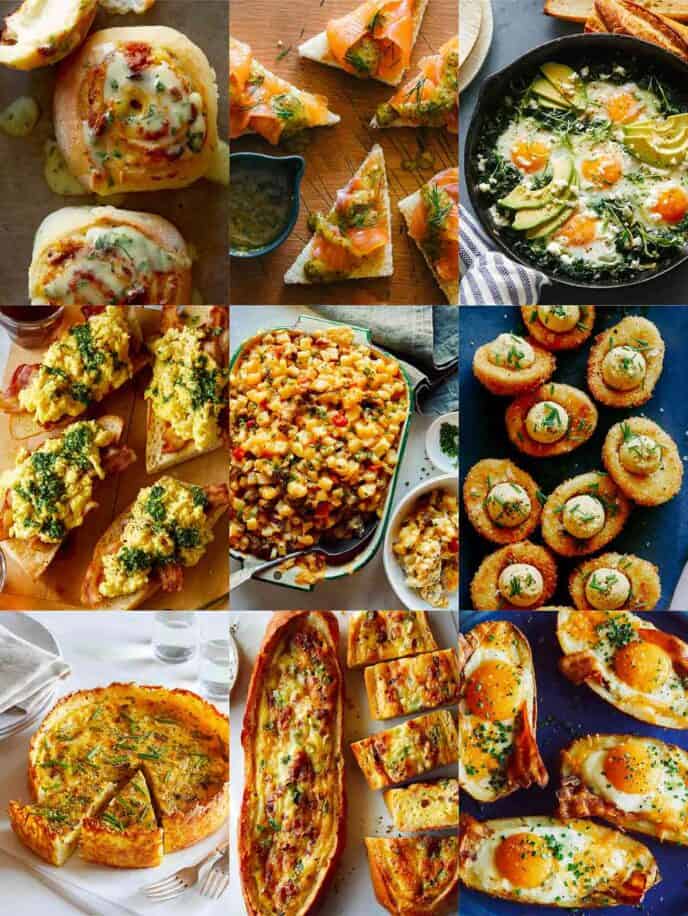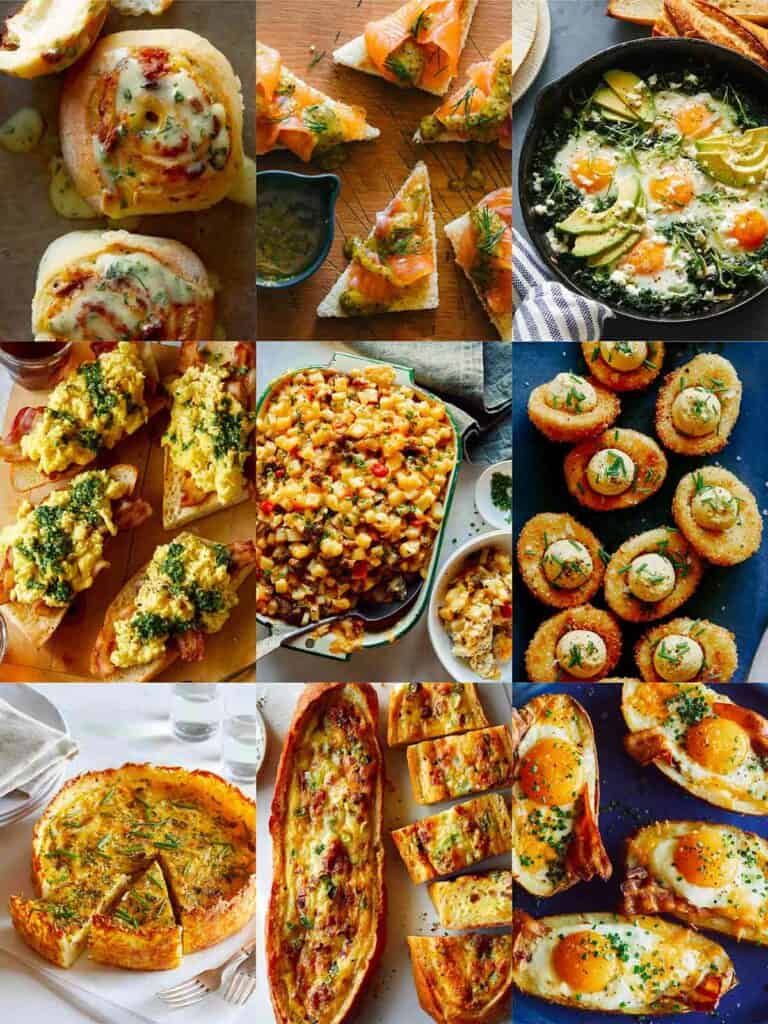 We love a good weekend brunch, and with Easter right around the corner, we thought a roundup of our very BEST Easter Brunch Ideas was in order! There's a little something for everyone on our list! Whether you like to start your day of with something sweet, savory, light, or rich we have it all!
Let's Start with the Sweet Stuff!
We think a great Easter Brunch Menu should consist of a variety of dishes and that includes a few sweet treats! We've put together a list of our favorite sweet Easter brunch ideas, perfect for springtime!
Carrot Cake with Cream Cheese Frosting is the most classic Easter dessert and we are 100% for it! Our delicious and moist cake is paired with not just any cream cheese frosting, but the richest, most decadent cream cheese frosting ever! We highly recommend finishing your Easter brunch with this delicious cake!
We love these soft, fluffy and delicious Brown Butter Cinnamon Rolls! The nutty brown butter takes these cinnamon rolls to an insane level. If you're a cinnamon roll lover we promise these will not disappoint!
If you're looking for a more simple sweet to add to your Easter brunch menu our Strawberry Tart is the dessert for you! It uses minimal ingredients and takes no time at all to whip up! We highly recommend serving it warm with a scoop of vanilla ice cream!
We can never get enough of this Banana Cream Pie. The buttery Nilla wafer crust, paired with the fresh sliced bananas, vanilla custard filling and mountain of whipped cream is just the BEST!!
Our Strawberry Shortcakes are definitely not to be missed! We made them single serving sized so everyone gets their own. The cornmeal drop biscuits make these extra tasty and special. We also love this Easter dessert because it can mostly be made ahead of time, then when you're ready to serve it up just make the whipped cream and assemble the lil' shortcakes!
Our German Apple Cake is the perfect low maintenance, but still very impressive Easter cake to make this year! We love dusting it with a little powdered sugar, but a dollop of whipped cream would be amazing too!
Our Blueberry Yogurt Cookies have been around forever and people love them! They have more of a muffin and scone texture that we love. They're light and fluffy and have a pleasant crunch from the Swedish pearl sugar topping!
We love tiramisu and our Strawberry Tiramisu is the perfect springtime version of the classic dessert! It's light, fluffy, creamy, and sweet…what is there not to love?!
Blueberry Cobbler is our JAM! We love the thick and juicy blueberry filling with the soft and warm biscuits. It's just so good! Best served warm with big scoops of vanilla ice cream!
Our Cinnamon Roll Loaf is exactly as it sounds, delicious cinnamon rolls in loaf form. We love this easy to take on the go and neatly packaged treat. It's so good and not as overbearing as full of cinnamon rolls can be sometimes. We can happily eat a slice and not feel like we need to take a 3 hour nap afterwards.
One of my favorite things to eat ever are these Chocolate Dipped Liege Waffles. Liege waffles in general are the most superior waffles out there (in my opinion). I love the heartier, chewy texture with the bits of caramelized sugar. Outrageously good!
Old Fashioned Donuts are one of my favorite donuts ever! I love the crisp exterior with the soft and moist interior. If you're intimidated by making donuts these are the perfect beginner donuts; theres no yeast involved, making the dough super simple and easy to work with!
There Can Never be Too Many Brunch Recipes with Eggs – Ever
It's rare to see us enjoying any sort of breakfast or brunch situation without eggs, so we wanted to dedicate an entire section of our Easter Brunch Ideas just some of our favorite brunch egg recipes!
Baked Egg Boats are one of our most popular recipes in our entire site and one of our personal favorites! These are quiches baked in a hollowed baguette instead of a pie crust and they're delicious! They're a crowd pleaser and great to take on the go – we love this brunch recipe very much!
We love these Twice Baked Breakfast Potatoes! Not only are they quirky and unique, but they're truly delicious and you get all the cheesy, eggy, bacon goodness all stuffed into a potato!
Croque Madame Toast is our open-faced take on the Croque Madame sandwich! It's still a rich, creamy and delicious delight, but just slightly simplified!
If you're looking for a very tasty, low-carb dish to serve, our Cloud Eggs are for you! We love this Easter brunch idea so much! You can also mix and match your mix-ins based on personal preference!
These Egg McMuffins are our fun take on the classic fast food version. We use our homemade english muffin recipe, hollow it our and just neatly stuff everything into the middle. It's a fork and knife brunch recipe for sure, but the runny yolk is definitely worth it!
Savory French Toast Roll Ups are definitely a special occasion recipe, but you can assemble everything into the baking dish the night before, tightly wrap it up in foil and stick it in the refrigerator. Then when you're ready to serve it, just throw the French toast casserole in the oven before you're ready to serve it!
Yes – Deviled Eggs Need Their Own Section
We LOVE Deviled Eggs so much and wanted to dedicate an entire section to the handful of Deviled Egg Recipes we currently have and cherish!
Our Classic Deviled Eggs recipe is very easy and results in creamy deviled eggs with a bright, briny pop of flavor (from the sweet relish!). We also give a bunch of fun topping options because we love a good topper and it makes the eggs look so fancy!
These Fried Deviled Eggs are IT, you guys. They're crispy, creamy and ridiculously good! It's one of the first brunch appetizers to disappear whenever we make them!
Undeviled Eggs are the perfect deviled eggs if you're feeling lazy! Just boil, peel and slice, then dab a bit of mayo on top and load them up with however ever many or few toppings you want!
I mean, of course we had to include a dessert version of deviled eggs! Our Deviled Hearts are so easy and such a fun dessert! It's the perfect time to take advantage of all the gorgeous, seasonal strawberries that are bursting everywhere right now!
Healthy Easter Brunch Ideas
If you want some options to serve on the lighter side, we have you covered with our list of healthy Easter brunch recipes! We have main dishes as well as a handful of lighter side dishes that would go great with almost any Easter brunch spread!
Our Green Shakshuka is a great way to make a delicious and satisfying Easter brunch dish, while also getting in a healthy dose of spinach! We love this dish on it's own, but have also served it with a side of buttered toast which we also love! Finish the dish with a squeeze of lemon juice for a burst of freshness!
This recipe for Roasted Chickpea Stuffed Sweet Potatoes is one of our favorite vegan recipes on our entire site! It's so hearty, you don't miss the meat and the cilantro cashew cream is good on EVERYTHING!!
We love eating this Breakfast Scramble Stuffed Avocado all summer long! No one is ever disappointed with this delicious dish! Our recipe so easy to make, and no one is ever left disappointed!
Our Everyday Simple Side Salad is our favorite side salad! It's very low maintenance, uses only a few ingredients, but never lacks on flavor…EVER!
One of my favorite soups ever, that I can happily eat all year long is our Hearty White Bean and Kale Soup! It's a full flavored broth based soup filled with hearty kale, creamy white beans and salty bits of ham. This soup has such a good combination of flavors and is a great side soup, but can definitely play the star of the meal as well!
If you want to really impress your guests we highly recommend making our DIY Gravlax! It takes a few days to make, but 95% of the time is inactive curing time in the refrigerator. You end up with the softest, best tasting gravlax!
Hearty Easter Brunch Ideas for a Crowd
Our Breakfast Casserole is one of our favorite Easter brunch ideas ever (but we definitely make this throughout the year too!)! Our casserole has all the delicious breakfast components you could want, it can be prepped ahead of time, and our recipe makes a lot!
We love this savory Sausage Strata! It's so rich and decadent. It's basically a French toast bake, but assembled in layers! Pair it with one of our side salad options above and you have a simple, but flavor-packed Easter brunch menu ready to go!
Our Cheesy Root Vegetable Gratin is one of our most popular side dishes and we get it! Not only is it beautiful, but it really is a tasty dish too!
Another carb-loaded side dish (that goes perfectly with ham!) that we go nuts over is our Cheesy Potato Casserole! Don't skip out on the potato chip topping either, totally worth it!
Savory Breakfast Rolls Drizzled with Béarnaise is our balance to sweet cinnamon rolls! The rolls are stuffed with breakfast goodness and finished with a drizzle of béarnaise sauce! You can also serve these as an appetizer and serve the sauce on the side for dipping!
Pancakes will never go out of style and our Coconut Banana Pancakes are some of our favorites! We love the coconut-banana combination in these light and fluffy pancakes!
Our Breakfast Tart is another low-maintenance Easter Sunday brunch idea that everyone always loves. It's especially perfect for a buffet style Easter brunch menu! Just build it on a sheet pan that morning (without the eggs!) and pop it in the refrigerator until ready to bake. Then add the eggs, bake and serve!
We can never get enough Shrimp and Grits ever. It's an easy Easter brunch recipe that we actually make all year long! Our recipe is a little spicy, creamy, buttery, and just oh so good!
Even More Delicious Brunch Recipes You Will Love
[ad_2]

Source link