Best Southern Pecan Pralines Recipe
Pecan Pralines are delicious candy with a nutty crunch enjoyed for generations. Homemade southern pecan pralines are great for the holidays and homemade gifts.
You can give these out as gifts during the holiday. Why not make something from the heart? You can make these pecan filled candies easily. Why not make this treat from the South?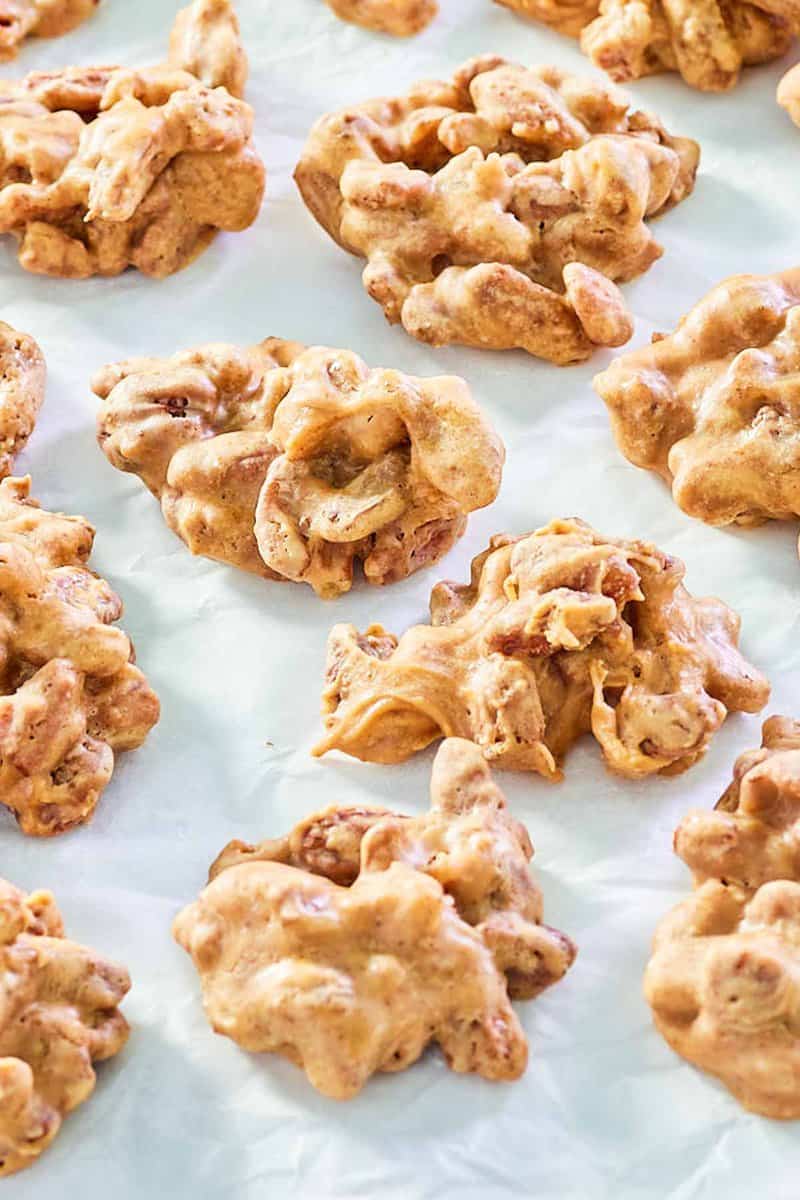 This post contains affiliate links. As an Amazon Associate, I earn from qualifying purchases.
Southern Pecan Pralines
Homemade pecan pralines add up to more than the sum of their parts. In fact, they're a crunchy, rich, candy-coated dream! Southern pecan pralines are classic New Orleans candies.
If you happen to be from the South, these crunchy pecans in their rich, buttery candy will take you straight back there, no matter where you are.
What Are Pralines?
Candied nuts are found in many cultures, but the praline is thought to have originated in France. French settlers in Louisiana brought the original recipe with them – almonds coated in caramelized sugar.
Because pecans were abundant in the South, these nuts were soon substituted for almonds, and the coating evolved into something more creamy. The original pecan pralines were made in New Orleans and genuine Louisianans pronounce these treats as prah-leens.
Because this delicious pecan candy spread throughout the south, some people believe the pecan praline is a Texas candy while others assume it came from Savannah, Georgia. However, its American origin is in New Orleans.
What Is the Difference Between Pecan Candy and Pecan Pralines?
While these Southern treats may sound very similar, they are quite different. Pecan candy consists of individual pecans with a crunchy candy coating.
New Orleans pecan pralines, on the other hand, are made by mixing pecans into a cream, sugar, and vanilla mixture that is scooped out to create a patty-like candy.
Old-fashioned pecan pralines are firm enough to hold in your hand but soft enough to deliciously melt in your mouth.
Why You Should Try This Pecan Pralines Recipe
These easy pecan pralines make perfect gifts to give out during the holidays. They are likely to become a regular part of your holiday baking.
These candies taste so good. No store-bought pecan pralines will ever be the same after you try this homemade pecan praline recipe. It's a must!
This easy recipe is based on time and not temperature so you do not need a candy thermometer to cook it to a hard or soft ball stage.
This is an old-fashioned recipe using regular white sugar and evaporated milk. There's no heavy cream, brown sugar, or corn syrup.
Recipe for Pecan Pralines – Ingredients You Will Need
You can easily make this scrumptious Southern pecan pralines recipe on the stovetop with just these five ingredients:
Pecan pieces
Evaporated milk
Unsalted Butter
Sugar
Vanilla extract
How to Make Pecan Pralines
This is an easy pecan praline candy recipe. Here's what you do:
Combine the butter, milk, sugar, and vanilla extract in a heavy pot or Dutch oven.
Boil until the mixture for 20 minutes, stirring constantly with a silicone or wooden spoon.
Remove the pan from the heat, add 8 cups pecan halves or pieces, and stir until the mixture thickens.
Drop onto a baking sheet lined with greased foil and let cool.
3 Tips for Making This Recipe for Pecan Pralines
Protect your arms from stray candy bubble burns by wearing long sleeves. If a hot drop does land on exposed skin, rinse it off immediately and rub the spot with an ice cube.
If the praline mixture starts to harden before you've finished scooping, add one teaspoon of hot water or milk at a time until you can scoop again.
If your pralines refuse to set up properly, or they end up crumbly and dry, don't toss them out! They will still taste delicious. Eat them with a spoon, ball them up and dip them in chocolate, or chop them up and use as a topping on cakes, brownies, or ice cream.
Bonus Tip: High humidity affects how well pralines will set up, so Southern tradition says to avoid making them when it's raining.
Old Fashioned Pecan Pralines Recipe Variations
You might like to lightly toast the pecans to give them a richer, nuttier flavor. Note that it's very easy to burn pecans, so keep an eye on them. You can also choose to leave out the vanilla. Here are some other ideas:
Brandied Pecan Pralines: Add a touch of brandy. Another great possibility is adding a touch of your favorite liqueur. Did you know that there's even a Praline Pecan Liqueur? Now you can drink your pecan pralines!
Sweet and Salty Pecan Pralines: Add a little salt to balance out the sweetness. To really turn up the sweet and salty flavor, add some flaked sea salt to the tops of the pralines.
Chocolate Pecan Pralines: Just add cocoa to the saucepan. Depending on how dark you want your pecans to be, begin with half a cup and go from there.
Orange Pecan Pralines: Orange zest make these pralines super yummy
Walnut Pralines: Other nuts, such as walnuts, can be substituted for pecans. However, it's the pecans that distinguish these sweets as New Orleans pecan pralines.
How to Serve Homemade Pecan Pralines
Old-fashioned pecan pralines look great on a holiday cookie tray. You can also include them in your gift cookie tins.
Chopped pralines are great on ice cream. Or use them as a topping on cakes or brownies.
How to Store Pecan Pralines
Storage: When the pralines are completely cool, store them between layers of waxed paper or parchment paper in an airtight container. 
Freezing: To freeze pralines, wrap them in aluminum foil and place them in a freezer container or zip-top bag for up to 2 months. Pralines are still somewhat delicate when frozen, so make sure they don't get smashed.
Thawing: Remove the pralines from the freezer and allow them to thaw on the counter for several hours before unwrapping.
Favorite Candy Recipes
Popular Recipes with Pecans
Check out more of my easy candy recipes and the best Christmas recipes on CopyKat!
Pecan Pralines
You can make amazing southern pecan pralines at home. 
Print
Pin
Rate
Add to Collection Go to Collections
Servings: 96
Calories: 160kcal
Ingredients
36

ounces

evaporated milk

3 cans

1/2

pound

butter

8

cups

sugar

8

cups

pecan pieces

1/3

cup

vanilla extract
Instructions
Combine butter, milk and sugar in a saucepan. Add vanilla extract. Cook on high heat to a rolling boil. Lower temperature to medium heat and continue to boil for 20 minutes, stirring constantly. Remove from heat and add pecans and stir until mixture thickens. Quickly drop onto greased foil. Let cool.
Nutrition
Calories: 160kcal | Carbohydrates: 19g | Protein: 1g | Fat: 9g | Saturated Fat: 2g | Cholesterol: 8mg | Sodium: 28mg | Potassium: 71mg | Fiber: 0g | Sugar: 18g | Vitamin A: 90IU | Vitamin C: 0.3mg | Calcium: 35mg | Iron: 0.3mg