Where To Eat in St. Croix
The main islands of the US Virgin Islands are St. Croix, St. John, and St. Thomas. I'm here to dish out where to eat and drink in St. Croix, the largest of the three USVI islands.
It was my first time visiting the US Virgin Islands in February 2020 where I spent a 4 day trip in Saint Croix, exploring this tranquil tropical destination located in the Caribbean Sea and, of course, checking out the St. Croix food scene!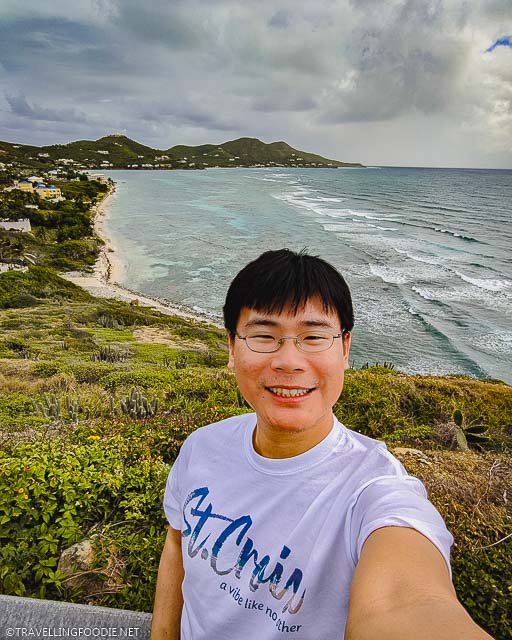 On the same latitude of Hawaii, St. Croix is about 40 miles south of St. Thomas and St. John, 1700 miles south of  New York, and 1100 miles south east of Miami.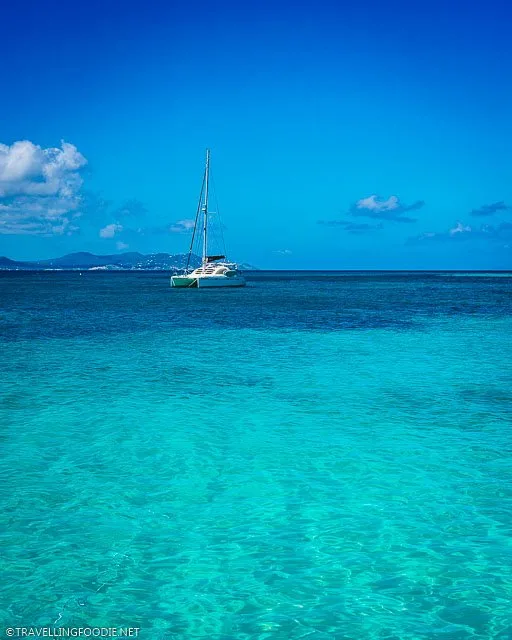 Did you know? Referred to as the "Big Island", Saint Croix is an 84 square mile island that's 22.7 miles long and 8 miles at its widest point.
Good vibes. Friendly people. Lush green nature with clear blue waters. Rich culture and history. And delicious local cuisine!
These are the things you can expect from a trip to St. Croix. This is why most locals say that, if you're a foodie, you'll definitely want a St. Croix vacation when checking out the US Virgin Islands.
The two main towns, Christiansted and Frederiksted, give a glimpse of St. Croix's history and culture with influences from Spain, Great Britain, the Netherlands, France, the Knights of Malta, Denmark and the United States.
Once the richest sugar producing island in the Caribbean, St. Croix has around 150 sugar mill ruins scattered across the islands that visitors can see.
Because the USVI is a U.S. territory, US Dollar is the the currency used on St. Croix and all other islands. The island is mostly cashless except for a few small businesses.
Travelling Foodie Tip: St. Croix has no sales tax so you can get really good deals on shopping when combining it with the $1,600 duty-free allowance.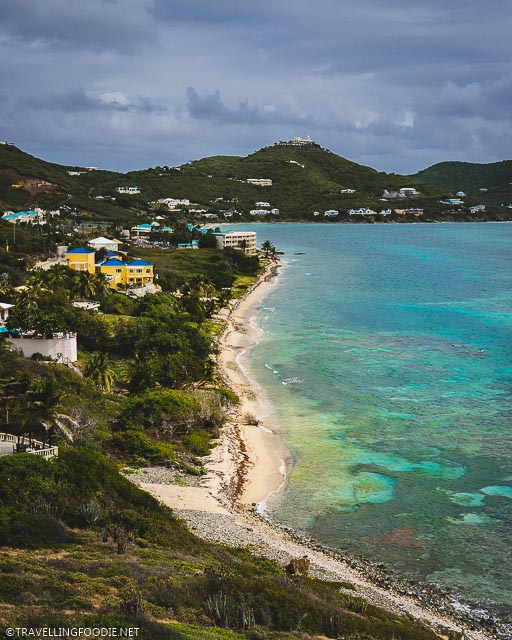 In this US Virgin Islands Food Guide, we're covering where to eat in St. Croix including some of the best restaurants, festivals and places to eat & drink in Saint Croix.
Also Read: Sandals Montego Bay: Why It's Perfect For Foodies
---
Watch the full video on St. Croix Food Guide on YouTube here.
---
St. Croix Food Festivals
Here are some of the best food festivals in St. Croix that I attended, some of which are among the best festivals in the US Virgin Islands.
US Virgin Islands Agriculture & Food Fair
Every year in February, St. Croix hosts one of the best festivals in the United States Virgin Islands, the Annual Agriculture and Food Fair (Agrifest).
This largest USVI agricultural festival has over 36,000 attendees throughout the weekend with people from all over the world including Antigua, Trinidad, Africa,
The Agrifest takes over 40 acres of grounds filled with activities, cultural demonstrations and live entertainment, livestock and agricultural products, and, of course, local cuisine.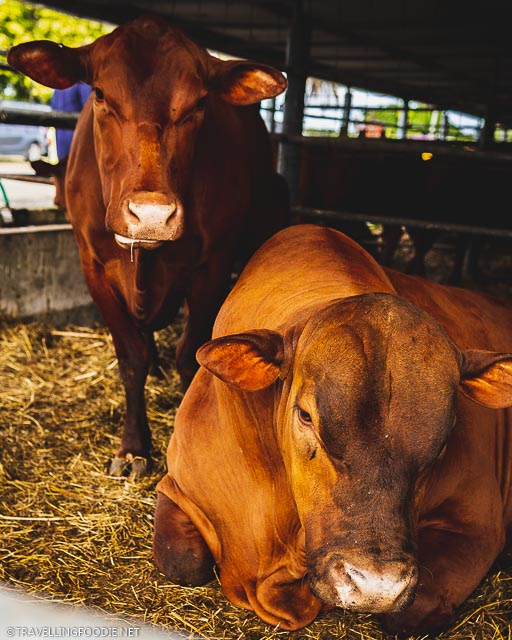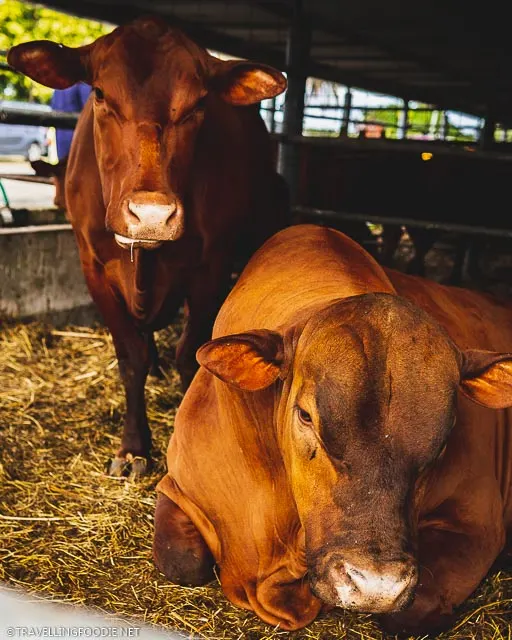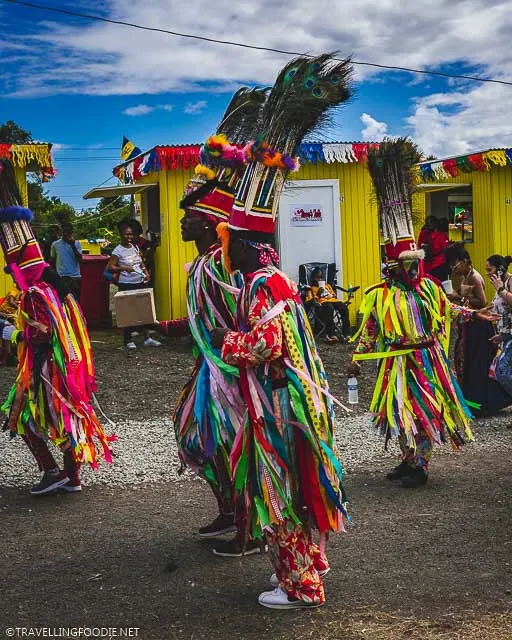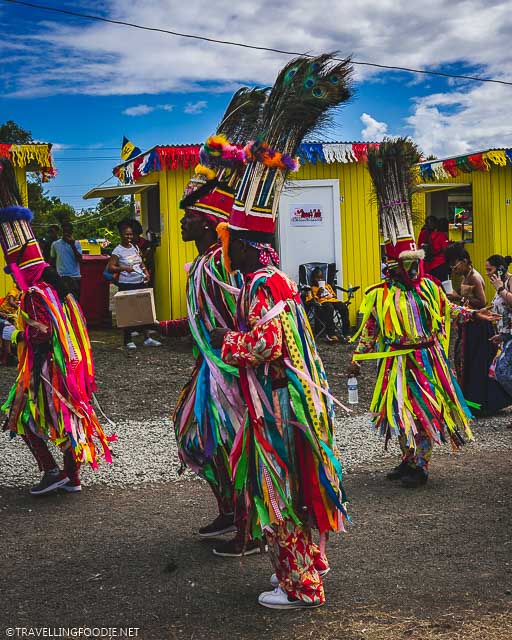 I attended the 49th USVI Agriculture and Food Fair which took place on February 15-17, 2020 with a theme "Agriculture: Trendy in 2020".
This is the best time to see what St. Croix is all about in one venue.
According to USVI Governor Albert Bryan Jr., the most important ingredient in putting this whole festival together is the love and the passion of the people.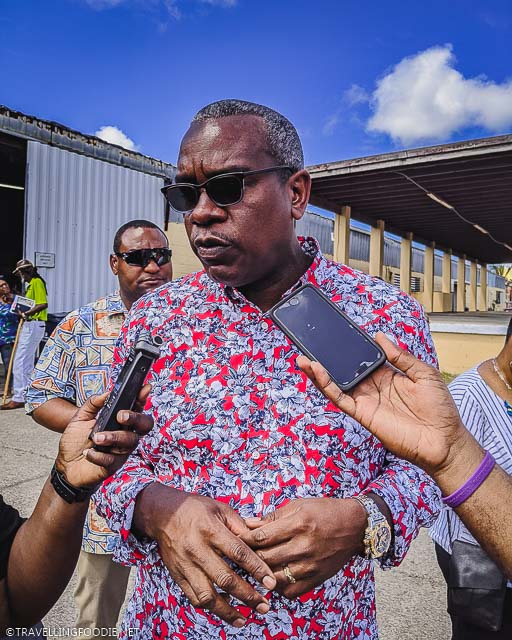 Travelling Foodie Tip: Be sure to plan ahead for your visit to St. Croix during the Agriculture and Food Fair because hotels and rental cars are typically sold out during this time.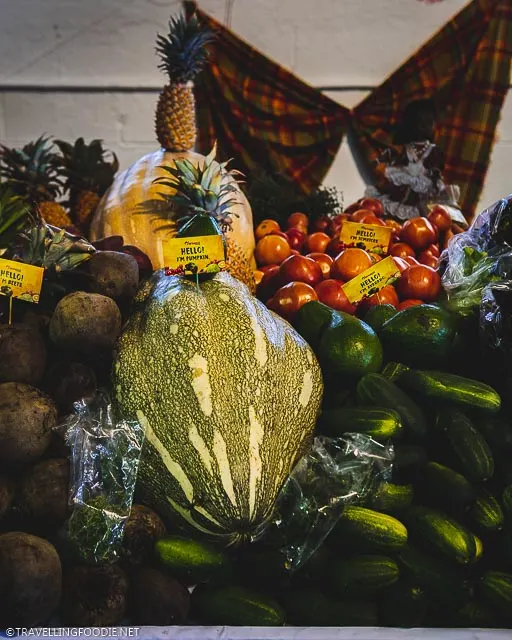 You'll get to experience the awesome vibes, lovely people, the culture and entertainment, and the delicious food.
It's definitely the place to be in St. Croix if you're looking for where to eat with the locals.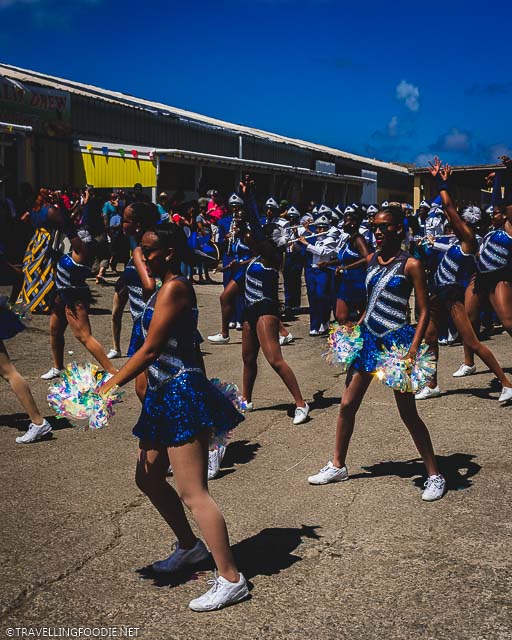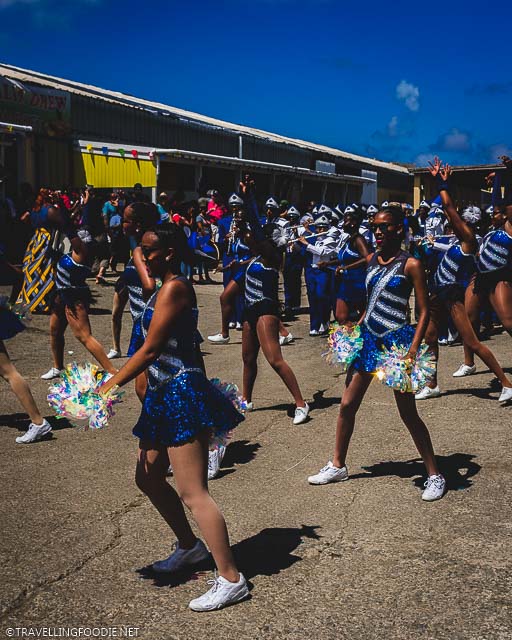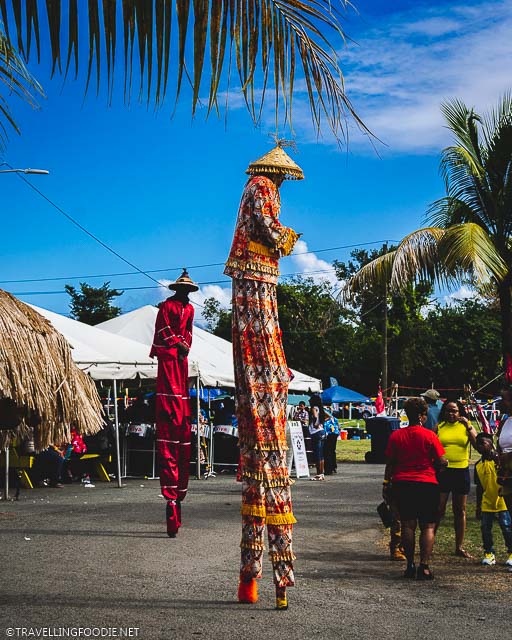 And, I can tell you that this three day event is one of the best places to eat because you can have a taste of most, if not all, of the Crucian cuisine during the Agrifest.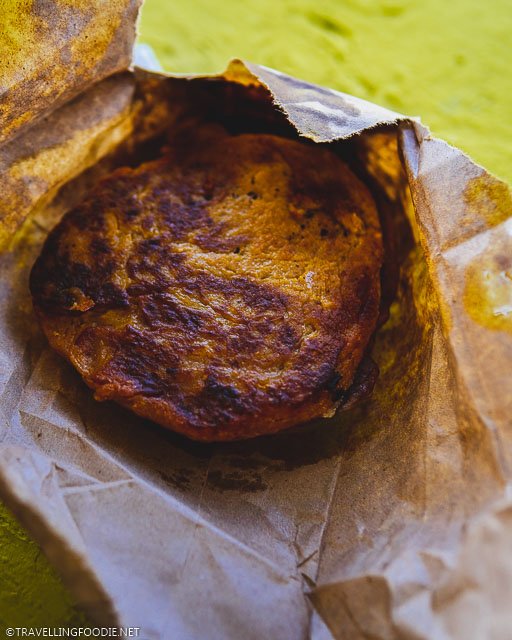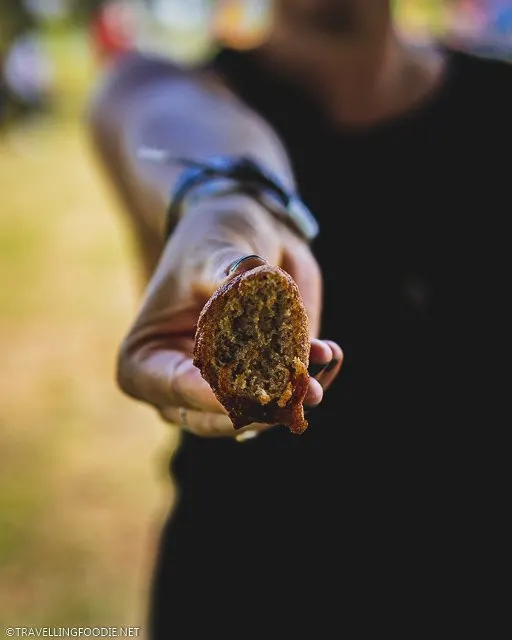 They have Beef Pate, which is their own version of a patty or empanada. The pastry is so different compared to others and is dangerously addicting.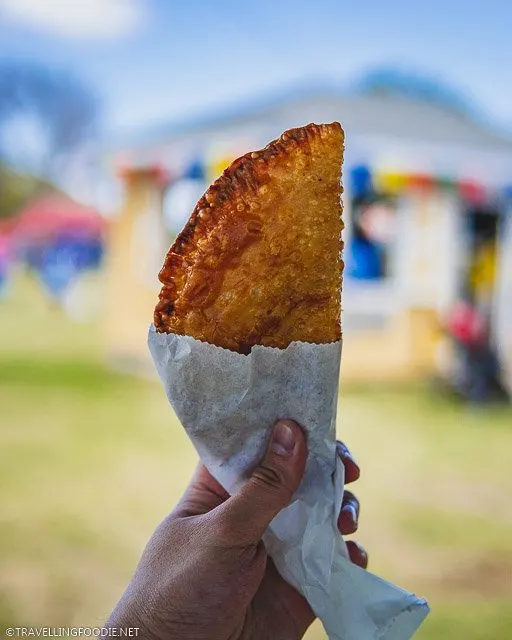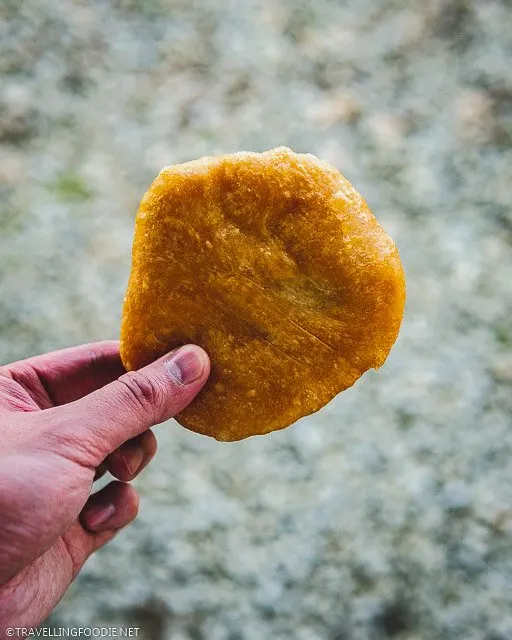 One of the most popular dishes, according to Governor Albert, is the Dutch oven roast pork (lechon) which is grilled in real wood-fire and seasoned with the best Crucian herbs and spices.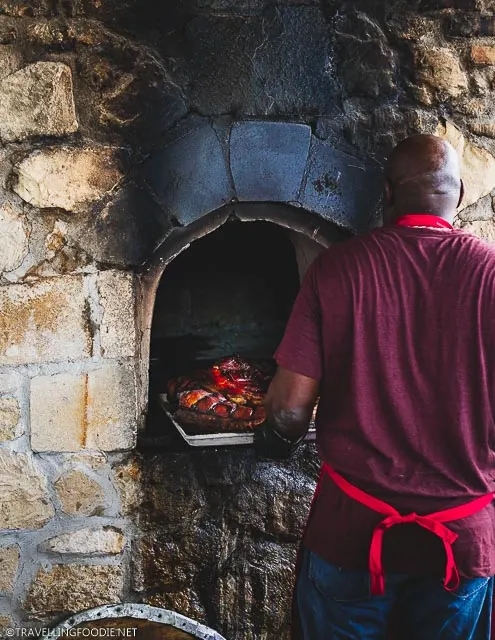 You can definitely taste a difference compared to the roast pork from China, Philippines, Spain and Germany.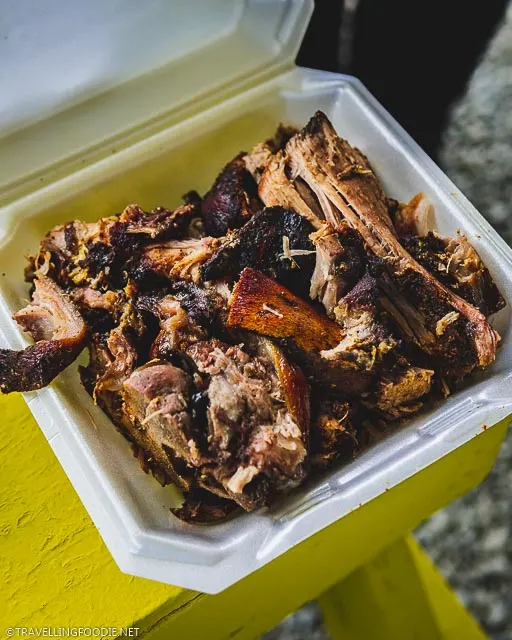 I was surprised to learn that Conch in Butter Sauce is quite a staple here. This was my first time having cooked conch since the only time I've had conch was in raw form as sushi or sashimi.
I was surprised that the conch is very tender and buttery in texture because the raw version tends to be on the chewier side.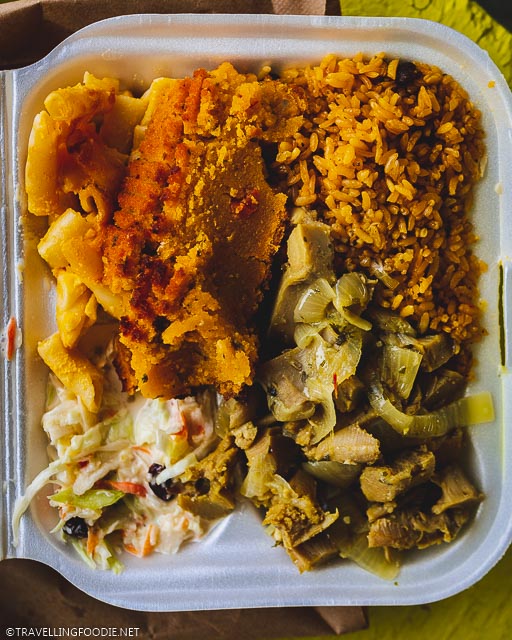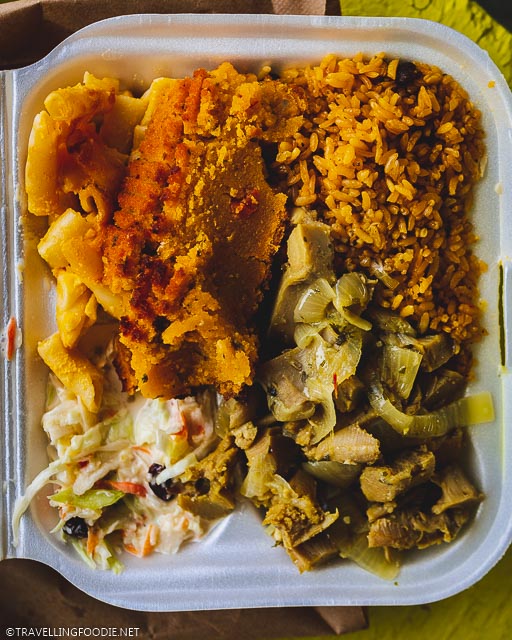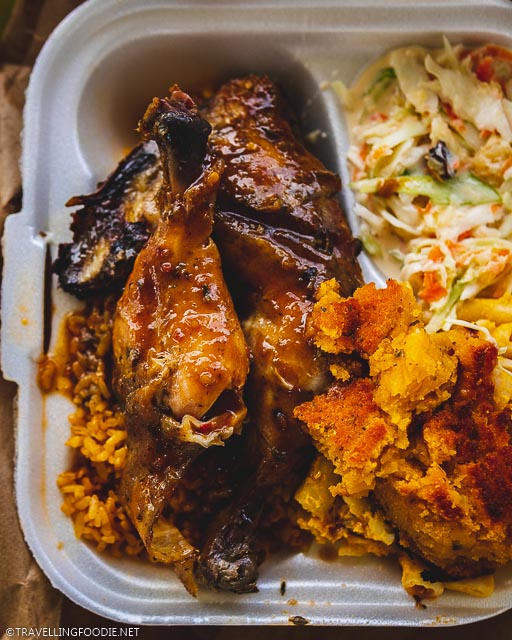 Another must-try in my books is the Vienna Cake. Each layer on this 7-layer cake uses a different preserve made from local fruit.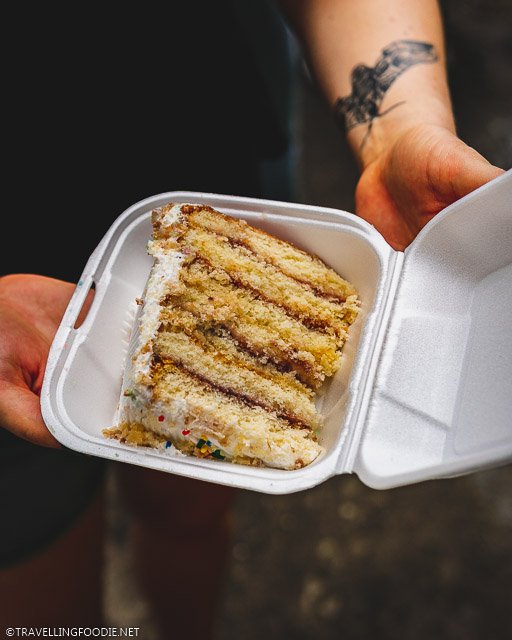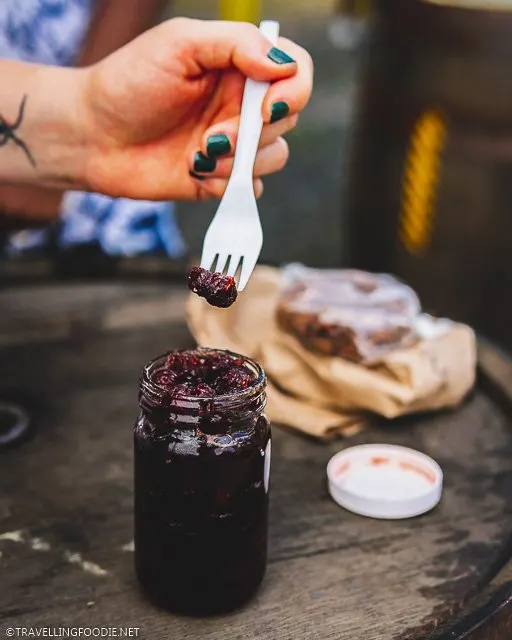 The Crucian peanut brittle is more like a lollipop where you lick it like a hard candy instead of biting and chewing on it.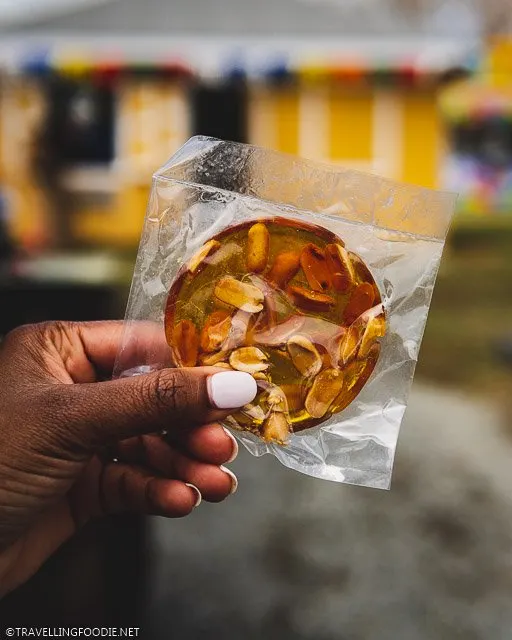 Perfect for the St. Croix tropical weather is some Armstrong's Homemade Ice Cream, a family-run store since 1900. Be sure to try the ice cream made with local fruits like the gooseberry.
USVI Agrifest
Price: Adults ($6), Seniors ($5), Vendors ($3), Children under 13 ($4)
Time: 9AM-6PM
Address: Rudolph Shulterbrandt Agricultural Complex Fairgrounds, #1 Estate Lower Love, Kingshill, St Croix 00850, US Virgin Islands
Also Read: St. Augustine, Florida Food Scene
---
Best Restaurants in St. Croix
Here are some of St. Croix' best restaurants that I got to try during my visit, in alphabetical order. Some of these restaurants are considered among the best in USVI and the United States!
AMA at Cane Bay
Looking for the best restaurants in St. Croix with a view? A popular local spot, AMA at Cane Bay is one of the best places to eat with beautiful views of St. Croix's northshore.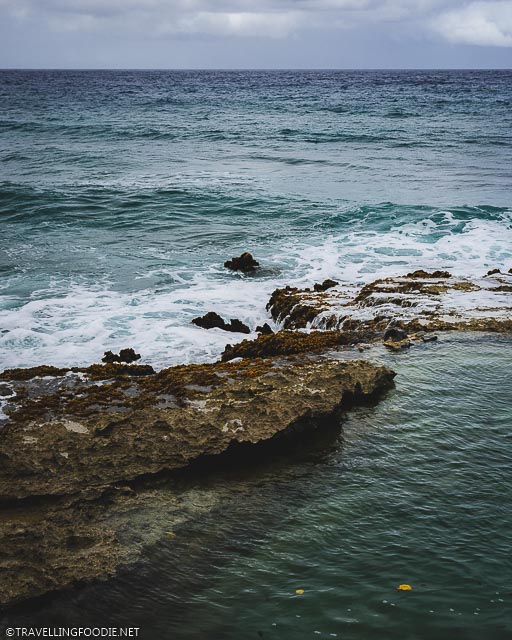 Opened in February 2019, this sustainable seafood restaurant is owned and operated by Chef Digby Stridiron, a St. Croix native and former US Virgin Islands Culinary Ambassador bringing West Indian culinary tradition influenced by the African diaspora.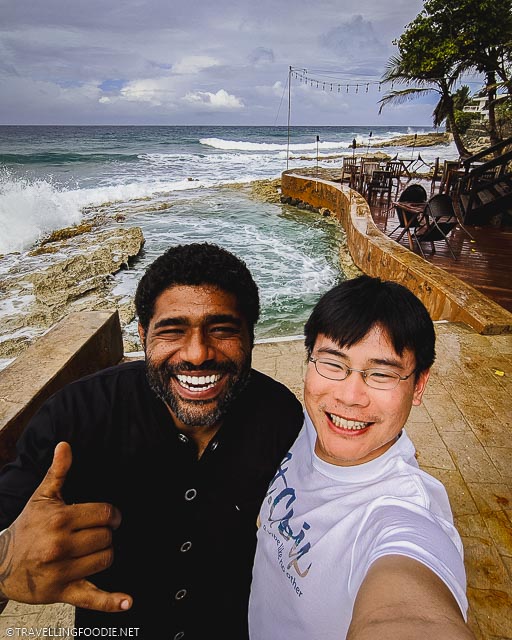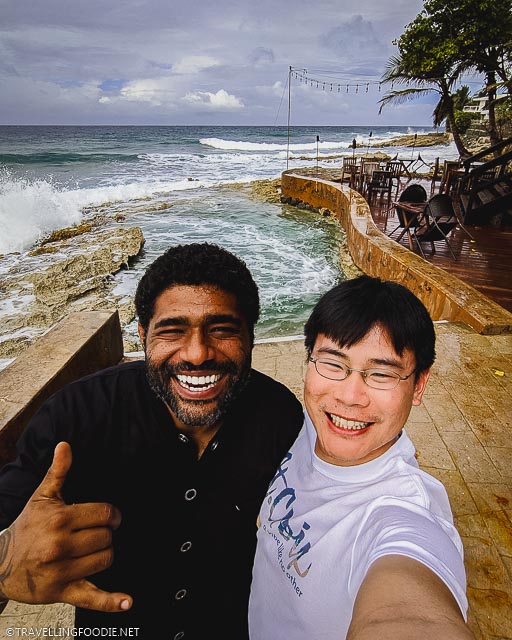 I visited AMA at Cane Bay for brunch and started it off with their craft cocktails.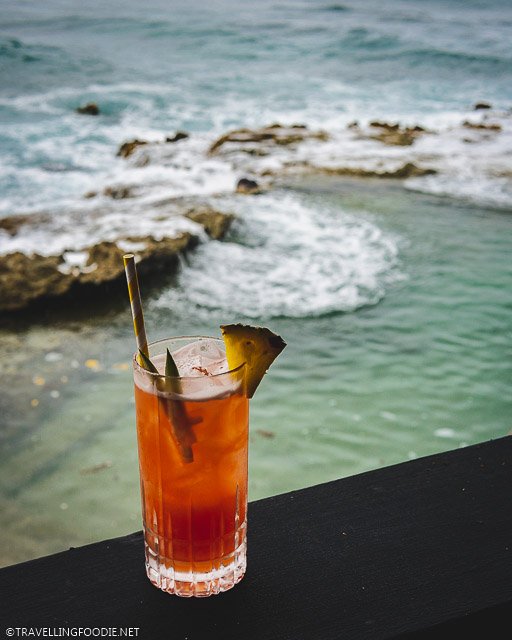 If you're a sour cocktail lover like me, you'll want to have their Pisco Sour which has the island of St. Croix stenciled in on top.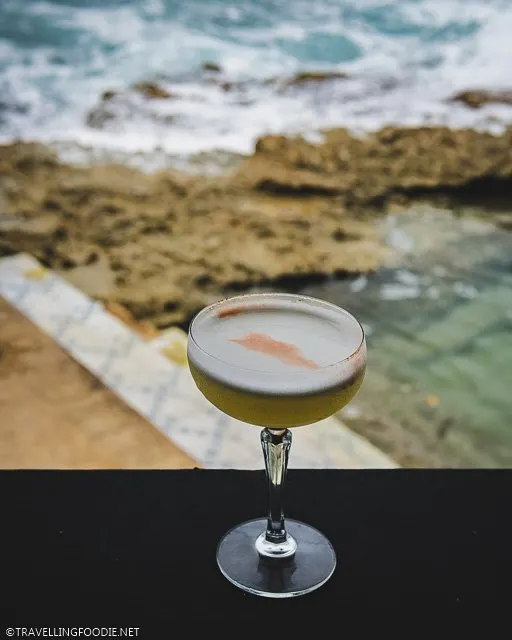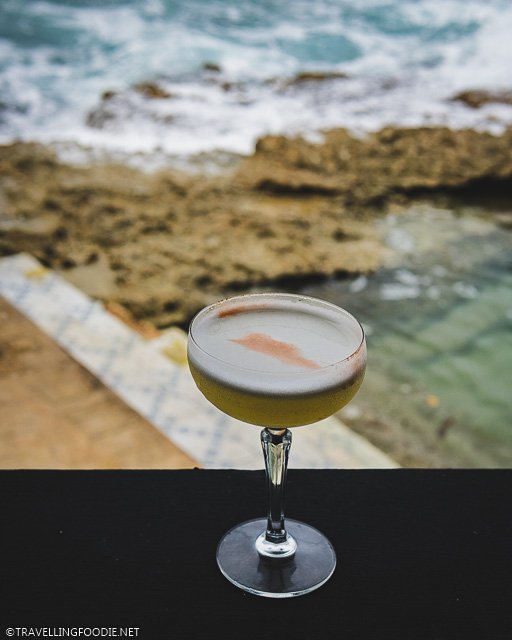 To share, I highly recommend the Truffle Popcorn with Manchego Cheese. It's good to share though, it's so highly addicting, you may not want to.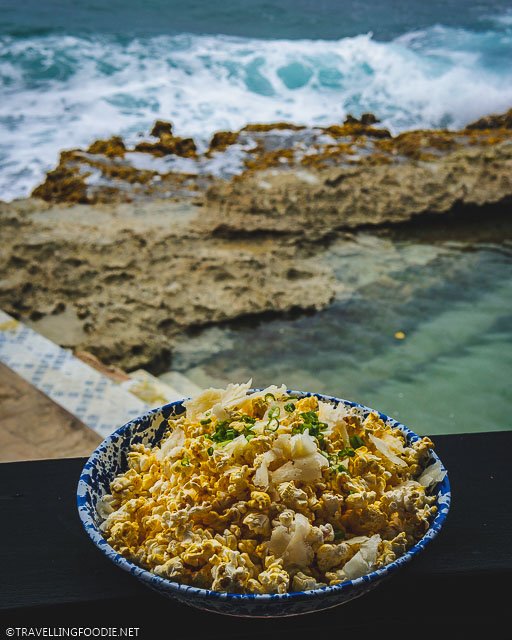 AMA at Cane Bay works with local farmers, environmentally responsible fisherman and divers. You can actually see from a chalkboard where they source everything.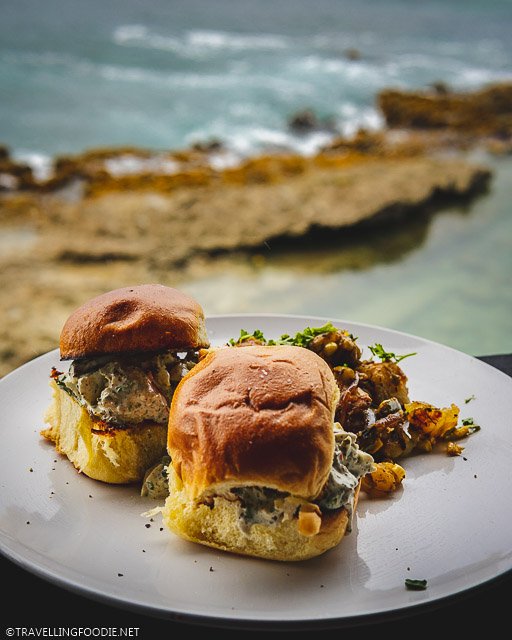 You'll want to try the goat cheese which from Fiddlewood Farms, a small goat dairy farm located in the rain forest of St. Croix.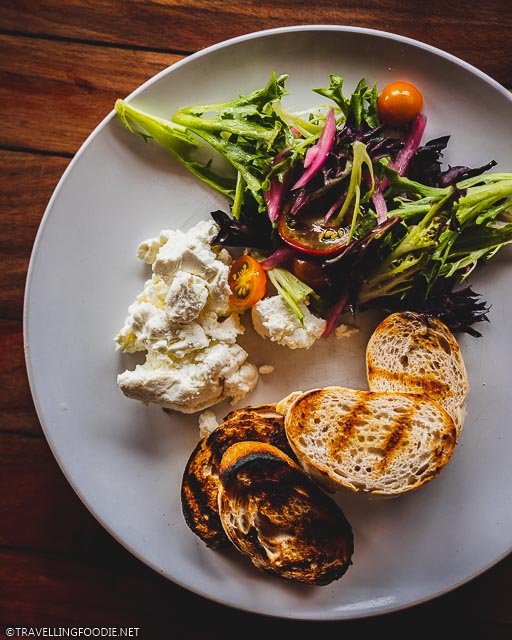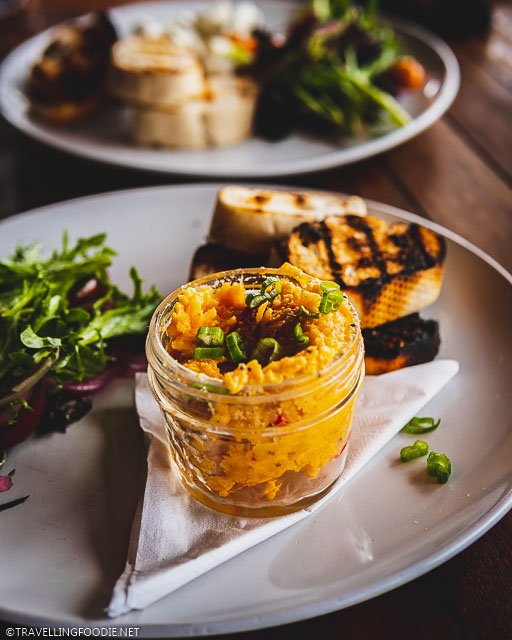 I love seafood and thoroughly enjoyed the Caribbean take on Shrimp & Grits. This one has the addition of local Caribbean spiny tail lobster.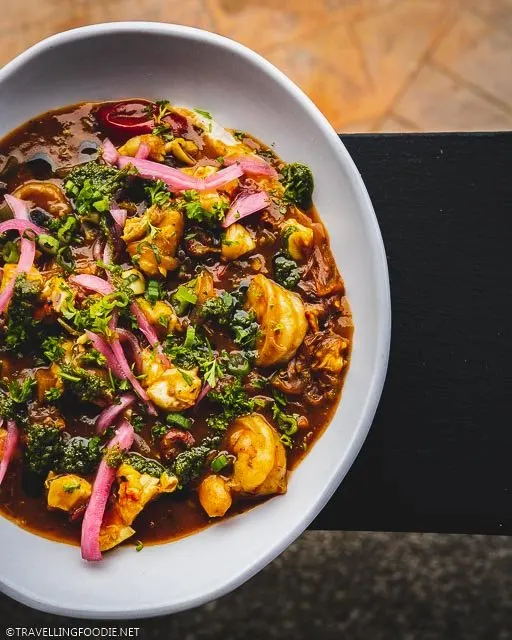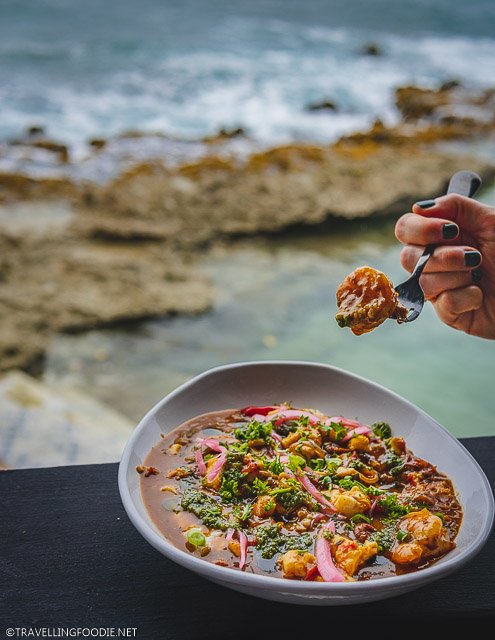 What's brunch without pancakes? Be sure to get the amazing Cinnamon Roll Pancakes at AMA! And they are big enough to share too.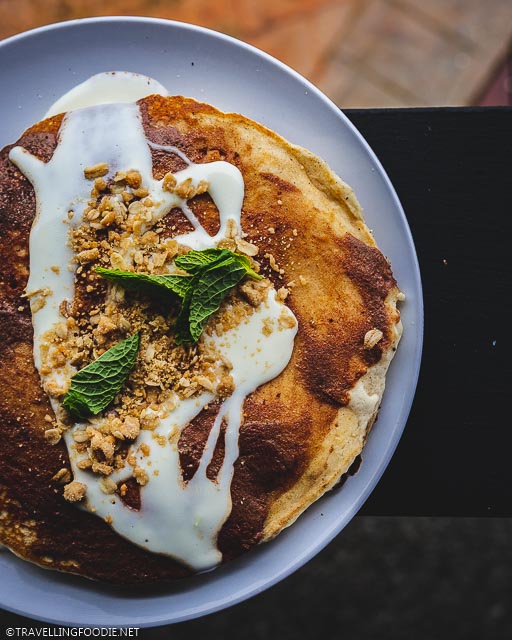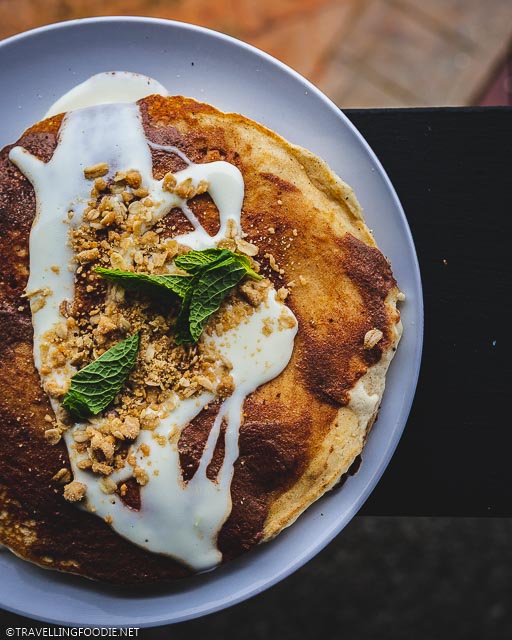 AMA at Cane Bay
Website
Address: 112C of Estate Cane Bay Christiansted, St Croix 00820, US Virgin Islands
Also Read: Where To Eat in Jacksonville, Florida
---
Bon Manjer Restaurant & Ultra Lounge
Where to eat in St. Croix where the locals hang? Opened in September 2019, Bon Manjer has locals flocking here despite being outside downtown Christianstead located in the Sion Farm shopping plaza.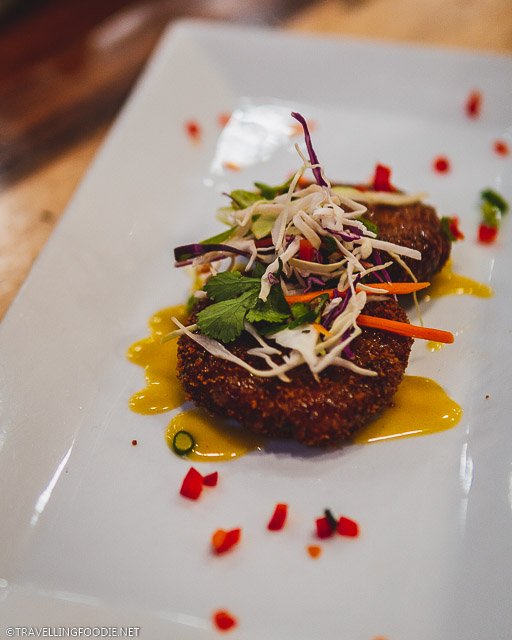 From the outside, I'll be honest that it's not a place I would think to visit in passing, but I'm glad we did. This no-frills unassuming restaurant is very welcoming and warm, and is like a gathering spot for the locals that we even ran into Mixologist Frank from BES Craft Cocktail Lounge there.
The one-pager menu has something for everyone from Crucian cuisine to Contemporary cuisine. They have a wide variety of wines and spirits displayed on the 22-foot long bar along with local beers like Leatherback Brewing.
I was very impressed with the Grilled Ribeye. From the initial look, I feared it might have been over-grilled for my medium rare order, but it turned out perfect inside.
It was also nicely grilled with a strong char taste that I love since I typically get Chicago medium rare in steakhouses. And the ribeye was tender and well marbled too!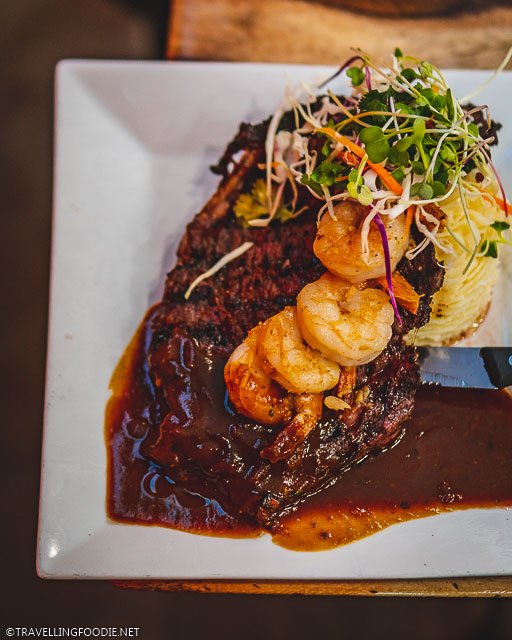 Bon Manjer
Website
Address: 4500 Queen Mary Hwy Ste 4, Christiansted, St Croix 00820, US Virgin Islands
---
Harvey's
Ask locals where to eat in St. Croix and you'll most likely hear Harvey's. A local institution, Harvey's is one of the best Crucian restaurants on the island.
Did you know? NBA Champion Tim Duncan was born and raised in St. Croix, and Harvey's is his favourite St. Croix restaurant. You'll find a mural of Tim Duncan outside the restaurant.
Harvey's has a small changing menu of traditional local cuisine. You'll surely find the national dish of USVI here, Pot Fish and Fungi, and they even have a homemade sea moss drink that's known to be an aphrodisiac.
Looking for something fried, I opted for the Old Stew Wife (trigger fish) and Fungi (cornmeal). Surprisingly, almost all the locals in the restaurant ordered the same.
This fried reef fish was mild tasting so it paired really well with the homemade pepper sauce. Be cautious when eating this though because Old Stew Wife has lots of little bones.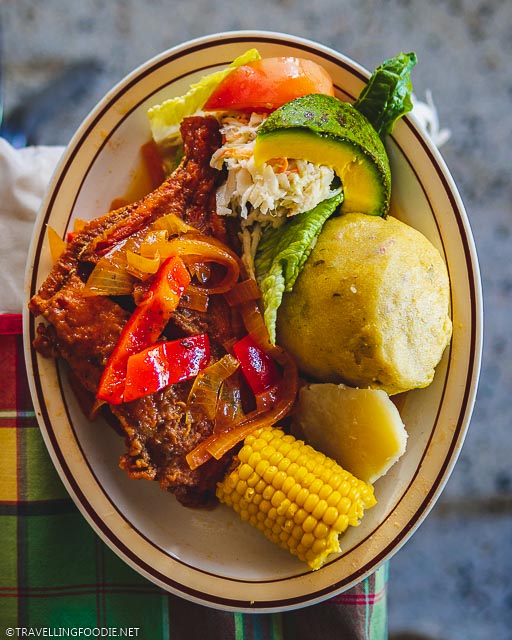 Harvey's
Address: 11B Company St, Christiansted, Christiansted, St Croix 00820, USVI
Also Read: Best Restaurants in Austin, Texas
---
La Reine Chicken Shack
One of the best fast casual restaurants in Saint Croix is La Reine Chicken Shack, which is also a popular spot among locals. It's much bigger than what is normally called a shack, but it's a nice friendly spot and even has a bar.
La Reine Chicken Shack is a really great spot if you're looking for where to eat traditional Crucian dishes. They have a big menu of local dishes like stewed oxtail and conch in butter sauce as well as sides like casava, green fig and the best Johnny Cakes in St. Croix which locals abide to and I can attest to.
Being a chicken shack, what they are most known for is their slow-roasted rotisserie chicken, which is seriously the best rotisserie chicken I've had. I typically am not excited about rotisserie chicken because I find them normally bland and require gravy, but this changed my mind.
La Reine's chicken was moist, tender and juicy and, best of all, mouthwateringly flavourful without the need of any gravy, though I highly recommend the homemade hot sauce if you like spicy!
Be sure to check out the side of the restaurant where you can see all the rotisserie chicken being slowly roasted on the open wood chip pit. It's so beautiful to watch!
La Reine Chicken Shack
Address: 24-I, Christiansted, St Croix 00820, US Virgin Islands
---
Savant
One of the best fine dining restaurants in St. Croix is Savant, located adjacent to historic Fort Christiansvaern. Set in a beautiful a two-story hued building with old Danish Brick, you can dine at Savant in either the romantic candlelit courtyard or the intimate historic Danish dining room.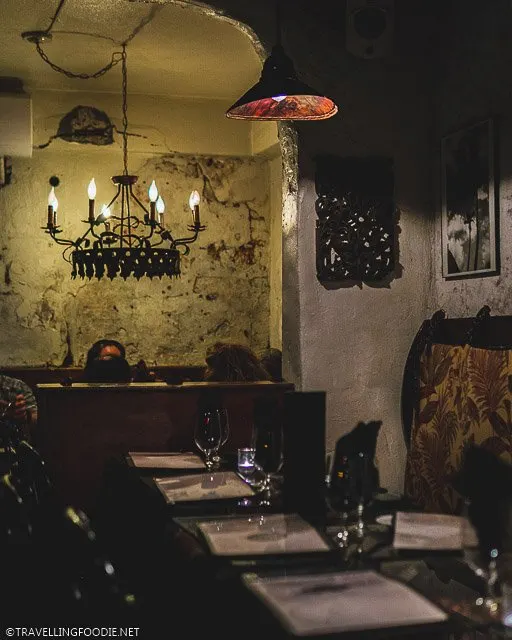 One thing I love about Savant is they support local fishermen by buying fresh fish and lobster from them daily when in season. You can see the list of daily catch and specials menu on the chalkboard including what's available for the Daily Crudo and Chef's Choice Egg Roll.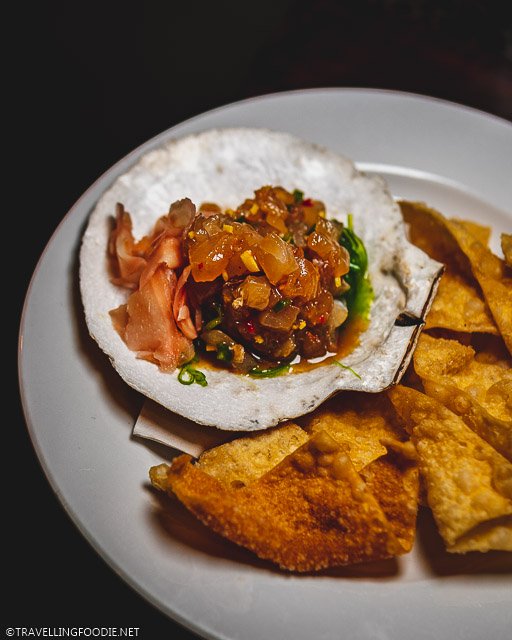 I enjoyed the availability of Asian fusion in the menu like the Chef's Choice Egg Roll and Shrimp Pot Stickers. They even have a Fresh Ramen Bowl.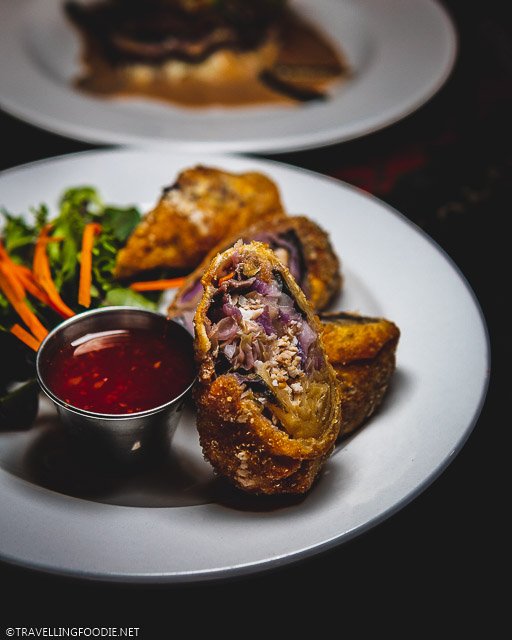 Did you know? Savant was in USA Today's Top 10 Restaurants in the Caribbean in 2017!
The most popular dishes at Savant and my most favourites were the Chargrilled Baby Calamari and Stuffed Filet Mignon.
The baby squid tasted very fresh and I love the strong chargrilled taste. I honestly don't find the roasted garlic aioli necessary unless you want to mellow out the char taste.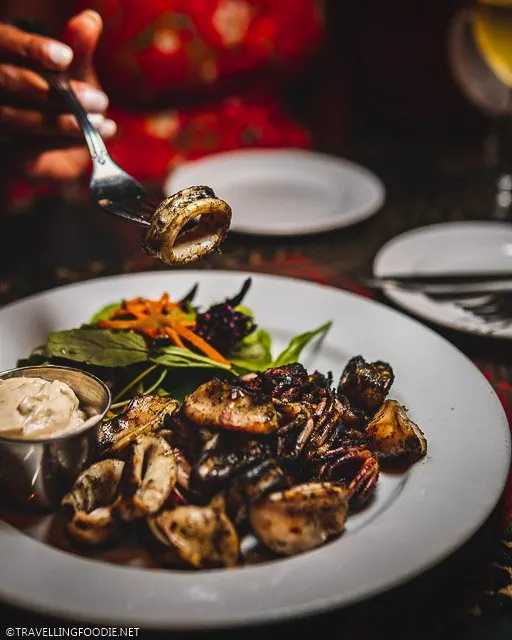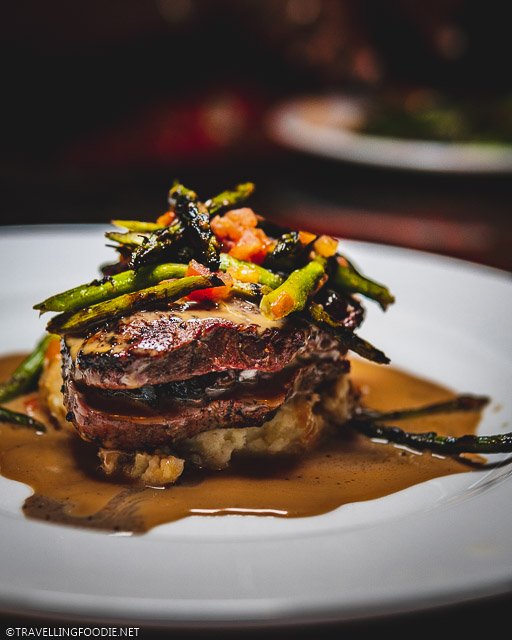 Savant
Website
Address: Hospital St Christiansted, Christiansted, St Croix 00820, US Virgin Islands
Also Read: Best Restaurants in Tampa Bay, Florida
---
Best Bars in St. Croix
Here are some of the best bars I had the pleasure of trying in St. Croix!
BES Craft Cocktail Lounge
Looking for where to drink in St. Croix? BES Craft Cocktail Lounge is missing the letter T because it is one of the BEST bars in St. Croix located in downtown Christianstead.
The ambiance is very hip, intimate and cozy set in a historic space with authentic wood interior. Though we didn't try the food here, BES also serves locally sourced tapas.
Owned and operated by St. Croix master mixologist Frank Robinson, BES Craft Cocktail specializes in unique craft cocktails featuring Frank's creative spin with local ingredients and homemade-infused spirits.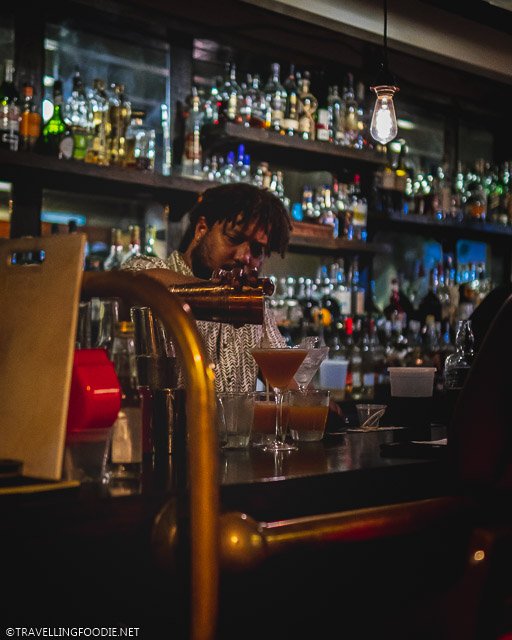 Looking for the cocktail menu? There's none. You come here to leave it to the mixologists to wow you.
You tell them what cocktails or flavours you enjoy, and they will craft something special based on your tastes, usually with one of their infusions.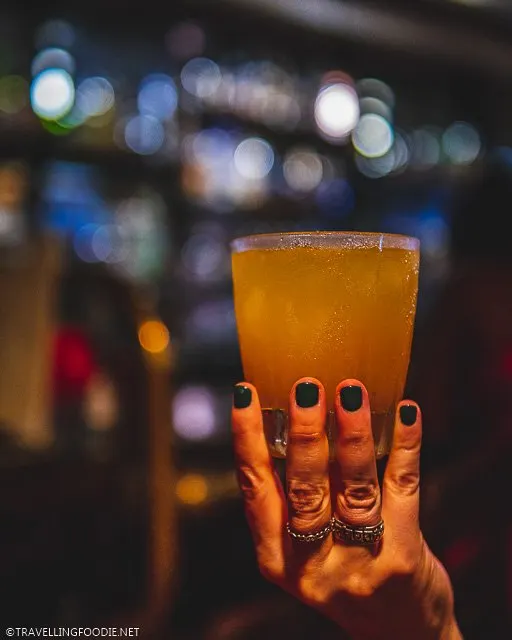 BES Craft Cocktail Lounge
Address: 53B Company St, Christiansted, St Croix 00820, US Virgin Islands
---
Map of Where To Eat & Drink in St. Croix
Hope this US Virgin Islands Food Guide helps you decide where to eat and drink in St. Croix. There are so many great places to eat and Crucian dishes to try in St. Croix so I hope this food guide helps narrow it down.
I'm always looking for recommendations so please let me know what you find are the best restaurants in St. Croix to try for my next trip.
---
Be sure to SAVE/BOOKMARK/PIN this St. Croix Food Guide! I will be updating this post when I try more best restaurants and places to eat in the Big Island!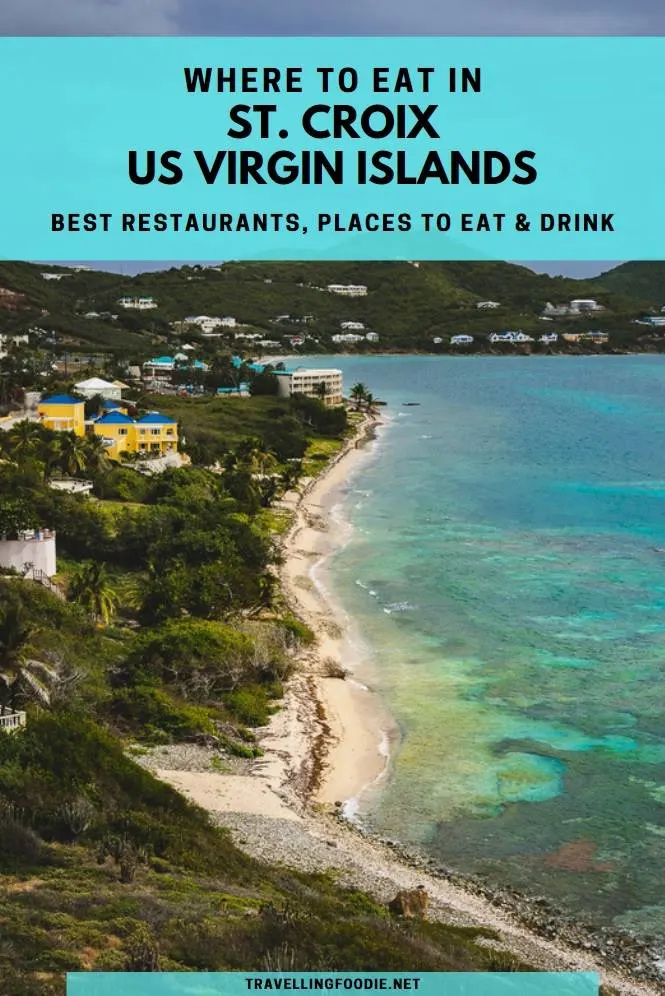 ---
Huge thanks to United States Virgin Islands Tourism for sponsoring this post! As always, all thoughts/opinions are 100% my own.
You can learn more about USVI on their Website, Instagram, Twitter and Facebook
Related