Smothered Cajun Green Beans – Spicy Southern Kitchen
Smothered Cajun Green Beans are a great side dish to serve with any southern meal. Fresh green beans are slow cooked in chicken broth with red potatoes and flavored with bacon, onion, cajun seasoning, and Andouille sausage.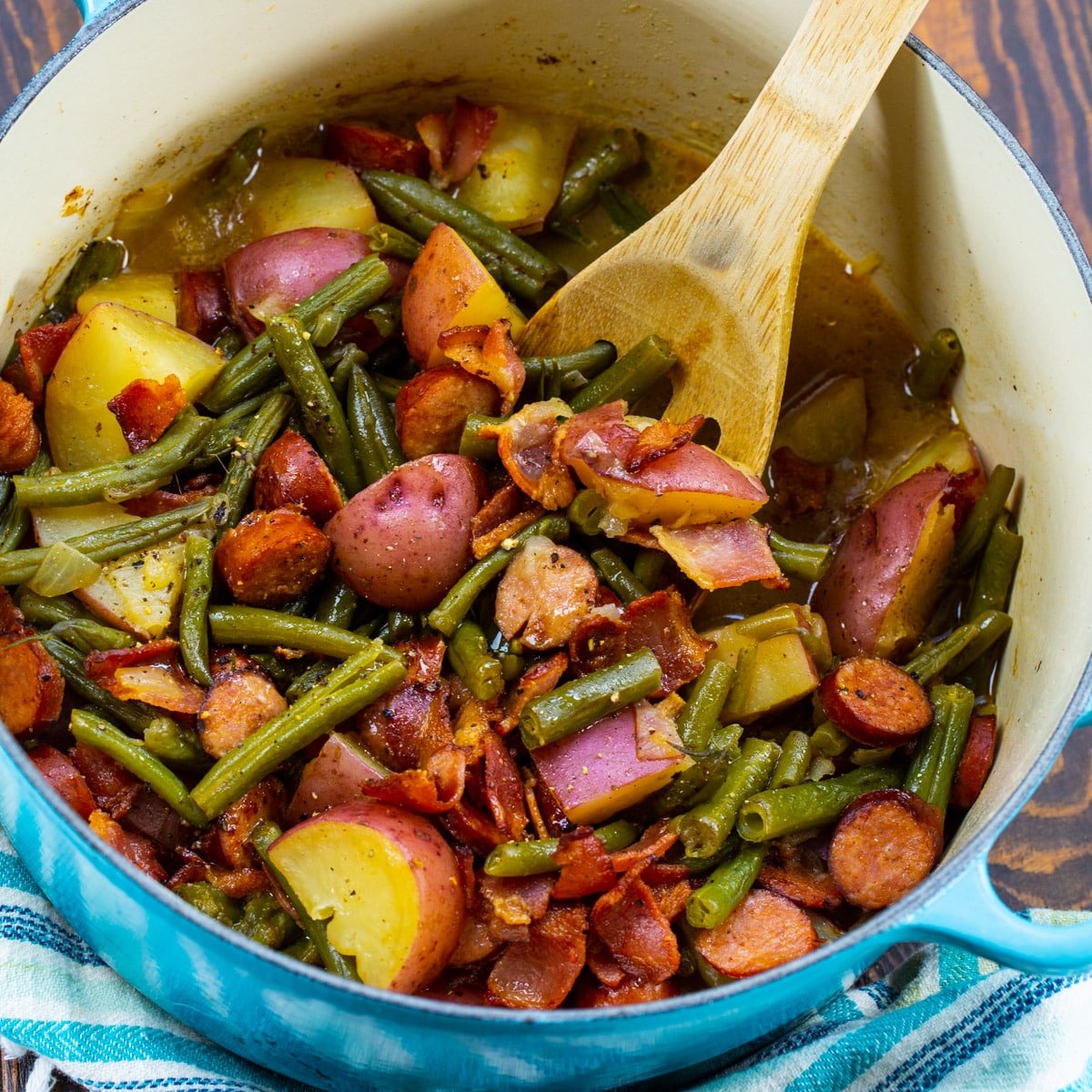 Ingredients Needed For Smothered Cajun Green Beans
Bacon
Andouille Sausage– there are lots of different brands of andouille sausage and they vary greatly in taste and spice level. It's best to try a few different brands and see which one appeals to you the most. Note: If you have leftover Andouille, it can be frozen or you can dice it, brown it and use it as an omelet filling.
Onion
Butter
All-purpose flour– helps thicken the liquid just a touch so it coats the green beans better.
Chicken broth– adds so much flavor.
1 1/2 pounds fresh green beans– cut into pieces so they are easier to eat.
Cajun seasoning– I use Tony Chachere's.
Black Pepper
Garlic Powder
Red Potatoes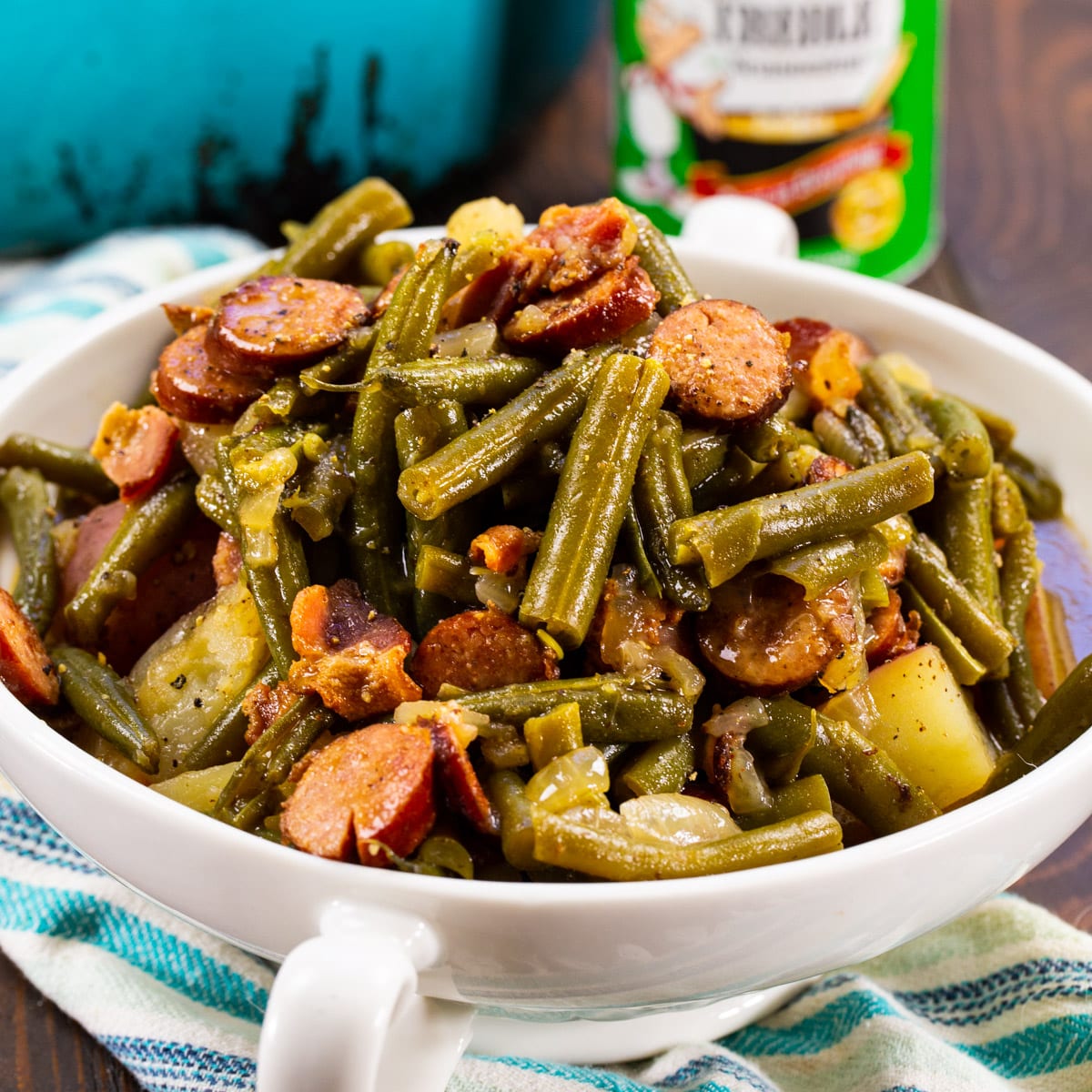 Slow Cook The Green Beans
What makes these green beans so flavorful is how long they cook. They get really soft and soak up so much flavor from the onion, bacon grease, sausage, chicken broth, and cajun seasoning.
Seasoning
I you want to add a little more heat, you can add a little TABASCO sauce or a pinch of crushed red pepper flakes.
The chicken broth and cajun seasoning will most likely add enough salt, but check for seasoning at the end and add salt if needed.
Storage
Leftovers will keep for 4 days in an airtight container in the refrigerator. Reheat in a microwave or a covered pot over medium-low heat.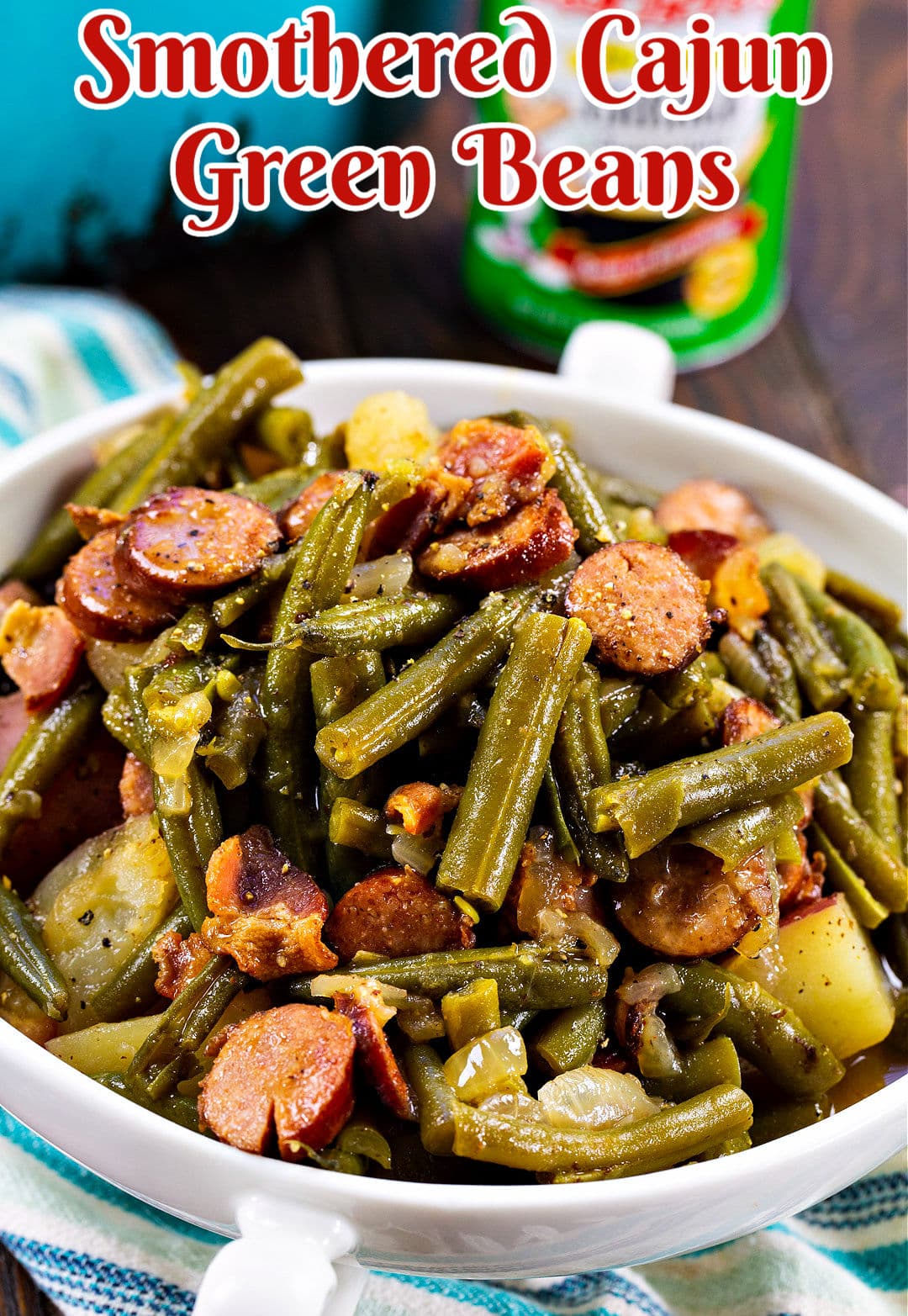 More Great Southern Sides
Cook bacon in a Dutch oven or large pot until crisp. Remove with a slotted spoon to a paper towel-lined plate and set aside.

Add sausage to the pot and cook in the bacon grease until browned. Remove with a slotted spoon and set aside.

Add onion to the pot and cook until softened, 4 to 5 minutes.

Add butter and when it melts, sprinkle flour over the onions. Cook and stir for 1 minute.

Gradually whisk in chicken broth, scraping up the browned bits off the bottom of the pot.

Add water, green beans, Cajun seasoning, black pepper, and garlic powder. Bring to a boil. Reduce heat to maintain a simmer. Cover and cook for 25 minutes.

Add potatoes. Stir them in so they are submerged as much as possible. If you need to, add a little more water.

Cover and cook for 15 minutes.

Uncover the Dutch oven and add sausage. Cook uncovered for 15 minutes.

Stir in bacon and serve.
Want to Save This Recipe?