Pistachio Lemon Cheese Balls – The Daring Gourmet
[ad_1]

As an Amazon Associate I earn from qualifying purchases. See my disclosure policy.
Whether for casual or formal entertaining, these Pistachio Lemon Cheese Balls are guaranteed to liven up the occasion!  Bursting with fresh and vibrant flavors and popping with color, they're as fun to eat as they are beautiful to look at!
Pistachio Lemon Cheese Balls
In today's dish we're celebrating some of the flavors of California.  These tasty cheese balls are not only delicious but they're fun to make and even more fun to eat.
With layer upon layer of flavor and color, each bite into the cheese ball reveals the vibrant red center of the red bell pepper encased by the green olive enveloped in yellow and green-flecked white goat cheese and rolled in another layer of green pistachio nuts.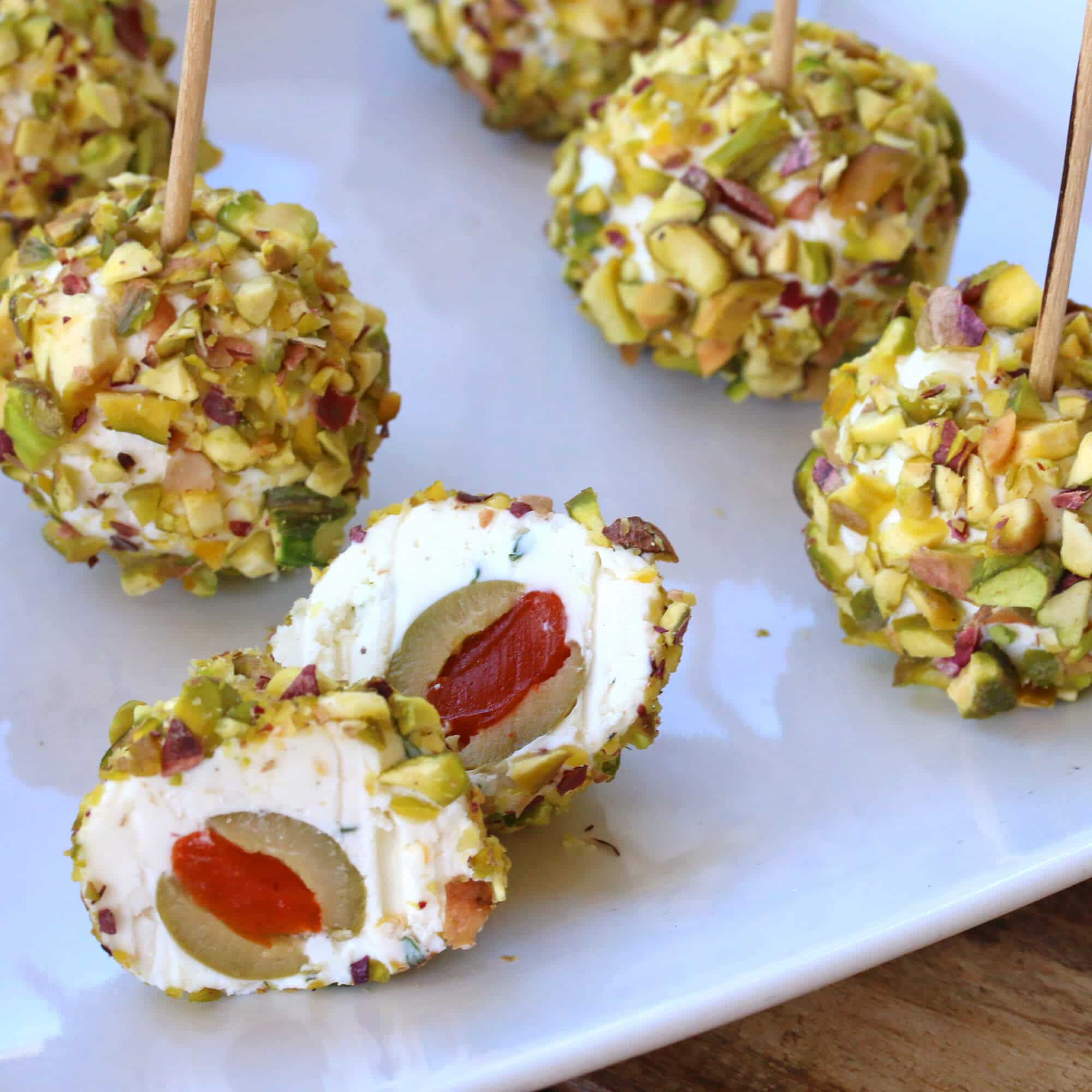 Perfect for any occasion, whether as hors d'oeuvres at a dinner party, an appetizer at a special gathering, cocktail party food or for a casual game night, these Pistachio Lemon Cheese Balls with Basil & Olives are sure to be a hit!
Let's take a closer look at the ingredients in these cheese balls that have become synonymous with Californian cuisine.
Featured Ingredients
Meyer Lemons

Shutterstock /255814579
Meyer lemons are a citrus fruit native to China and thought to be a cross between a mandarin orange and lemon.  They were introduced to California in 1908 but really didn't begin taking off in popularity until the California cuisine revolution of the late 90's.  Meyer lemon fruits have a wonderful and more complex fragrance than regular lemons and also have a less acidic and much sweeter flavor.  In fact, they're sweet enough that raw segments of Meyer lemon are commonly enjoyed in salads and desserts.
Pistachios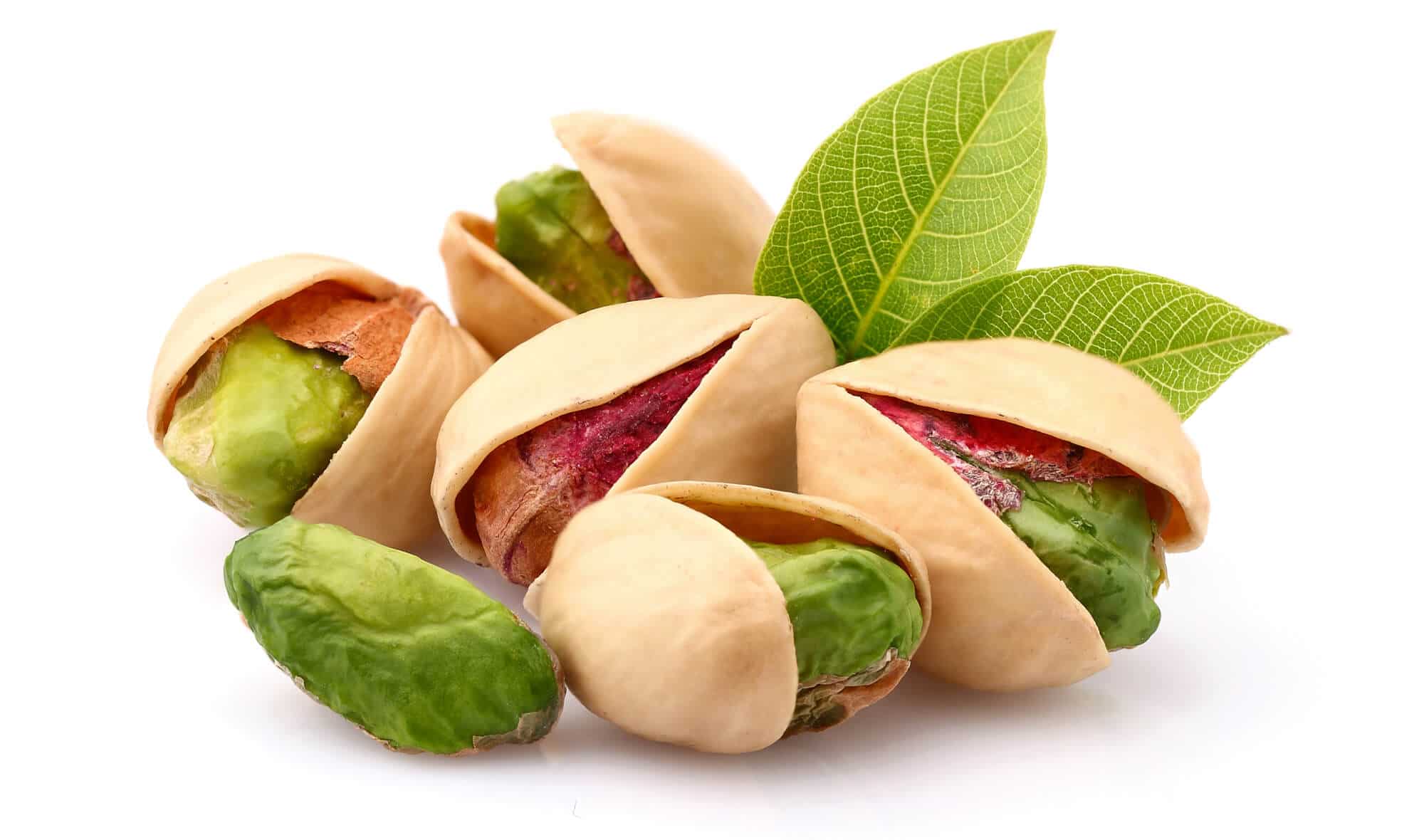 Shutterstock / 245453680
Archeology shows that pistachios were a common food as early as 6750 BC.  They were first introduced to the U.S. in California in 1854 as a garden tree but it wasn't until several decades later that they were promoted as a commercial crop.  Now 99% of all pistachios in the U.S. are grown in California.   Its first commercial crop in 1976 was 1.5 million pounds (680 tons).  Fast forward to 2012 and its crop weighed over 550 million pounds!  Needless to say, California is a major exporter of pistachios all over the world.
Goat Cheese

Shutterstock / 132562229
California's place in the cheese-making world has become firmly solidified with its reputation for excellent cheeses with several local producers specializing in goat cheese.  Its tangy, earthy flavor provides a wonderful complement to the bright notes of the Meyer lemons.
Olives

Shutterstock / 210462859
Olives have a long history in California and 99% of all olives in the U.S. are grown in California.  But did you know that olives are not native to the area, or even to this continent?
The Greeks brought the olive to Spain and from Seville the first olive seedlings were brought by ship to Peru and Argentina in the 1550's.  From there they made their way up the Pacific coast to Mexico and Spanish missionaries brought them to California for the first time in 1769 to a mission in San Diego.  Olive orchards were then planted in several Spanish missions across California and the rest is history.

Shutterstock / 220624792
And with that let's move on to our California-inspired olive-stuffed cheese balls!
We're using Manzanilla olives that are stuffed with real bell pepper (not the formed and shaped jello stuff that's often passed off as peppers or pimientos).  The pimiento-stuffed olives are the perfect choice for these cheese balls because of the beautiful combination of red and green when you bite into them.
These cheese balls are a great time saver because they can be made well in advance and then simply pulled out of the fridge for a few minutes before serving to slightly soften up the cheese.
Enjoy!
For more delicious hors d' oeuvres and appetizers ideas be sure to try our:
Pistachio Lemon Cheese Balls
Kimberly Killebrew
With layer upon layer of flavors, colors and textures, these mini cheese balls are perfect for any occasion!
Ingredients 
6

oz

cream cheese

,at room temperature

4

oz

goat cheese

,at room temperature

¼

cup

chopped fresh basil leaves

1 1/2

teaspoons

very finely minced garlic

2

teaspoons

fresh Meyer lemon zest

1/4

teaspoon

kosher salt

1/2

teaspoon 

freshly ground black pepper

22

pimiento stuffed green olives (I'm using Manzanilla)

,rinsed and patted dry

1/2

cup

chopped toasted pistachios
Instructions 
In a medium bowl, combine all of the ingredients except for the olives and pistachios. Chill the mixture for 30 minutes until firm.

Form the mixture into 22 balls. Press the olives into the center of the cheese balls and form them back into balls, completely encasing them in the cheese mixture. Roll the balls in the toasted pistachios to lightly coat them. Chill for at least 2 hours.

Let the cheese balls sit at room temperature for about 10 minutes before serving. Serve with toothpicks

Makes 22 olive cheese balls
Nutrition
Calories: 62kcal | Carbohydrates: 1g | Protein: 2g | Fat: 5g | Saturated Fat: 2g | Cholesterol: 10mg | Sodium: 132mg | Potassium: 41mg | Vitamin A: 200IU | Vitamin C: 0.5mg | Calcium: 21mg | Iron: 0.3mg
Originally published on The Daring Gourmet September 20, 2016
[ad_2]

Source link