Korean Fried Chicken – Creme De La Crumb
[ad_1]

This post may contain affiliate links. Read our disclosure policy.
Skip the takeout and make Korean Fried Chicken at home in 45 minutes! Tender chicken pieces dusted in flour, then pan-fried til golden and tossed in a bold and spicy Korean sauce. Serve it with crispy sesame broccoli and rice for an unforgettable meal.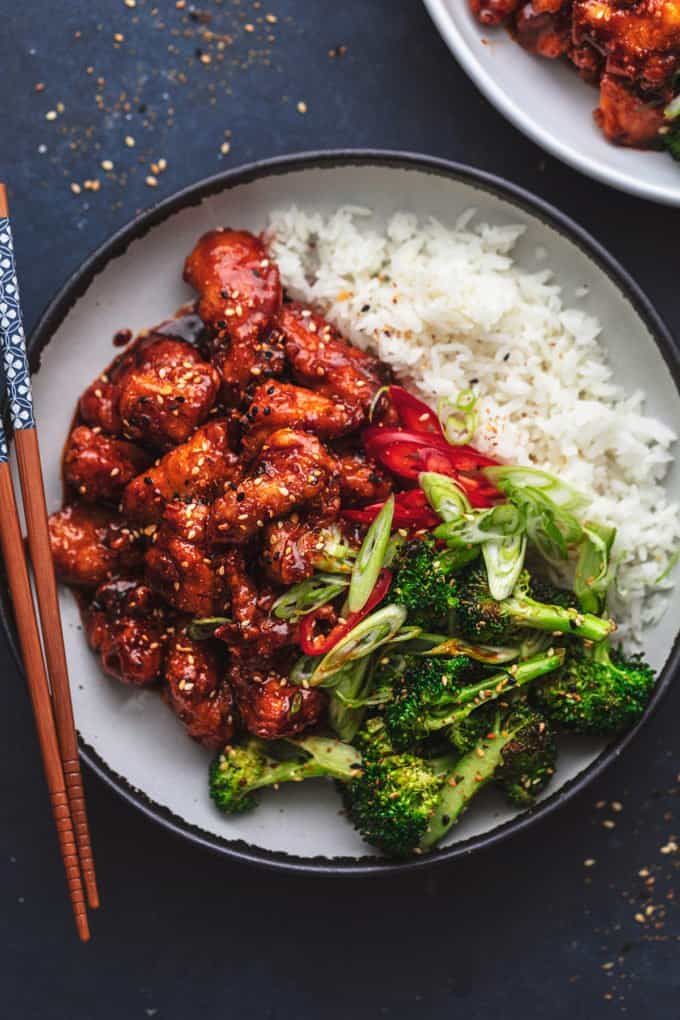 Here's How You Make It 
Preparing the chicken
First, place chicken pieces in a bowl with the buttermilk. Cover the chicken and marinate it in the fridge for at least 30 minutes or up to 2 hours.
Next, stir together all of the sauce ingredients in one bowl. Set aside till the end. 
Cooking the Chicken
Get out a wide, shallow bowl and in it whisk together the flour, salt, pepper, garlic powder, and corn starch.
Next, heat the oil in large skillet over high heat. When the oil is hot, use tongs to toss the chicken in the flour mixture, coating on all sides.  
Add the chicken to the pan.
Allow the chicken to cook for 2-3 minutes before turning the chicken pieces over and cooking for another 2-3 minutes on the other side, until the chicken pieces are golden brown all over. (This may need to be done in batches so as not to crowd the skillet and make it too hard to cook all the Korean fried chicken.) Using tongs, transfer the chicken pieces to a paper-towel-lined plate to allow any excess oil to drain. 
Now, drain all of the oil from the skillet, then add the sauce you made to the skillet over medium heat. Stir the sauce for 2-3 minutes until nice and warmed through and bubbly.
Finally, add the chicken pieces to the skillet and give them a good stir in the sauce for 1-2 minutes.
Serve over steamed rice and garnish with sliced red jalapeños and green onions if desired. Enjoy!
Why This Recipe Works
Easy – Don't be put off by the couple of steps in this recipe. Once you have the chicken cut, and marinated, it's just a matter of dipping, frying, and saucing…seriously so very easy and done in just 30 minutes! 
Gochujang sauce – This is the hidden gem of sauces that's only recently become popular, although it's been around forever. I wish I'd known about it sooner anyway. It's a little bit spicy, kinda earthy, and so bold and flavorful, you'll want to make all the Gochujang sauce everything. 
Frying – Yes, this Korean chicken recipe does call for frying (it is "fried chicken" after all) but it's not deep fried like you might be thinking. 1 cup of oil spread out on a skillet isn't really that much, and you need it to get that crispy, crunchy outside on this Korean fried chicken. 
Versatile – Think of this Korean BBQ recipe as a fried chicken that's so easily adaptable. You can serve it over rice or noodles, add a veggie to it (see how in Expert Tips), make it hotter, make it saucier, or even use the sauce on a whole chicken breast or thighs instead if you want a thicker cut of meat. Mix it up – you won't be sorry.
What Goes Best with Korean Fried Chicken?
Expert Tips 
Having trouble finding Gochujang sauce? It's a Korean chili paste that can commonly be found in the Asian cuisine section of most any grocery store. You can also find it online too. 
Want to add broccoli to this Korean fried chicken? That's easy. All you need to do is toss some cuts of fresh broccoli in a bit of sesame oil and season with salt, pepper, and Asian five-spice seasoning (found in the spice aisle). Sauté the broccoli in a pan over medium-high heat for 5-8 minutes. Then, remove it from the heat and serve with the Korean fried chicken recipe and rice.
Double the sauce if you plan on adding this over noodles or rice – you'll want the carbs to soak up all the Gochujang saucy goodness. 
Other great toppings to add to this Korean fried chicken include slices of jalapenos, green onions, sesame seeds, chili garlic oil, Sriracha, cracked black pepper, Japanese mayo, and more. 
This Korean fried chicken will keep in the fridge for up to 5 days. 
Double the sauce and keep half in the fridge for another time – you'll want it! 
For more delicious ways to do up chicken, try my recipes for Crispy Korean BBQ Oven Baked Chicken Wings, Buffalo Popcorn Chicken, and Crispy Coconut Chicken Tenders. 
More Asian-Inspired Recipes
If you make this Korean fried chicken, please come back and let me know what you think by leaving a comment and rating the recipe! And be sure to snap a photo and email it or tag me on social media, I love connecting with you and seeing your CDLC creations!
Korean Fried Chicken
Skip the takeout and make Korean Fried Chicken at home in 45 minutes! Tender chicken pieces dusted in flour, then pan-fried til golden and tossed in a bold and spicy Korean sauce. Serve it with crispy sesame broccoli and rice for an unforgettable meal.
Instructions
Combine chicken pieces and buttermilk in a bowl, toss to coat. Marinate 20-60 minutes.

Place flour and corn starch in two separate bowls.

Discard excess buttermilk marinade and toss chicken pieces first in the flour then in the corn starch.

Heat oil in a large skillet over medium-high heat.

Add chicken pieces to the oil, but be sure not to crowd the pan too much (you may need to do this in batches). Cook chicken for 3-4 minutes, flip and cook 3-4 minutes longer til golden brown. Use a slotted spoon to transfer to a paper towel-lined plate. Repeat with any remaining chicken.

Add sauce to pan, bring to a boil, then reduce to a simmer for 3-5 minutes. Add chicken back to pan and stir til heated through.

Serve over rice or noodles and garnish with green onions and sesame seeds if desired.
Notes
Buttermilk substitute: add 1 tablespoon of fresh-squeezed lemon juice or white vinegar to one cup of any kind of milk. Give it a gentle stir. Let sit for 5 minutes. 
Gochujang: is a thick, red paste that can be found in the Asian section of grocery stores. 
Nutrition
Calories: 589 kcal, Carbohydrates: 58 g, Protein: 54 g, Fat: 15 g, Saturated Fat: 3 g, Polyunsaturated Fat: 4 g, Monounsaturated Fat: 5 g, Trans Fat: 1 g, Cholesterol: 151 mg, Sodium: 1416 mg, Potassium: 1022 mg, Fiber: 1 g, Sugar: 34 g, Vitamin A: 241 IU, Vitamin C: 3 mg, Calcium: 104 mg, Iron: 2 mg
[ad_2]

Source link