Family-Favorite Pineapple Upside Down Cake {+VIDEO}
[ad_1]

Pineapple upside down cake is a classic dessert that is so soft and moist, filled with the perfect amount of pineapple flavor!
Pineapple Upside Down Cake is perfect all year long, but is an especially good summer time dessert! Be sure to check out our cupcake version of this recipe too because it's just as good and simple.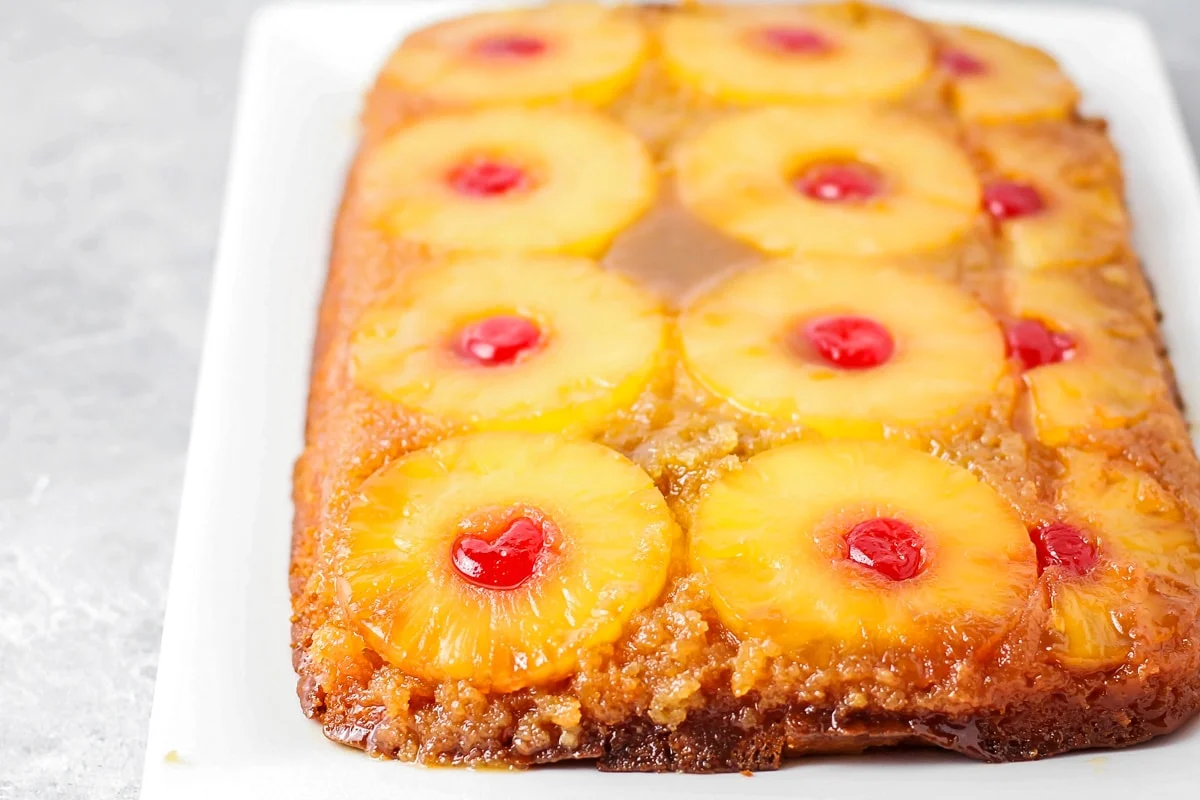 upside down cake + our SECRET INGREDIENT
My mom has been making Pineapple Upside Down Cake for years. It's a family favorite and a dessert recipe that my dad LOVES!
She has a go-to recipe for this delicious cake (from scratch), and we adapted it by adding almond extract, since it's our favorite "secret" ingredient. 😉
What is pineapple upside down cake? When this cake is added to the pan, the pineapple and cherries are at the bottom and the batter is added on top. After it has baked and cooled you invert the pan and let the cake drop out onto a platter. The pineapple and cherries end up on top of the cake. In essence, it is cooked upside down from the way it is served.
What I love most about this treat is that it is so moist and delicious. The pineapple and cherry are the perfect addition to make this an incredible summer treat perfect for barbecues, parties and holiday get togethers.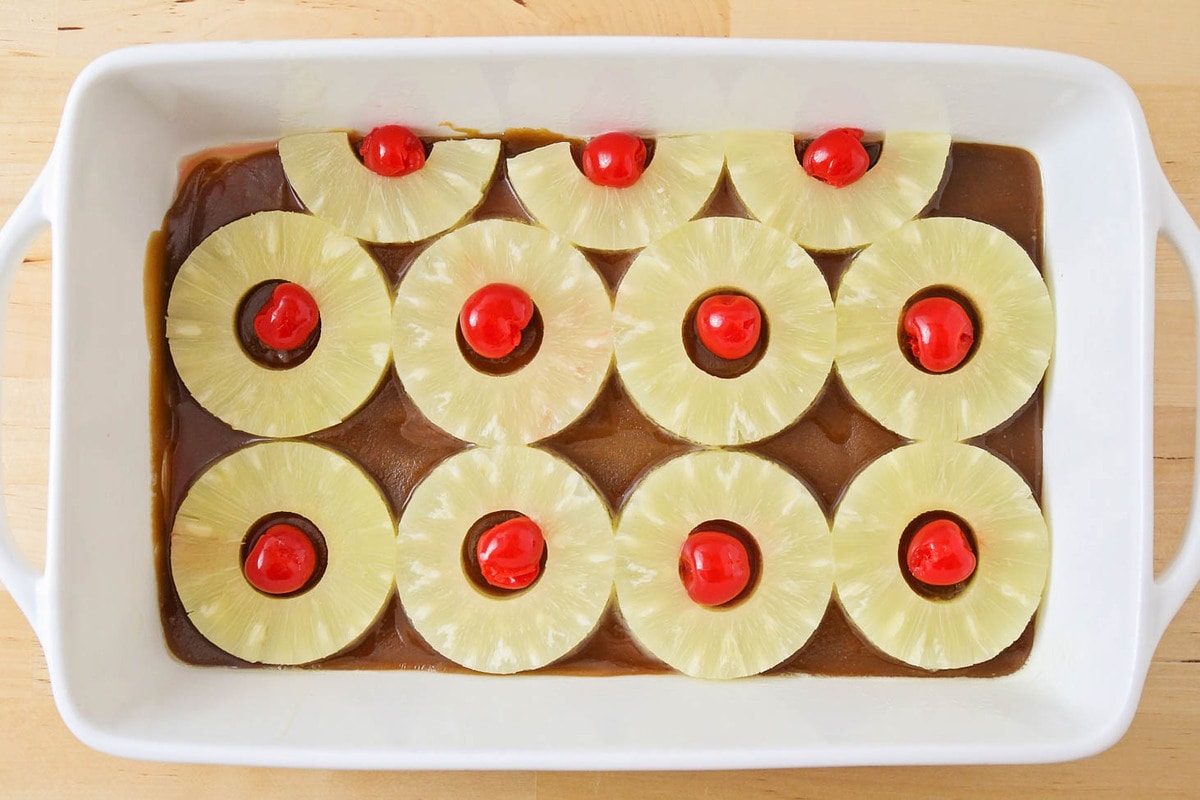 how to make pineapple upside down cake
FRUIT. Melt butter, add brown sugar, and pour it into a 9×13 pan. Place the drained pineapple rings and cherries in the pan, and set aside.
BATTER. Create the cake batter by first mixing dry ingredients and wet ingredients in a separate bowl and then combining in a large bowl. While you're still mixing, add milk, pineapple juice, and almond extract. Spread batter over the pineapple rings in the 9×13 pan.
BAKE. Bake at 350° for 35-40 minutes, or until the middle is cooked through. Let the cake cool for 30 minutes, and carefully flip cake over onto a serving platter.
cake flipping 101
When to flip pineapple upside down cake? You want to allow the cake to cool enough that the structure will hold up, but don't wait too long otherwise the caramelized juices from the pineapple will harden making it difficult for it to release from the bottom of the pan.
I suggest allowing the cake to cool between 10-30 minutes before flipping it.
The tricky part to this recipe is being able to flip the cake once it's done. Here are some tips for flipping it without any problems:
Wait long enough for the cake to cool (at least 30 minutes)

Use a sharp paring knife or a rubber spatula and slide it around the inner perimeter of the pan.

Place the serving platter over the top of the pan. Be sure the platter is larger than the cake.

Place one hand on top of the platter and one hand on the bottom of the pan, then flip.

Allow the cake to sit for another few minutes with the pan still covering it.

Carefully remove the pan.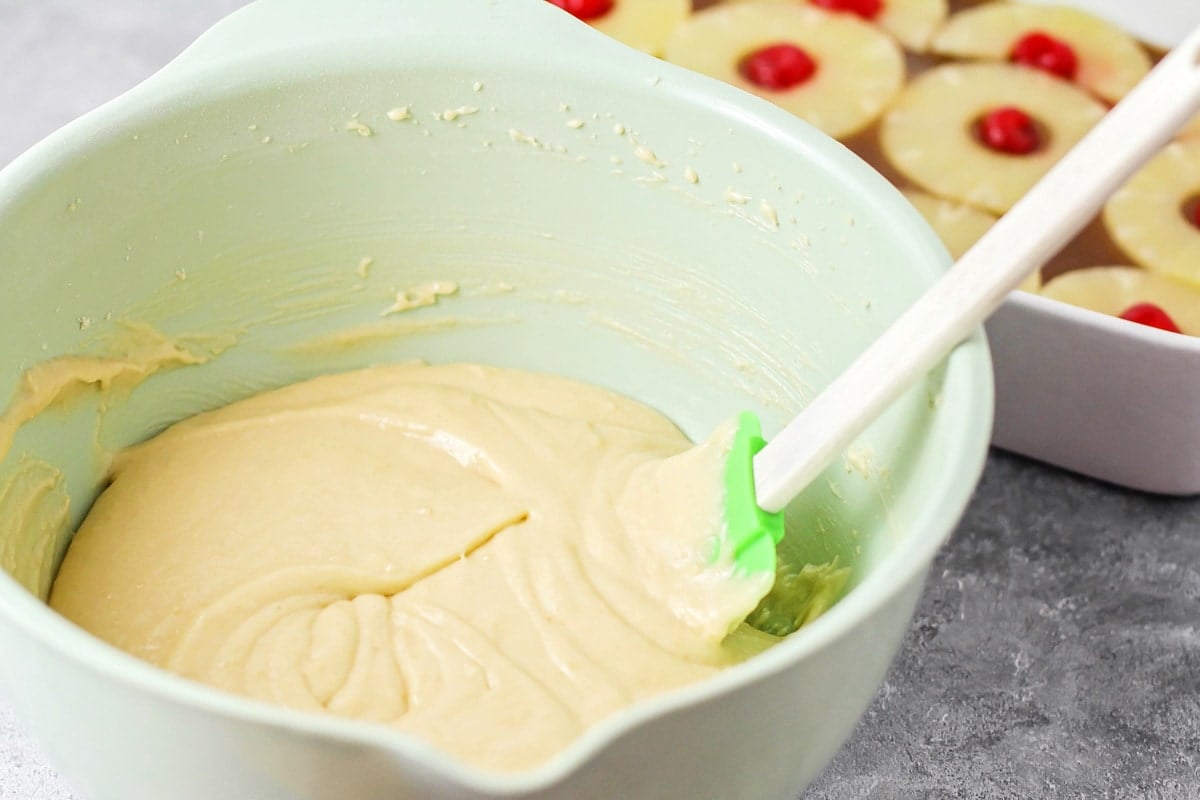 VARIATIONS & Troubleshooting
Want to change things up with this cake? Here are a few suggestions:
Cut some of the pineapple rings in half and line the sides of the pan

Sprinkle chopped walnuts or pecans in the bottom along with the cherries and pineapple

You can serve this cake warm or cold. It's delicious either way. If you serve it warm I suggest adding a scoop of vanilla ice cream with it. 
Using a bundt pan: Preheat the oven to 350 °F and bake for 35-40 minutes or until done. Use a wooden skewer to check. If you want to make 9" rounds, preheat the oven to  375°F and bake for 30-35 minutes. Check if it's done with a toothpick.
Why did my pineapple upside down cake sink in the middle? Since baking is a science, it can sometimes be hard to determine exactly what caused a recipe to go awry. For this cake, there are a couple factors to avoid that tend to cause a cake to sink:
Opening the oven door too soon or too often can cause the oven temperature to drop which can cause the sake to sink.
Using expired or too much baking powder can cause the cake to rise improperly. Either it won't rise enough or it will rise too much, then fall. 
 Not properly drying the pineapples can yield too much liquid which may cause the cake to become oversaturated and then sink. 
Why is my pineapple upside down cake soggy? The biggest culprit of a soggy cake is excess juice from the pineapples. I suggest draining the juice into a bowl (don't discard it since some of it is needed in the recipe).
Leave the pieces of pineapple in a colander to finish draining while you prepare the other ingredients. Finally, use a paper towel to blot any remaining juice before placing the pineapple rings in the pan.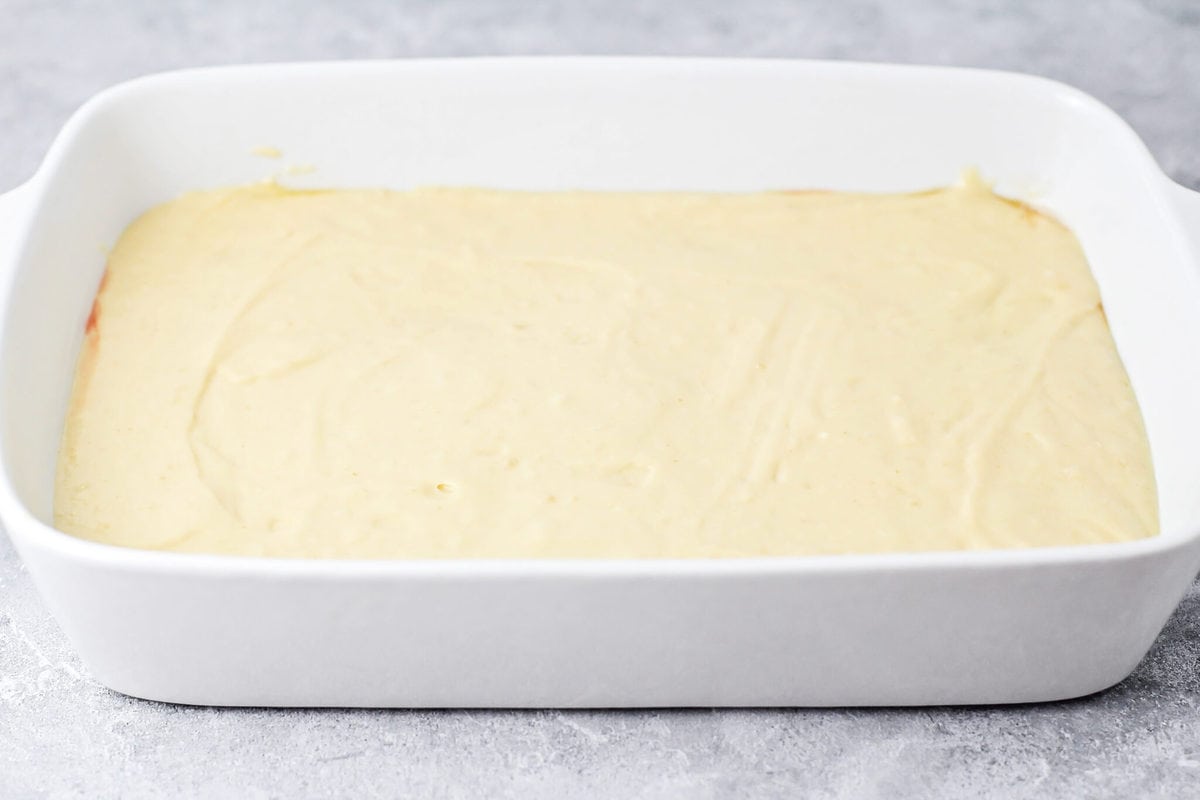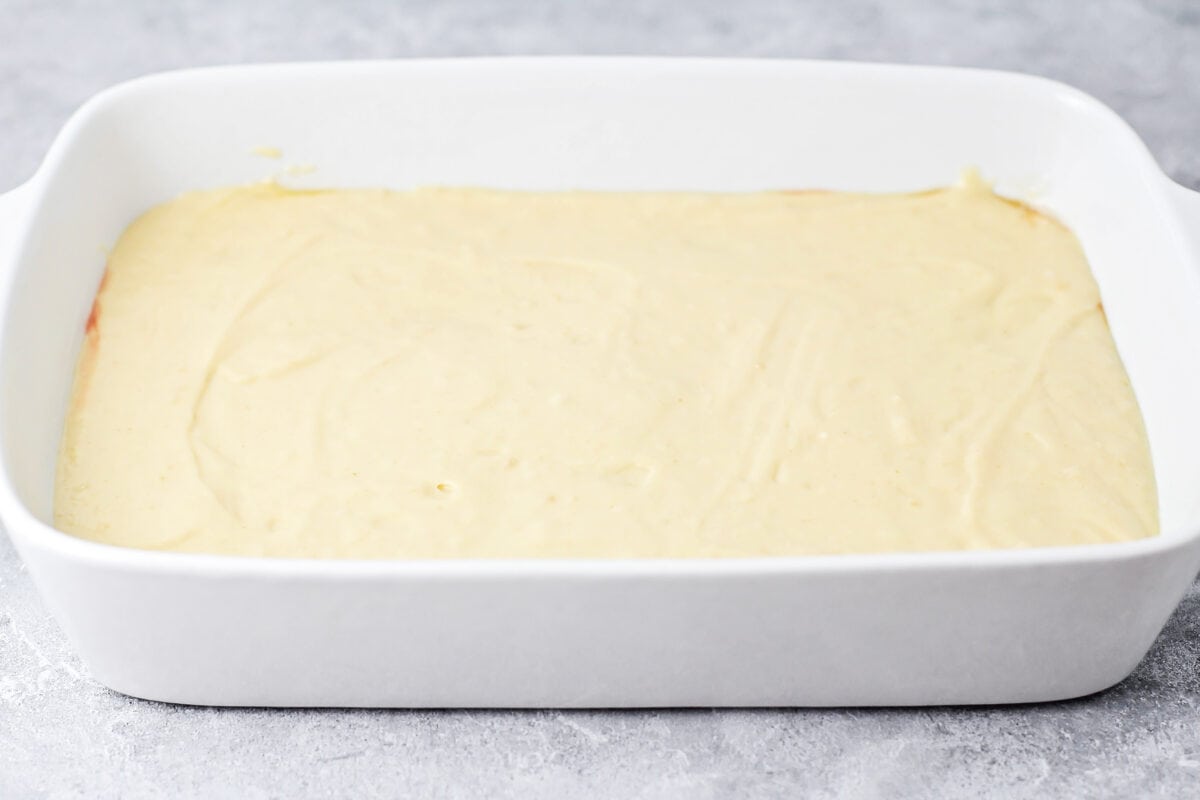 Making Ahead and Storing
Make Ahead: Pineapple upside down cake can be made ahead of time. You can store it at room temperature for 1-2 days, in the fridge for a few days or even freeze it for a couple months.
STORE cake in an airtight container in the fridge for about 3 days.
Whether you want to make this cake ahead of time or store leftovers you can do so in three ways. Be sure the cake has cooled completely before storing.
Room temperature: Cover with plastic or store in an airtight container for up to 2 days at room temperature.
Fridge: Store in an airtight container in the fridge for 3-4 days.
Freezer: Allow the cake to cool and place it in the freezer for 1-2 hours; long enough to allow the outside of the cake to freeze. Wrap the cake with plastic wrap then again with foil. Label and freeze for 2-3 months.
Reheat: Allow to thaw if applicable. Reheat you can always reheat it in the microwave, but I prefer loosely wrapping it in foil and placing it in the oven. Heat at 350°F until warm.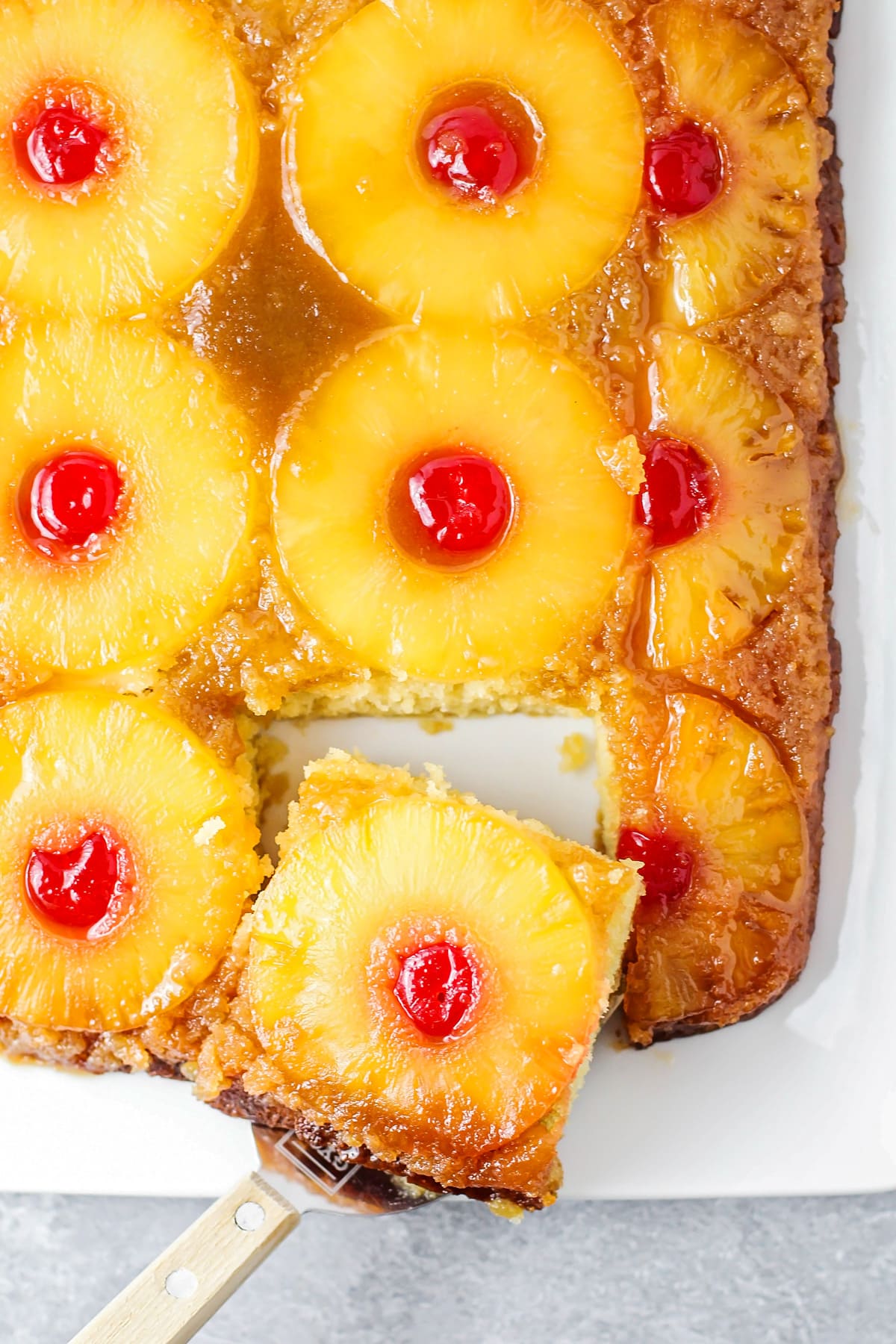 This classic dessert will be a hit at your next get together. Be sure to check out our cupcake version too! It tastes just as good and is great for parties.
For more cakes with fruit, try:
Melt ½ cup butter in a pot.

Stir in 1 cup brown sugar and bring to a boil, stirring frequently. Continue boiling for 1 minute. Pour into a greased 9×13″ pan.

Drain pineapple rings, reserving ½ cup of the juice.

Place pineapple rings into the bottom of your pan. Place a cherry in the middle of each ring. Set aside.

In a medium bowl, whisk flour, baking powder and salt together. Set aside.

In another medium bowl, beat softened butter, sugar and ½ cup brown sugar until well combined. Add eggs and blend well.

Add flour mixture to the wet mixture. Beat until well combined.

While still mixing, add milk and ½ cup of the reserved pineapple juice and almond extract.

Carefully spread batter over pineapple slices.

Bake at 350 for 35-40 minutes or until middle is cooked through.

Let cool for 30 minutes.

Carefully turn cake over onto serving tray and enjoy!
[ad_2]

Source link