Easy Zuppa Toscana Recipe | Gimme Some Oven
This post may contain affiliate links. Please read my disclosure policy.
This easy Zuppa Toscana recipe, inspired by the Olive Garden version, uses store-bought gnocchi as a shortcut to bring this creamy sausage and kale soup together in just 30 minutes.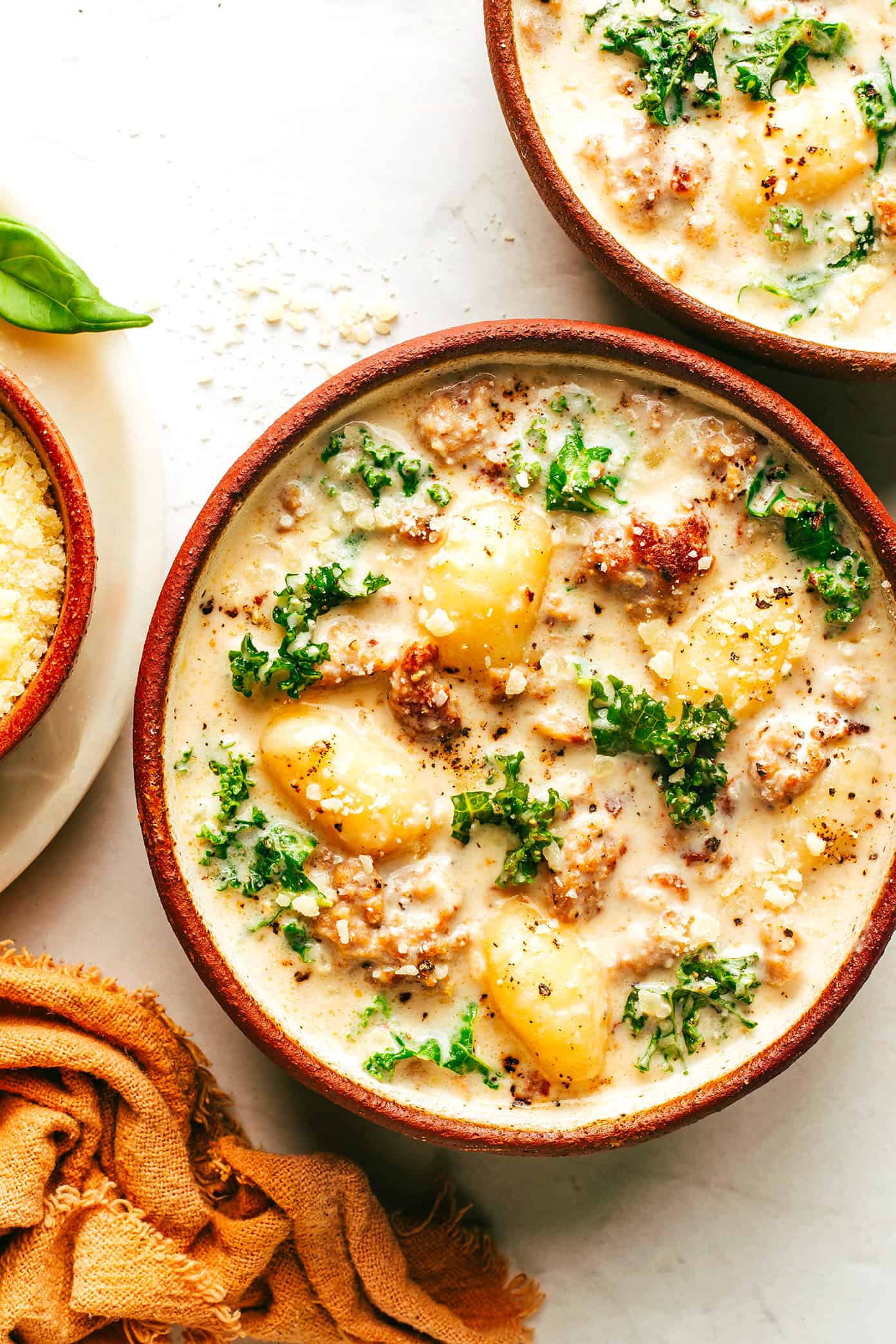 Raise your hand if you grew up loving the Olive Garden's famous zuppa toscana! Well if you happen to have a nostalgic craving for this cozy soup, but are perhaps a bit pressed for time, here is my "shortcut" version that I honestly love just as much. ♡
It's made with store-bought potato gnocchi that only take a few minutes to cook to pillowy perfection, saving us the step of having to dice and boil the traditional pound of potatoes. And when combined with the classic combination of zesty Italian sausage, creamy garlic broth, and loads of fresh kale, this delicious soup tastes as cozy and comforting as ever. Plus it can be ready to go in just 30 minutes using just 7 main ingredients!
Feel free, of course, to customize this recipe by adding in any extra veggies, tomatoes, beans, bacon, or other add-ins that happen to sound good. And if you prefer to make this soup vegetarian, we often make ours nowadays using plant-based Italian sausage (either sliced or ground) which works just as well. I recommend serving it with a simple arugula salad and maybe a quick batch of roasted veggies on the side. And especially on chilly nights, a warm bowl of this zuppa is sure to warm you right up.
Let's make a quick batch together!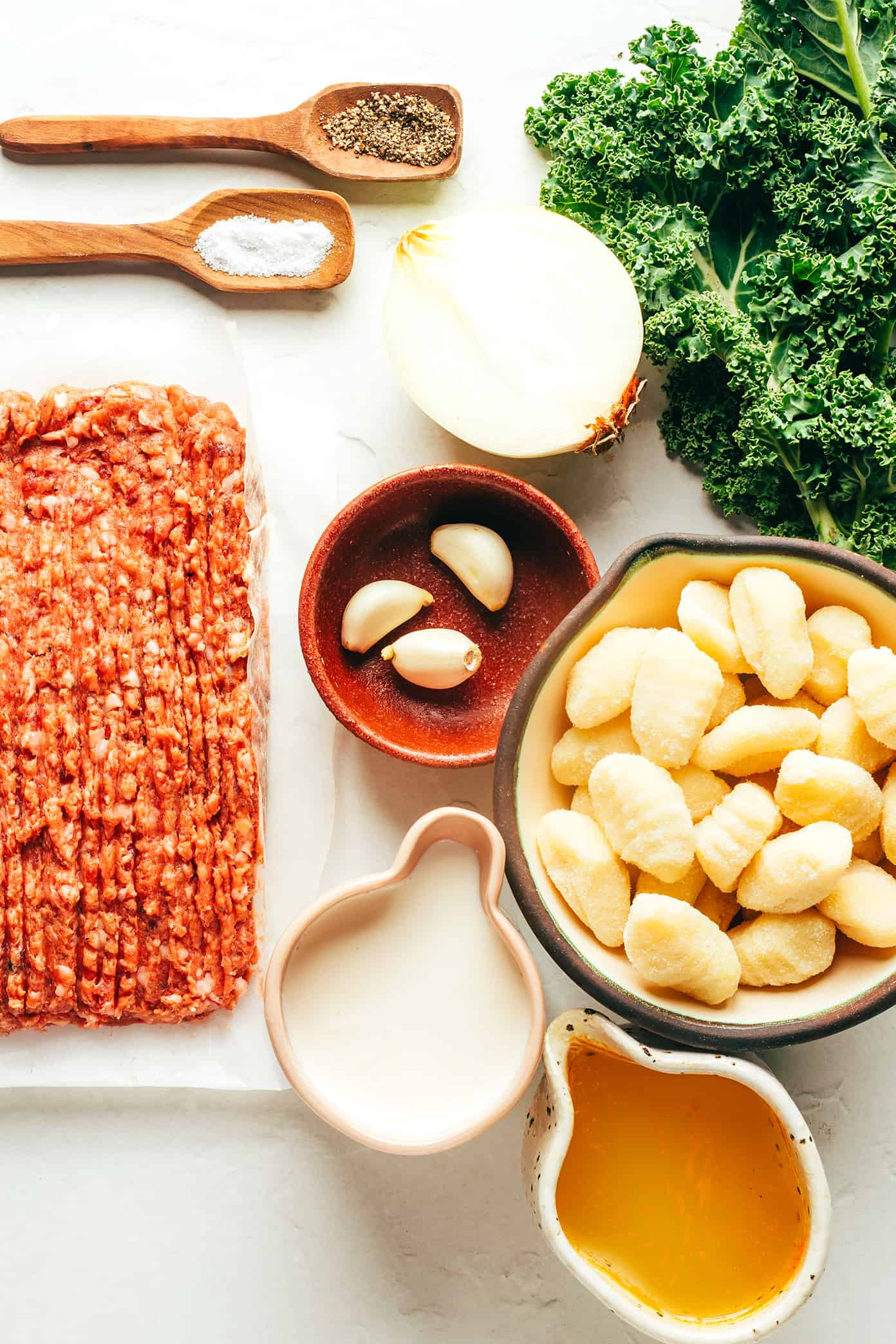 Easy Zuppa Toscana Ingredients
Before we get to the full recipe below, here are a few notes about the ingredients you will need for this Olive Garden-inspired zuppa toscana recipe:
Italian sausage: This serves as the primary seasoning for this soup, so be sure to choose a good-quality Italian sausage that you love! I'm partial to spicy Italian sausage in this recipe, although you're welcome to go with sweet or mild Italian sausage if you prefer. And while ground sausage is definitely easiest to work with here, sliced sausage works well too.
Gnocchi: We're going to save time by adding a package of store-bought gnocchi to the soup, which only take a few minutes to cook. If you are making this recipe gluten-free, be sure to look for certified gluten-free gnocchi. (Or if you feel like going the extra mile, you can make my favorite homemade gnocchi.)
Onion and garlic: These will serve as our base aromatics for the soup. Feel free to add more garlic if you prefer!
Chicken stock: Again, since we are using so few ingredients here, I recommend purchasing whichever good-quality chicken or vegetable stock you love best.
Greens: I typically add a few large handfuls of chopped fresh kale to this soup. But baby spinach or collard greens would also be delicious options.
Heavy cream: I typically add around 1 cup of cream to this recipe, but feel free to use more or less if you prefer.
Salt and pepper: Don't forget to also season the soup as needed with fine sea salt and freshly-ground black pepper.
Roasted red peppers (optional): My original version of this recipe also added in a small jar of roasted red peppers, drained and diced. I don't always keep roasted red peppers stocked in my pantry, and have found this soup to be plenty flavorful without them. But feel free to add in a jar if you'd like!
Toppings (optional): And finally, feel free to garnish the soup with any extra toppings that you love best! I often love adding on some freshly-grated Parmesan cheese, plus perhaps some crumbled bacon or chopped fresh basil if we happen to have them on hand.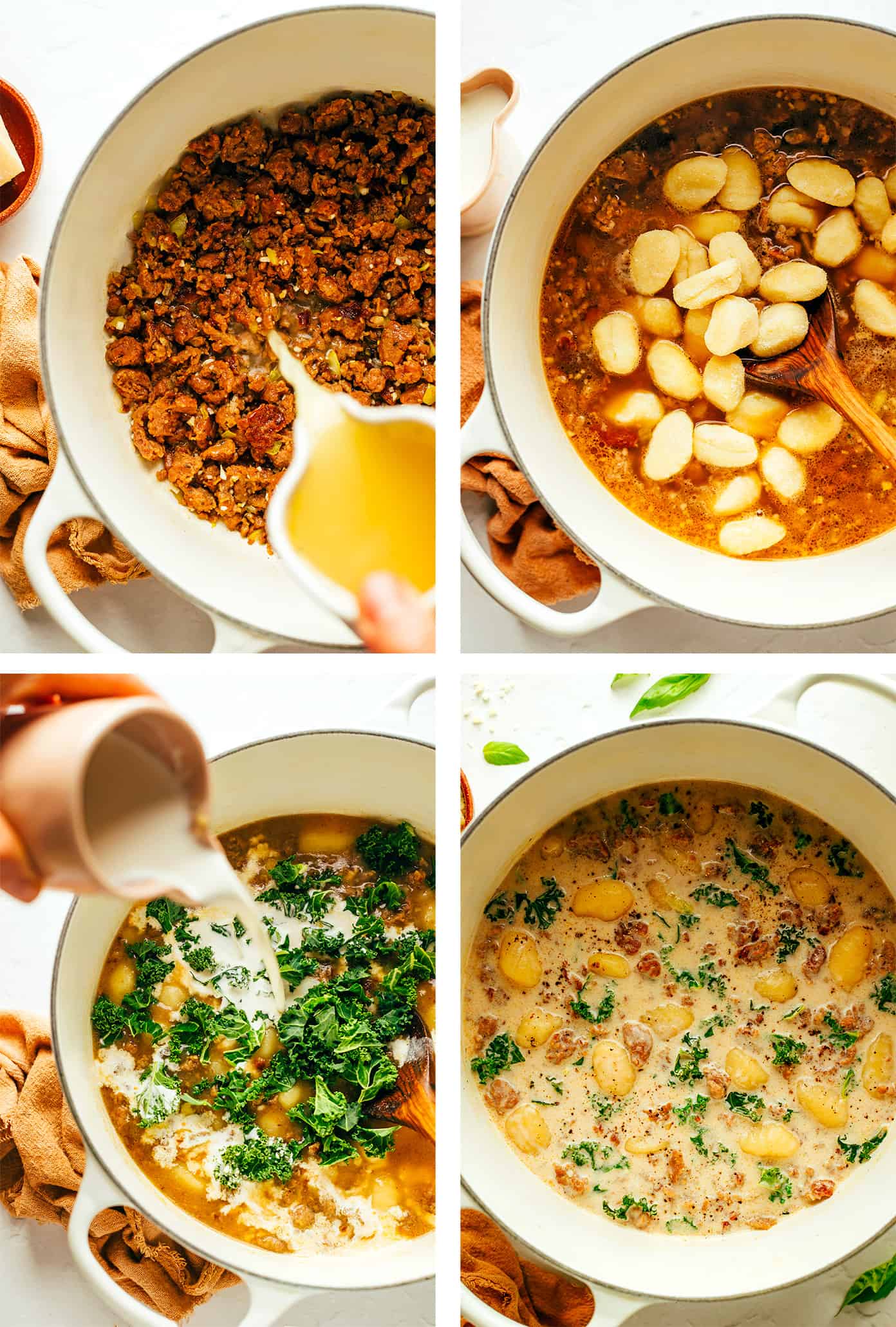 Zuppa Toscana Recipe Variations
Here are a few other recipe variations that you're welcome to try:
Add tomatoes: This soup is also wonderful with some diced tomatoes (I recommend fire-roasted) mixed in.
Add veggies: Add in any of your favorite soup-friendly veggies (such as carrots, cauliflower, peas, red bell pepper, zucchini, etc) that you would like.
Add beans: Add in a can of Great Northern white beans (rinsed and drained) if you would like to add in some extra protein.
Make it vegan: Use plant-based Italian sausage and your preferred plain non-dairy milk or cashew cream in place of the cream.
Make it spicier: I love adding spicy Italian sausage to this soup to give it some heat. But feel free to add in some crushed red pepper flakes to kick things up another notch.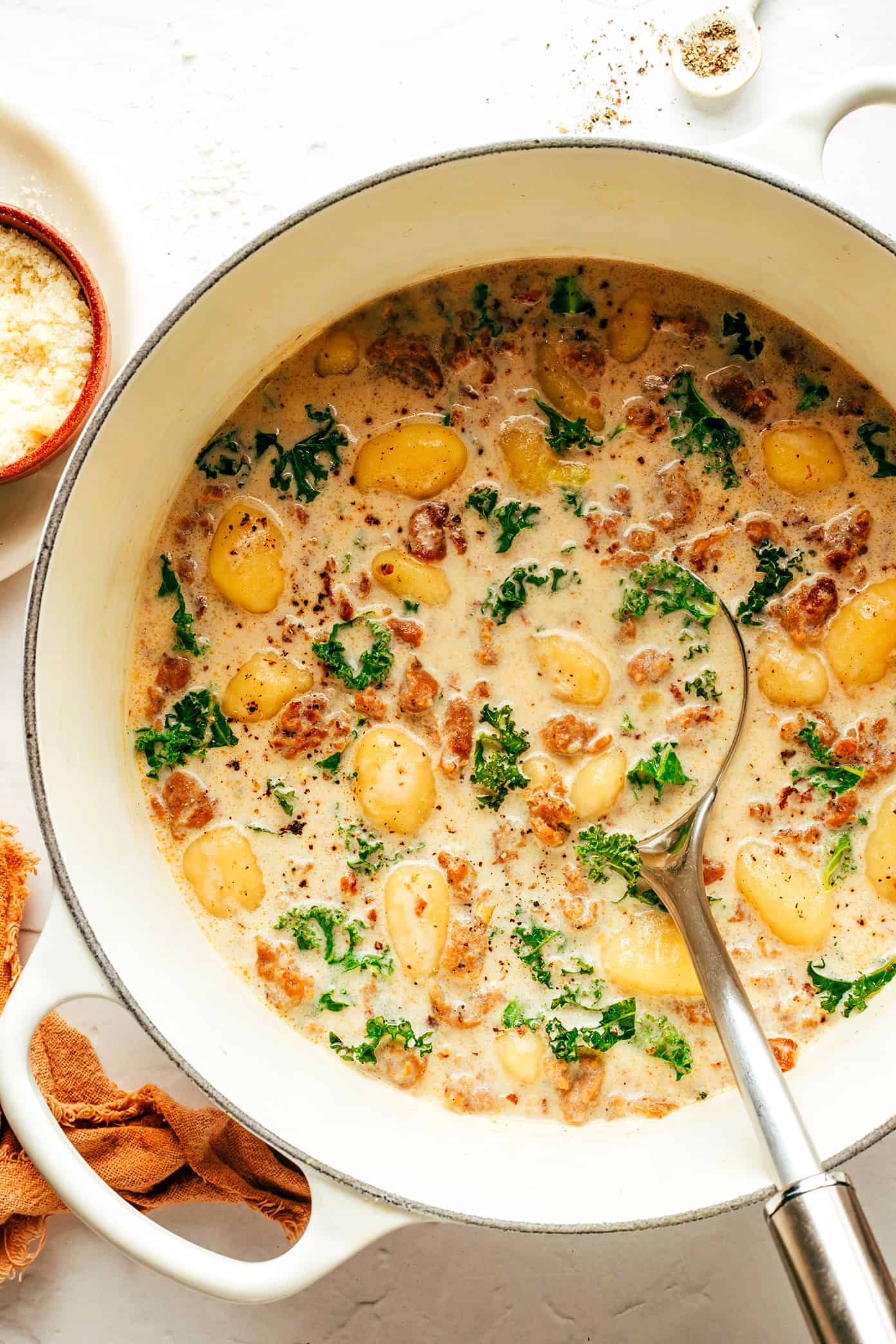 More Cozy Soup Recipes
Looking for more Italian-inspired cozy soup recipes to try? Here are a few of our faves: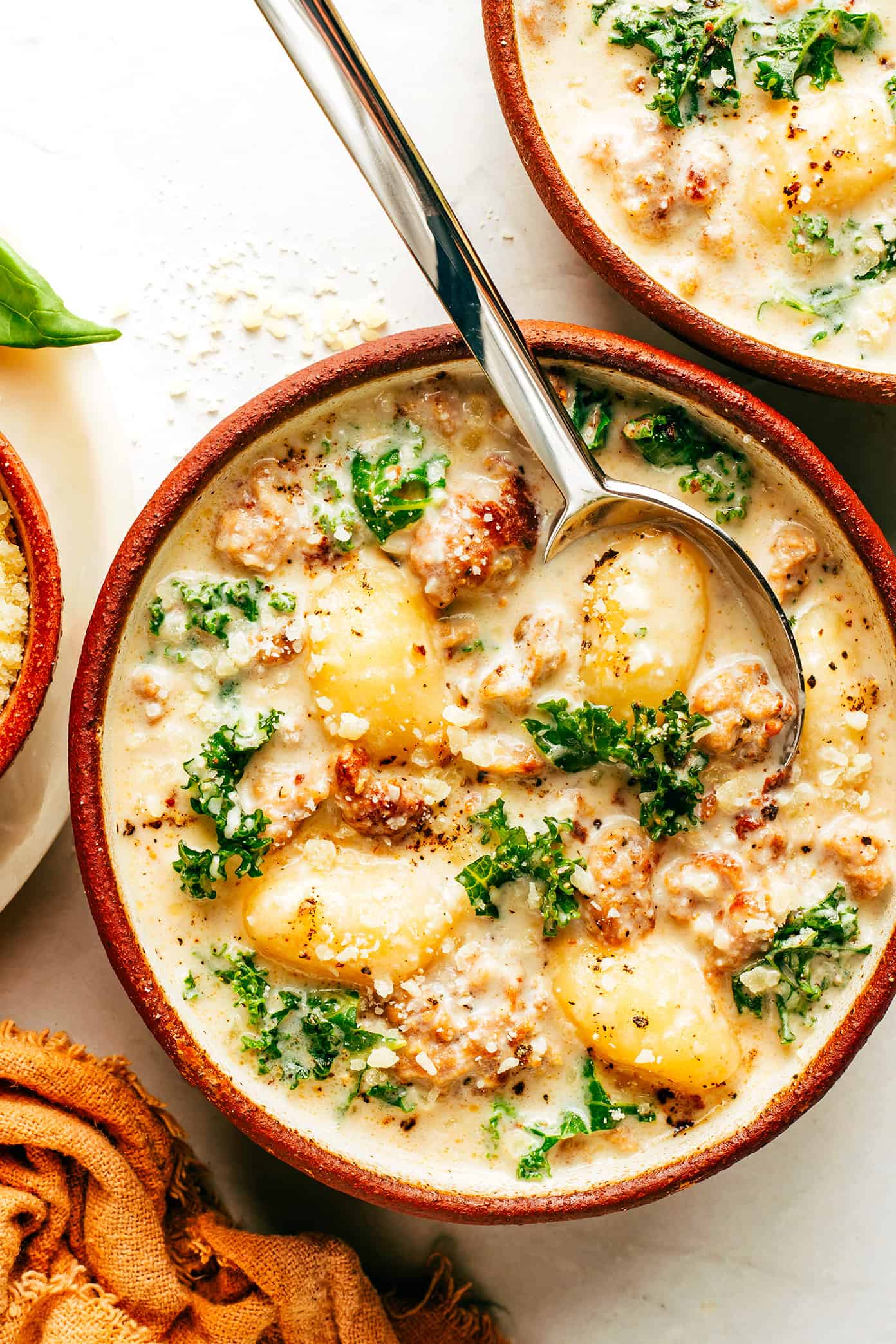 Print
---
Description
This easy Zuppa Toscana recipe, inspired by the Olive Garden version, uses store-bought gnocchi as a shortcut to bring this creamy sausage and kale soup together in just 30 minutes.
---
1

pound ground Italian sausage (I recommend spicy)

1

medium white onion, peeled and diced

3

garlic cloves, minced

4 cups

chicken stock

1

(1-pound) package gnocchi

2

to

3

cups chopped fresh kale

1 cup

heavy whipping cream

fine sea salt and freshly-ground black pepper

optional toppings: freshly-grated Parmesan cheese, crumbled crispy bacon, chopped fresh basil
---
Cook the sausage, onions and garlic.

Add the sausage and onions to a large stockpot. Cook for 8-10 minutes, using a wooden spoon to break up the sausage as it cooks, until the sausage is browned and the onion has softened. Add garlic and cook for 2 minutes, stirring occasionally.

Simmer.

Add chicken stock and stir to combine. Continue cooking until the soup reaches a simmer. Add the gnocchi, kale, heavy cream, and stir to combine. Cook for 2 minutes or until the gnocchi float to the surface of the soup.

Season.

Taste and season the soup with salt and black pepper as needed.

Serve.

Serve warm, sprinkled with any of your desired toppings, and enjoy!
---
Notes
Recipe edit: This recipe was edited slightly in 2022 to add onions. The original recipe also included 1 small jar of roasted red peppers (drained and diced), which you are welcome to add in with the chicken stock if you would like!