Easy Texas Roadhouse Butter Recipe
Texas Roadhouse Butter is perfect for rolls, fresh bread, toast, muffins, and more! This creamy whipped honey cinnamon butter is made with a few simple ingredients. You will love the taste of this honey cinnamon butter.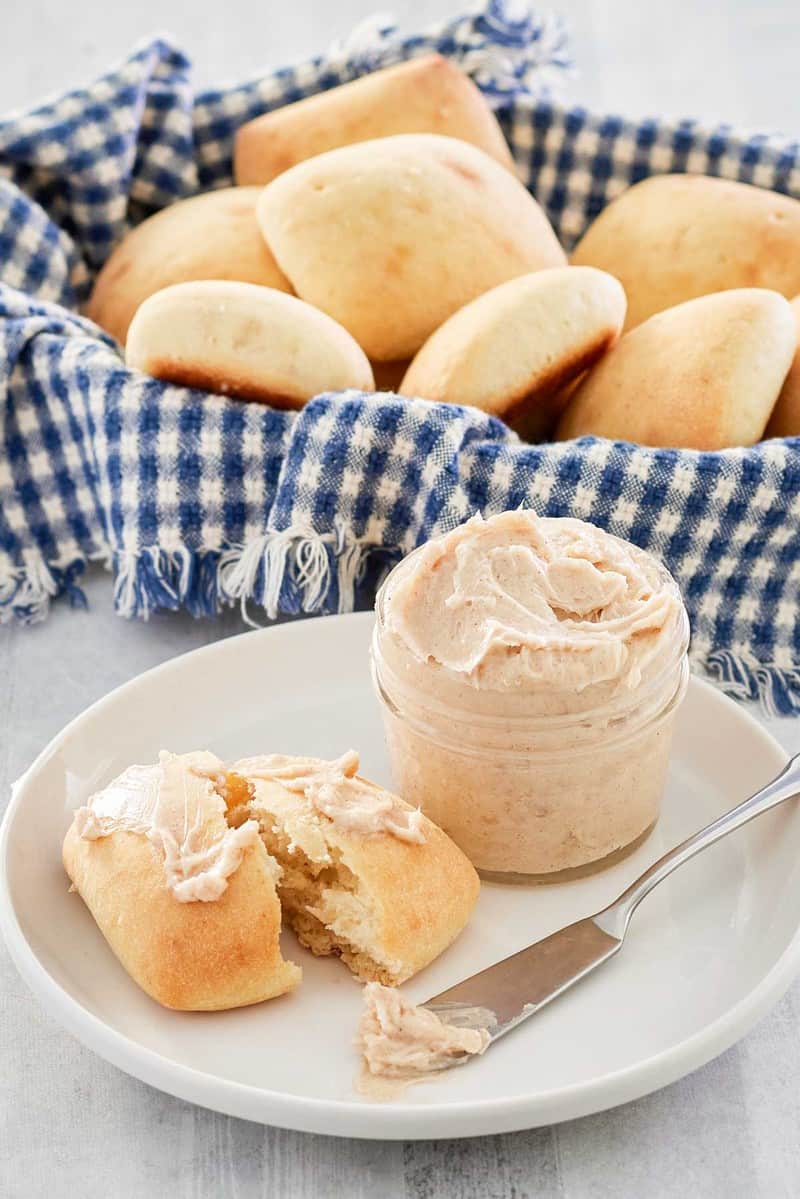 This post contains affiliate links. As an Amazon Associate, I earn from qualifying purchases.
Why Is Texas Roadhouse Honey Butter So Good?
Do you want a simple recipe to transform ordinary dinner rolls into something spectacularly sweet and creamy? Then you will want to try this Texas Roadhouse Cinnamon Butter recipe with a touch of honey and a sprinkling of cinnamon for an added kick.
Slather it on just about any baked goods to make them even more scrumptious. 
Why This Is the Best Recipe for Cinnamon Honey Butter for You To Try 
With only four ingredients, this recipe is a snap to whip up. It only takes a few minutes to put together right before serving, or go ahead and make a big batch to put in the fridge and use throughout the week.
Some recipes for Texas Roadhouse Butter call for additional ingredients like vanilla extract and extra salt, or even skipping the butter and starting with heavy whipping cream(!). This recipe proves that simplicity is usually the best option when it comes to cooking. 
What Is Cinnamon Honey Butter Made Of?
To make Texas Roadhouse Butter, you'll need these ingredients:
Salted butter – you can use unsalted butter if you desire
Ground cinnamon
Honey
Powdered sugar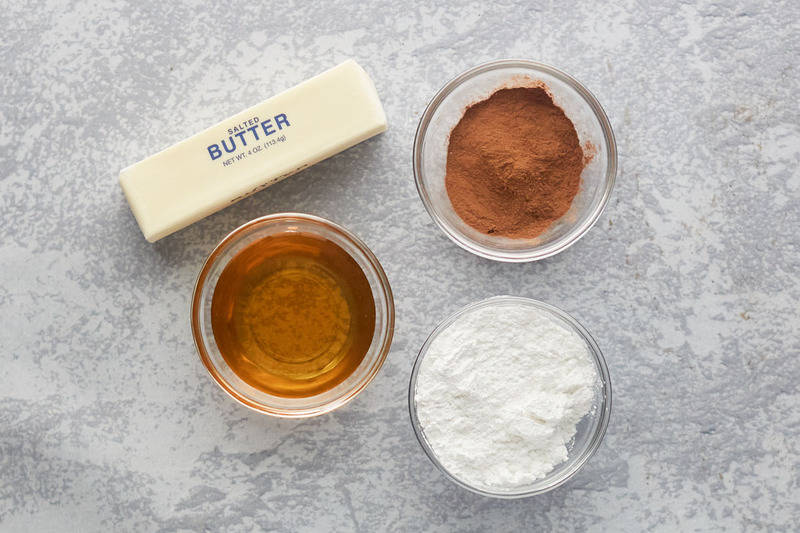 How To Make Texas Roadhouse Cinnamon Honey Butter
To make cinnamon honey butter:
Take the butter out of the fridge for at least 15 minutes before starting the recipe to allow it to soften.
As the butter comes up to room temperature, heat the honey in the microwave for about 30 seconds. 
Place the cinnamon, powdered sugar warmed honey, and softened butter in a mixing bowl.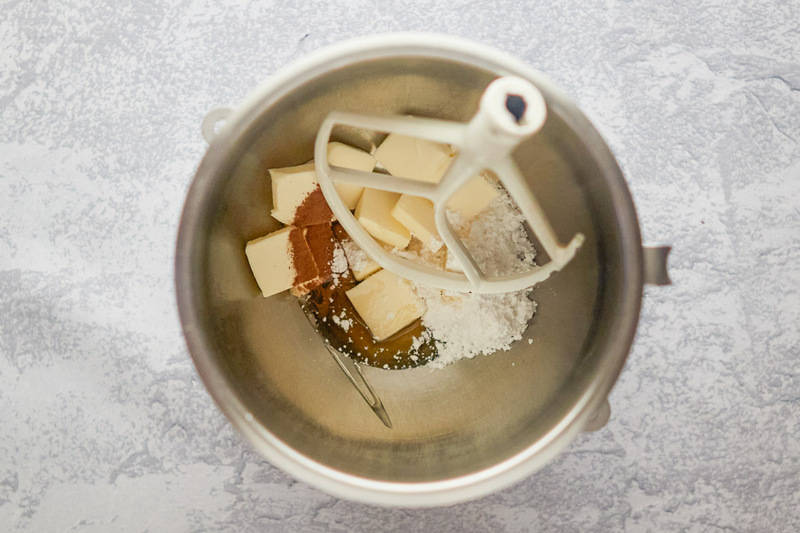 Use an electric mixer you could use a stand mixer if you prefer to whip it until it becomes light and airy.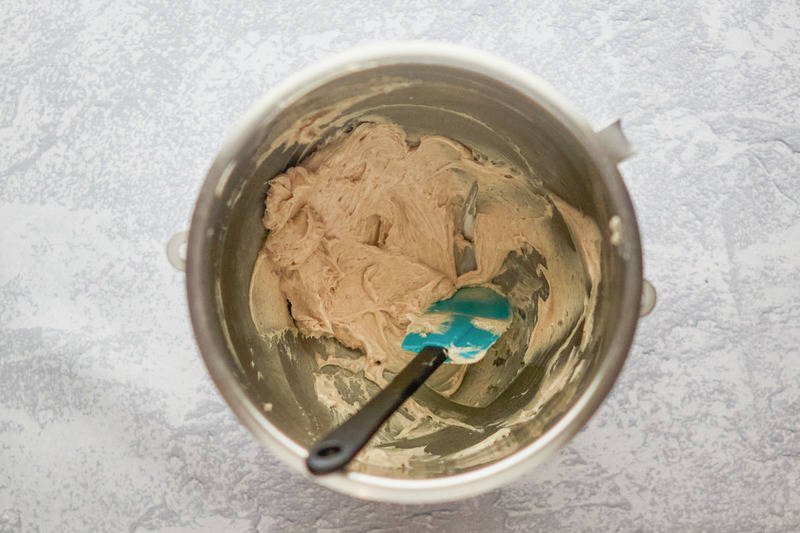 Transfer the whipped butter to a container. Serve immediately or refrigerate until serving.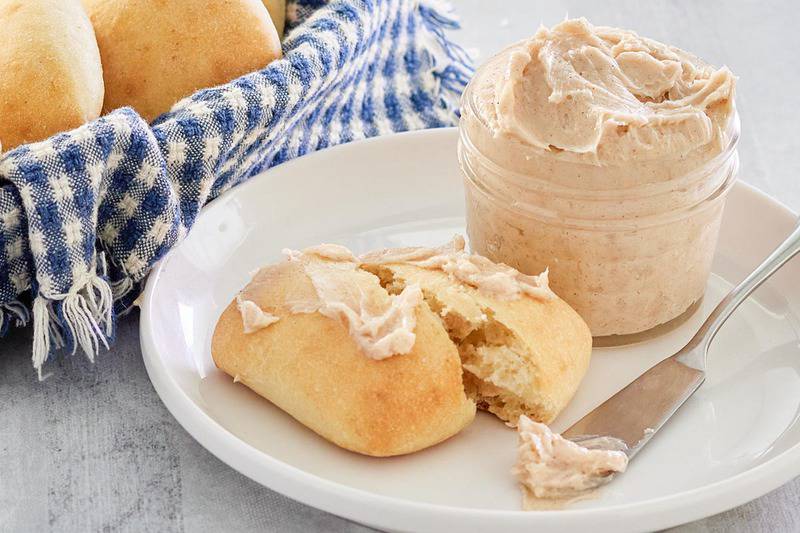 Tips for Measuring Honey 
Measuring honey can get you in a sticky situation, but there are a couple of tips you can use to help.
Heat the honey before measuring it by holding the container under the faucet and running hot water over it for 30 seconds. 
Brush the measuring spoon with a bit of neutral oil, like canola, to keep the honey from sticking.
Use a kitchen scale and skip the sticky measuring spoon. Two tablespoons of honey way about an ounce and a half. 
How Should You Serve This Copycat Texas Roadhouse Butter Recipe
The best way to serve Texas Roadhouse cinnamon butter is freshly whipped at room temperature. If it has been sitting in the fridge for a while, fluff it up using a hand mixer. Always thaw and re-whip frozen butter before serving. 
How Long Does It Take for Honey Butter To Get to Room Temperature?
It takes about an hour to bring butter to room temperature after being in the fridge, but you can reduce the length to 30 minutes if you use a mixer to re-whip it. 
How To Store and Save Cinnamon Honey Butter for Later
If you plan to use up the butter in a week or two, put it in a container, place a piece of plastic wrap over the top and push the plastic down to force all the extra air out. Put a lid on the container and keep the butter in the fridge for up to two weeks. Any longer than that, and you really should try freezing it.
An easy way to prepare the butter for the freezer is to lay out a piece of plastic wrap, or better yet, a sheet of waxed paper on the counter. Form the butter into a strip about a third from the bottom edge. Leave at least an inch without butter on each side.
Fold the bottom edge of the plastic or waxed paper over the butter and roll tightly. Twist the ends in opposite directions to seal. Wrap the tube of butter in aluminum foil and keep it in the freezer for up to six months. 
What Type of Honey Should I Use? 
It is probably best to use filtered honey for making Texas Roadhouse Cinnamon Butter, but go ahead and choose your favorite type. Lighter kinds of honey won't overpower the other ingredients, but if you love the flavor of dark honey, go for it. You can always add more cinnamon and a pinch of salt to compensate. 
Other Uses for Cinnamon Honey Butter 
In addition to serving this butter with baked goods like Texas Roadhouse rolls, waffles, biscuits, and pancakes, and French toast, try it with savory foods as well like sweet potatoes.
Cinnamon honey butter is wonderful on corn and provides a complex sweetness when brushed on grilled or smoked steaks or burgers. Heat the butter in the microwave and toss it with popcorn for a real treat!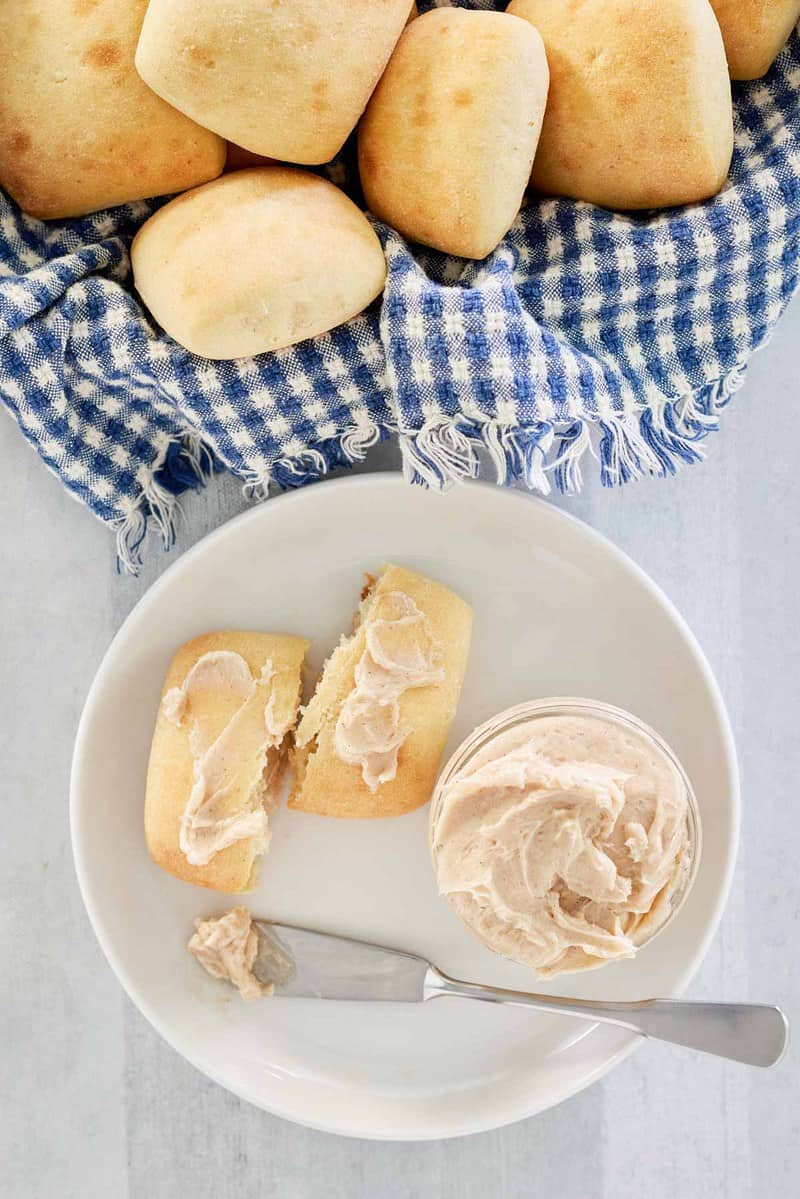 How to store cinnamon honey butter
Be sure to store any unused portion of the copycat Texas Roadhouse butter in an airtight container in your refrigerator. This will last for two to three weeks.
Great Spreads for Bread and Rolls
Favorite Steakhouse Recipes
Check out more of my easy sauce recipes and the best copycat restaurant recipes here on CopyKat!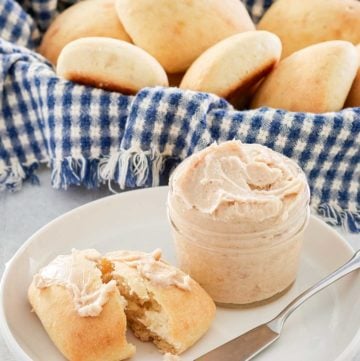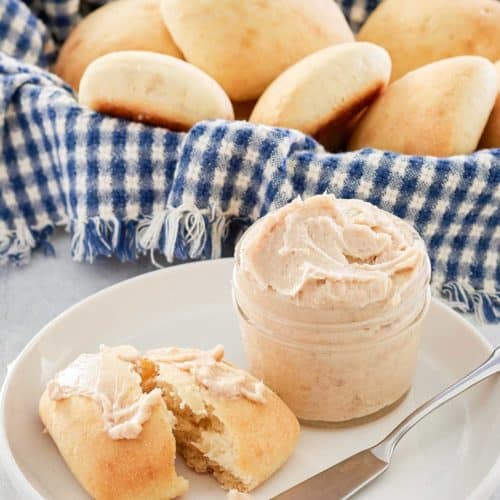 Texas Roadhouse Butter
Texas Roadhouse Cinnamon Honey Butter is delicious on warm yeast rolls.
Print
Pin
Rate
Add to Collection Go to Collections
Servings: 12
Calories: 84kcal
Ingredients
1/2

cup

salted butter

softened

1

teaspoon

ground cinnamon

2

tablespoons

honey

2

tablespoons

powdered sugar
Nutrition
Calories: 84kcal | Carbohydrates: 4g | Protein: 1g | Fat: 8g | Saturated Fat: 5g | Polyunsaturated Fat: 1g | Monounsaturated Fat: 2g | Trans Fat: 1g | Cholesterol: 20mg | Sodium: 61mg | Potassium: 5mg | Fiber: 1g | Sugar: 4g | Vitamin A: 237IU | Vitamin C: 1mg | Calcium: 4mg | Iron: 1mg