Chinese New Year 2021: The Best Restaurants for Reunion Dinners in Singapore
By Dudi Aureus
January 19, 2021
Ring in the Year of the Ox with these delectable menus crafted by the island's best chefs
There are only a few more weeks to go before we usher in a brand new year and that only means the chefs are hard at work in the kitchen to create sumptuous reunion dinner menus to kick off CNY on a good note. Amid the pandemic, celebrations around the world have had to be tweaked to accommodate social distancing measures but this doesn't mean they are any less fun, of course.
Here, we present a list of our favourite restaurants to hold reunion dinners with the family in Singapore. 
Attract prosperity this coming Year of the Ox with chef Lee Hiu Ngai's Prosperity Reunion Set Dinner, which, naturally, commences with the ubiquitous yusheng. His version is an assembly salmon, greens and kumquat sauce that whets the appetite for the parade of dishes to come. Standouts include the silky smooth double-boiled thick chicken broth enriched with scallop, bamboo pith and flower mushroom; and steamed glutinous and jasmine rice embedded with Chinese sausage and wrapped in lotus leaf. Available for dine-in from February 12 to 26. Book here.
Cassia
Restaurant, $$$, Chinese, Harbourfront and Sentosa

---
Parties of five can indulge in Chinese Executive chef Leong Chee Yeng's set menus, composed of his delicious offerings for the festive period. The Family Style Set Menu 1 comprises a lavish prosperity salad of salmon and abalone, tossed with champagne jelly, shallot oil and kumquat dressing. This makes for the perfect start to the likes of pork knuckle stewed in the traditional way; and braised ee-fu noodles studded with prawns, mushrooms, bean sprouts and yellow chives. Available from January 25 to February 26. Book here.
Demon Chef Alvin Leung showcases elevated CNY dishes with his six-course Auspicious Chinese New Year menu. After a hefty serving of king salmon yusheng to welcome the year, you'll be able to dig into the traditional Buddha Jumps Over the Wall as well as steamed blue eyed cod and impossibly tender Hokkaido pork spare ribs. Desserts are equally palate-pleasing, as you'll soon discover when you take a bite of the Eight Treasure Sweet Rice in Coconut Shell. Available from January 25 to February 26. Book here.
Celebrate CNY in advance with the stalwart's Celebration Sets that highlight the culinary team's seafood specialities—chilli crab with deep-fried mantou buns; live Boston lobster steamed with minced garlic and glass vermicelli; and seafood fried rice with XO sauce, among others.
Want something more special? The Reunion Set (exclusively available on February 11) has your usual favourites of Prosperity Salmon Yusheng; rice steamed with braised pork and whole conpoy wrapped in lotus leaf; and live soon hock (marble goby) steamed with soya sauce. The Celebration Sets are available from January 25 to February 28 (except February 11). Book here.
Kick off the reunion dinner with a healthier version of yusheng, featuring an assortment of trout, kale, celeriac, sprouts, red radish, blueberries and wild rice. The meal gets even better with more sumptuous options such as oyster shooters, wok-fried white radish cake, and salt and vinegar beancurd crisps. For mains, choose from seafood dishes such as coconut tom yam snapper and golden pineapple sea prawns, or meaty creations such as char siew Kurobuta belly and steamed Shaoxing paper chicken. Available from January 29 to February 26. Book here.
Chopsuey Cafe | 01-23, 10 Dempsey Road, S(247700) | 6708 9288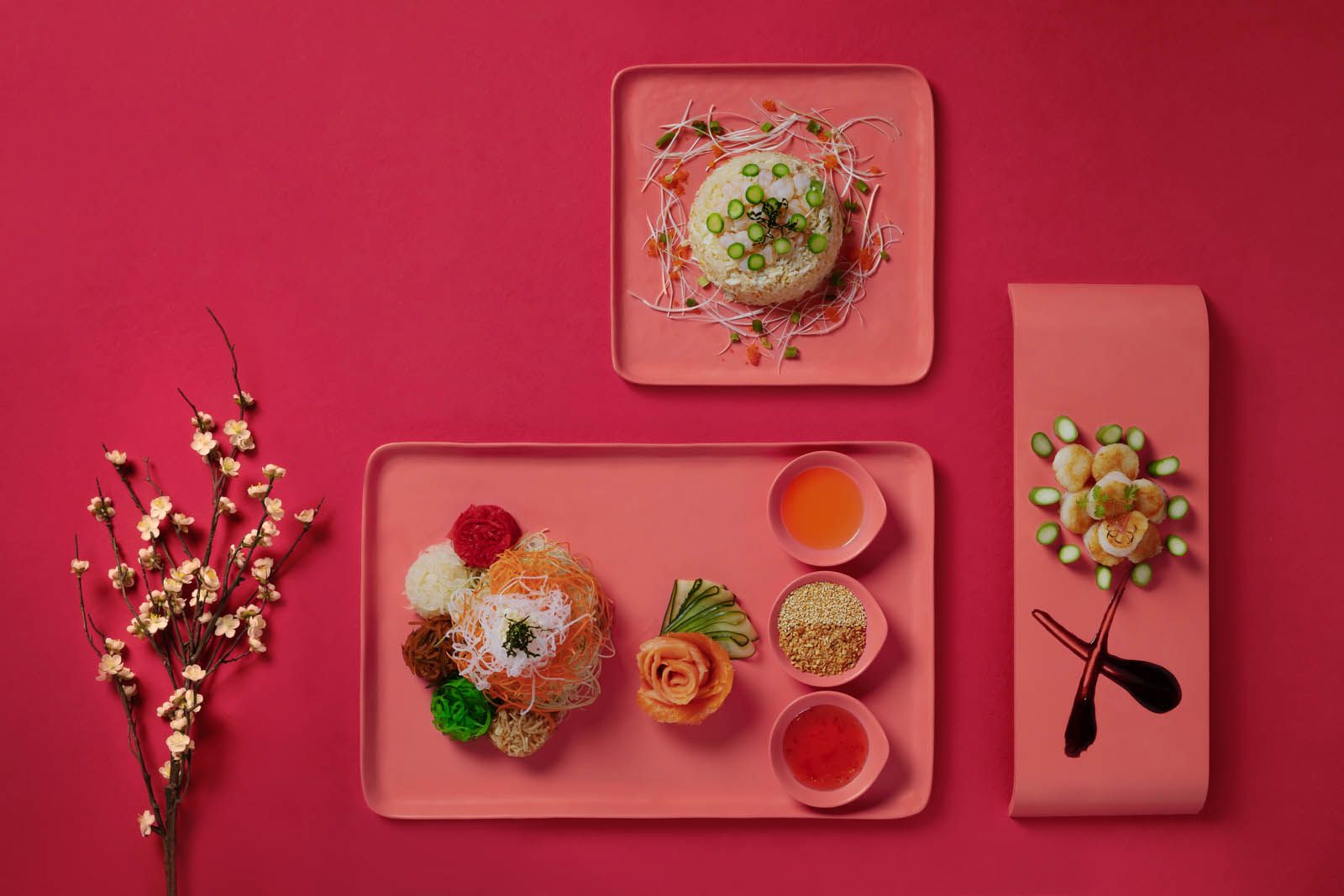 Executive chef Li Kwok Kwong wants you to have a delectable CNY feast, so he has created special menus to savour with your loved ones. For instance, the Eternal Fortune Set Menu comprises tasty indulgences of braised imperial bird's nest soup; steamed giant grouper cooked Hong Kong style; and, for something more contemporary, sliced roast chicken with foie gras. Available from January 18 to February 26. Book here.
Chinese Executive Chef Mok Kit Keung's eight-course menus make families look forward to CNY even more. The culinary highlights are the Fortune yusheng decked with Norwegian smoked salmon and poached lobster; Buddha Jumps Over the Wall; wok-fried Boston lobster coated in a zingy green pepper sauce. Available from January 25 to February 26. Book here.
Executive chef Nicky Ng ensures you'll eat well during the festive period with his bevvy of menus that are set to please the palate. Perfect for parties of eight is the Chinese New Year Menu H8, showcasing the likes of kanpachi kingfish yusheng; steamed codfish with preserved pork liver and sausage; and braised bonito lobster ee-fu noodles. Available from January 21 to February 21. Book here.
Mitzo
Restaurant, $$, Chinese, Modern, Orchard

---
For variety, executive chef Ben Zeng has created 10 stellar set menus that you can feast on with your loved ones. The line-up is a showcase of his greatest CNY hits, the highlights being the fusion-inspired sliced barbecued Beijing duck topped with pan-fried foie gras; and stewed lobster tossed with inaniwa udon and coated in homemade XO chilli sauce. Available from January 25 to February 26. Book here.
Hai Tien Lo
Restaurant, $$, Chinese, Cantonese, City Hall/ Bras Basah

---
Classic Cantonese fare cooked using premium ingredients star in the culinary team's set menus this festive period. So toast to the year ahead with an indulgent yusheng loaded with shredded greens and crowned with braised abalone and fresh yellowtail, before moving on to the beloved mains. Make your mouth water with the meaty lobster poached in superior stock and set atop ee-fu noodles, as well as double-boiled bird's nest bobbing with lily, white fungus, wolfberry and lotus seed. Available from January 28 to February 26. Book here.
Yàn
Restaurant, $$, Chinese, Cantonese, City Hall/ Bras Basah

---