Chewy, Soft Gingerbread Cookies | Chew Out Loud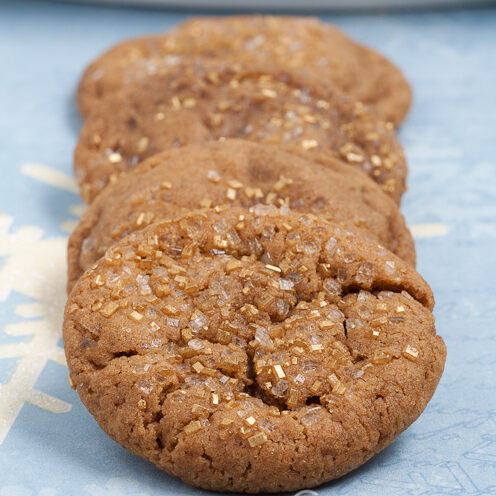 Soft Gingerbread Cookies
Cookie confession moment.  I'm not a fan of crunchy gingersnaps.  For me, crunchy gingersnap cookies are really meant to morph into crusts.  Case in point: crispy, crunchy gingersnaps are the perfect crust for a New York Pumpkin Cheesecake.
Otherwise, gingerbread cookies are best devoured when they're wonderfully chewy and soft. These cookies are not shy on holiday spices, and the resulting aroma is scrumptious.
The aroma of cinnamon, ginger, and molasses waft freely through the air as these beauties bake into a golden brown delight. Perfect for Christmas gift-giving, party cookie trays, and cookie exchanges.  These big, soft, chewy ginger cookies 100% taste and smell like the holidays.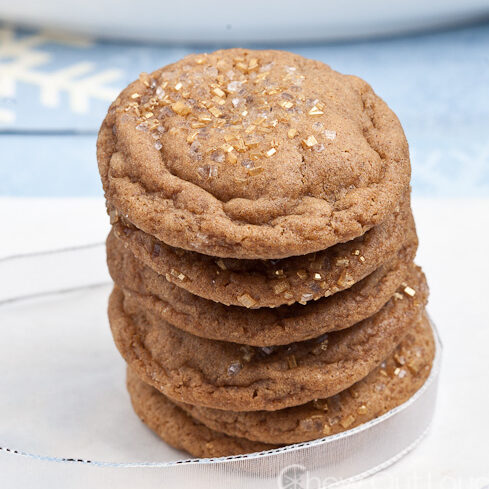 Gingerbread Cookies: Key Ingredients
Ground Ginger – ground ginger is easy to use and provides intense ginger flavor to these cookies.
Cinnamon and Cloves – these warm fall spices balance out the flavors beautifully.
Orange Juice – a bit of orange juice gives these gingerbread cookies a touch of citrus essence. If preferred, you can use apple juice or milk instead.
Molasses – molasses gives these gingerbread cookies an earthy, warm sweetness. It also helps keep these cookies chewy and soft.
Coarse sugar, colorful sprinkles, or your choice of icing can be used for decorating however you'd like.
I've used melted white chocolate as a pretty (and super easy!) drizzle on top of the cookies.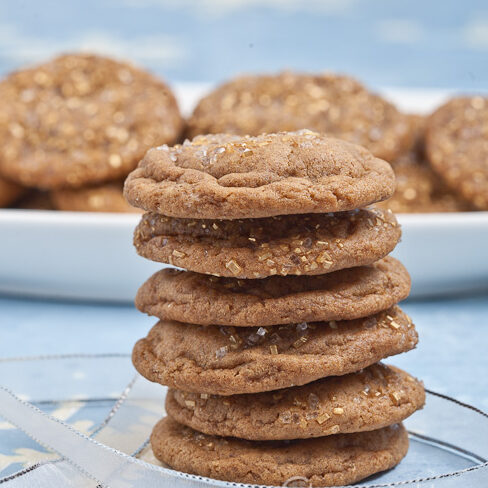 How to Make Gingerbread Cookies: Key Tips
Let your butter come to moderate room temperature – it should be softened, but not at all melty.
Beat butter and sugar for a full 3-4 minutes, until the mixture is light and fluffy. Many cookie-baking-woes are eliminated by not skimping on this step.
Always be sure you have a fresh box of baking soda every baking season, as the freshness affects rise-ability during baking.
Just gently combine the dry and wet ingredients together until a dough forms; take care not to over-mix cookie dough, or it may take on a tougher texture.
The dough typically needs about 30 minutes to chill. You can also chill the dough overnight, and let it sit at room temperature just until it's workable. Dough should remain cool to the touch before it goes into the oven.
If you have unbaked cookies waiting to go into the oven, keep them chilled until it's their turn to bake; this step is especially helpful if you're baking cut-out cookie shapes.
Do not freeze this cookie dough; if you'd like to make the dough in advance, keep it tightly wrapped in the fridge for up to a week.
Soft Gingerbread Cookies
Commonly Asked Questions
How do you decorate gingerbread cookies?
You can keep it simple by sprinkling on festive coarse sugar sprinkles right before baking, pressing the sprinkles onto the top of cookies to adhere. For a super easy "icing," we melt white chocolate chips or use candy melts to drizzle or dip baked cookies in. Candy melts set up quite nicely upon cooling.
How long do you bake gingerbread cookies for?
For 1 tablespoon sized cookie balls, we bake it at 350ºF for 8-9 minutes. The cookies will seem a bit underbaked at that point, but they'll set upon cooling.
How long do gingerbread cookies last?
You can keep unbaked cookie dough in the fridge, covered, for up to a week. Baked cookies should be kept airtight at moderate room temperature, also up to a week.
More to Bake and Eat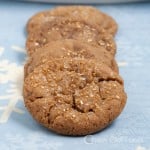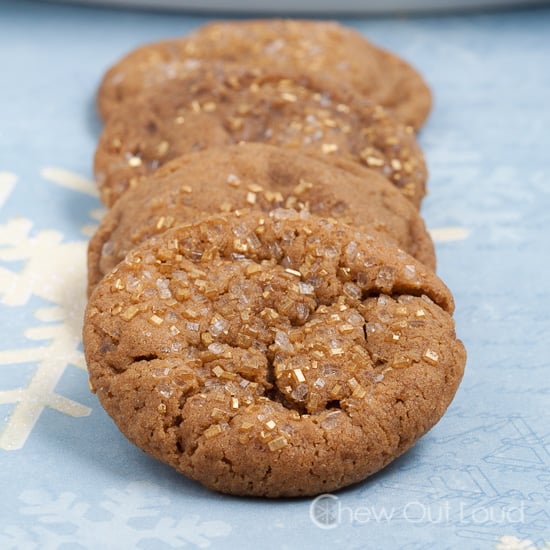 Chewy, Soft Ginger Cookies
These gingersnap cookies are chewy, soft, and stay that way for many days. They are perfect for gift giving and holiday cookie trays. They look basic, but they taste amazing.
Servings: 24 cookies
In a large bowl, whisk together the four, baking soda, spices, and salt. Set aside.

In the bowl of a stand mixer, beat together the softened butter with both sugars on med-high, until light and fluffy, about 3-5 min. Beat in the egg on med-low until incorporated. Add orange juice and molasses, continuing to beat just until combined.

Carefully combine dry ingredients with the butter mixture, stirring together by hand until ingredients are fully incorporated. Cover tightly and chill in fridge for 30 min or until dough is firm enough to handle.

Meanwhile, preheat oven to 350F. Line baking sheets with parchment paper or silicone baking mats.

Shape dough into 1-TB sized balls. Place them 2 inches apart on lined baking sheet, and sprinkle tops with coarse sugar if desired.

Bake 8-9 minutes, taking care not to over-bake. Cookies will appear very soft. Allow cookies to cool on baking sheet without disturbing them for 5 minutes, and transfer to wire rack to finish cooling. Cookies will keep well in airtight container at room temp.
Always ensure flour is measured accurately; use this simple Scoop and Level method.
If you prefer, you can use apple juice or milk instead of orange juice.
If you're rolling out the cookie dough and cutting into shapes, keep unbaked shapes in the fridge until it's their turn to bake; this will help them keep their shape as they bake.
Decorating ideas: melt white chocolate for a super-easy and pretty drizzle. Use colorful sprinkles. Try candy melts, for smooth and tasty icing colors.
If you enjoyed this recipe, please come back and give it a rating! ♡
Serving: 1cookie | Calories: 134kcal | Carbohydrates: 20g | Protein: 1g | Fat: 6g | Saturated Fat: 4g | Polyunsaturated Fat: 0.3g | Monounsaturated Fat: 2g | Trans Fat: 0.2g | Cholesterol: 15mg | Sodium: 95mg | Potassium: 66mg | Fiber: 1g | Sugar: 12g | Vitamin A: 180IU | Vitamin C: 1mg | Calcium: 22mg | Iron: 1mg
Did you make this?
Leave a comment below and tag @chewoutloud on Instagram