Buttery Smashed Potatoes Recipe | Chef Dennis
My Buttery Smashed Potatoes are basically double-baked potatoes, just a smaller version. Lightly coated with olive oil and oven-roasted until tender. Then smashed, seasoned and brushed with butter. Then baked again until golden brown with crispy edges.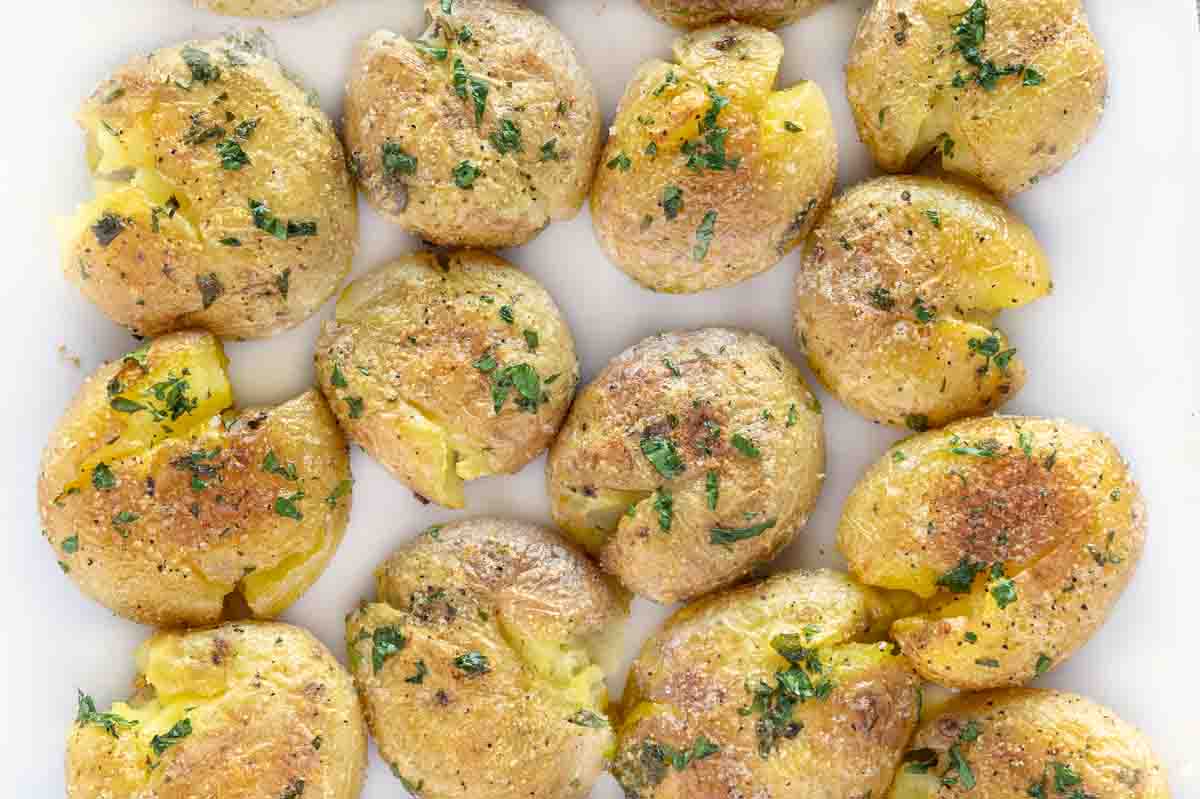 When it comes to versatility, nothing matches that of the potato. And my Smashed Potatoes are yet another delicious example of how to serve them.
I know my Smashed Potatoes Recipe is going to become one of your favorite potato recipes! It's definitely one of mine.
Ingredients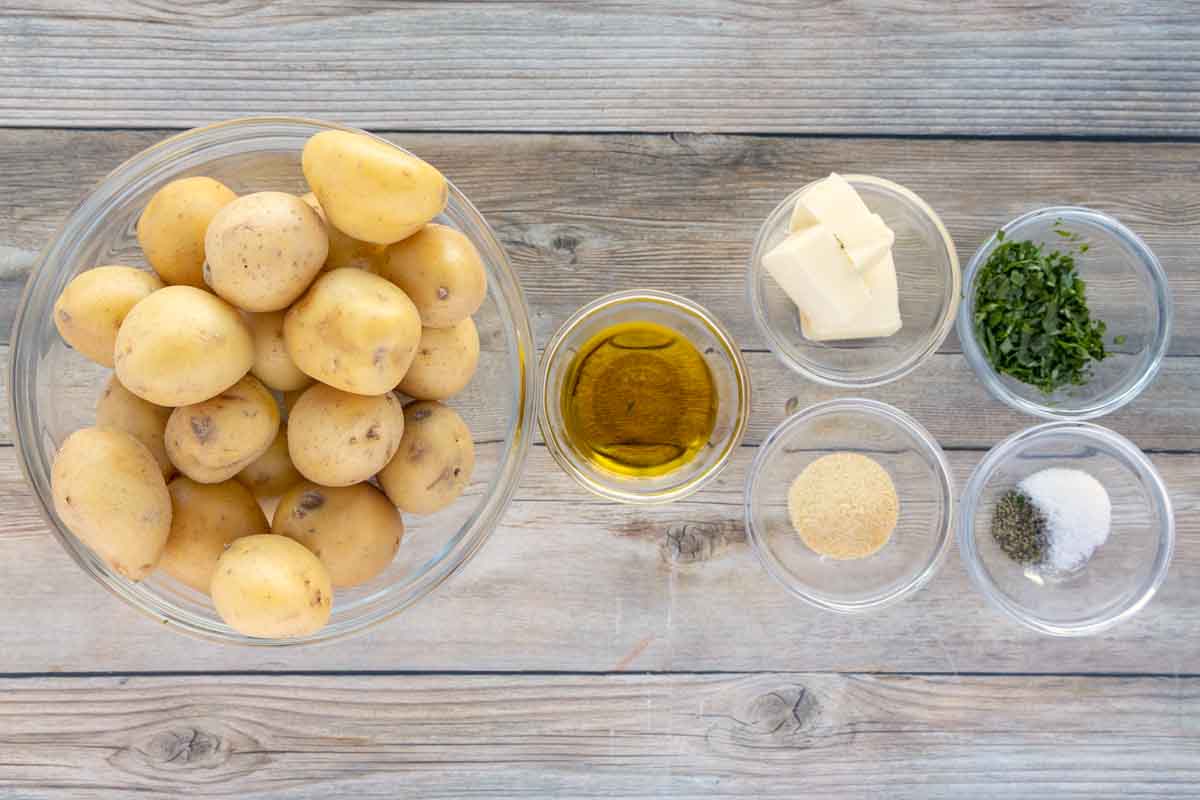 Let's start by gathering the ingredients we need to make my Crispy Smashed Potato Recipe. In Chef Speak this is called the "Mise en Place" which translates to "Everything in its Place".
Not only does setting your ingredients up ahead of time speed up the cooking process, it also helps ensure you have everything you need to make the dish.
Simply Pantry Ingredients
baby golden potatoes (or your favorite little potato)
olive oil
butter
salt
black pepper
onion powder
garlic powder
chopped Italian parsley
How to make Smashed Potatoes
Some recipes call for you to boil the potatoes in salted water. Not only is that extra work, but the water will penetrate the potato and leach out some of the flavors.
Preheat the oven to 375 degrees F.
The first step is rinsing the potatoes under cold water to get rid of any dirt or particles.
Place the potatoes in a large bowl
Add olive oil to the potatoes and season with salt and black pepper.
Toss the potatoes to coat in oil and seasonings.
Place the potatoes on a foil-lined (or parchment lined) sheet pan. Don't crowd them.
Place the sheet pan on the center rack of the preheated oven and bake for 20 minutes or until tender.
While the potatoes are baking, melt the butter in a small saucepan, and add the seasonings.
These potatoes can be cooked in an air-fryer and will be even crispier!
Using a potato masher, heavy spoon, coffee mug, or spatula, lightly smash down on the potato. Some will smash really well and others will just bulge out a bit.
Brush the potatoes liberally with seasoned butter.
Place back into the oven and continue to bake for 10 minutes. If you want really crispy potatoes, let them bake for 20 minutes.
*Feel free to add a sprinkle of grated parmesan cheese or your favorite fresh herbs to the potatoes before the second baking.
These delicious little bits of pure potato heaven go well with just about any meat or seafood you can think of. I served these double-baked little potatoes with my Prime Rib Roast, and it was a perfect side dish.
I've also served it with pork and baked salmon. But no matter what you serve them with, they're guaranteed to bring smiles to your dinner table!
*Serve them with sour cream if you're feeling indulgent.
Recipe FAQ's
How can I make the potatoes extra crispy?
The easiest way to make the potatoes extra crispy is to flatten them more. The flatter the potatoes, the crisper they will get.
Do I have to use baby potatoes to make smashed potatoes?
No, you don't. You can cut regular potatoes into chunks and then follow the recipe. Just make sure not to press too hard when you flatten them since there isn't a full covering of skin to keep the chunk intact.
Can I make smashed potatoes in an air fryer?
You sure can. The recipe will be the same, with the air fryer set at 400 degrees F.
More Recipes You'll Love!