Apple Walnut Salad – Detoxinista
This Apple Walnut Salad is the perfect way to enjoy peak apple season. Bring it to a holiday party, or enjoy it as delicious lunch topped with your favorite protein.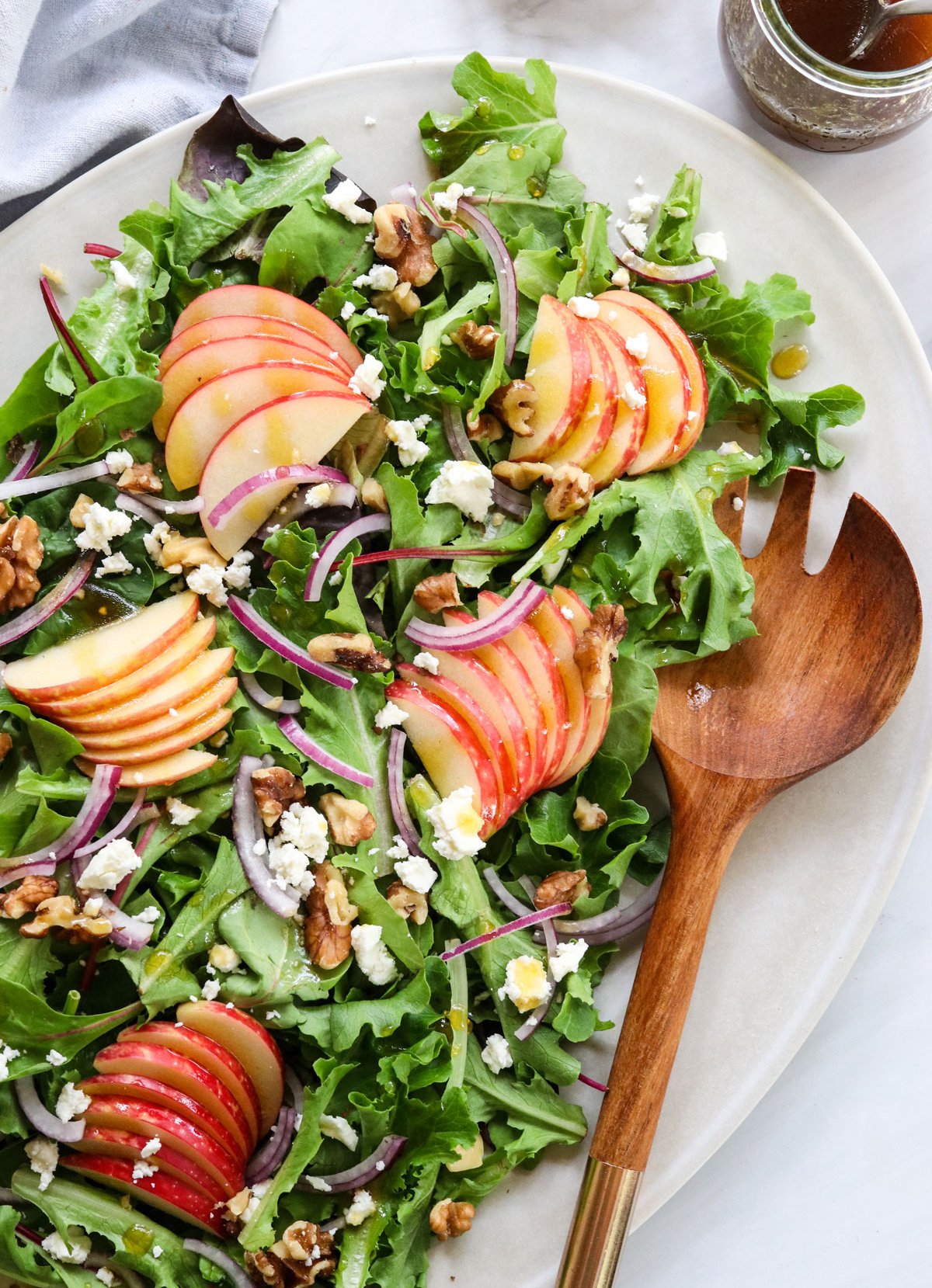 Why You'll Love It
It's easy to make. This salad requires minimal prep work, but it tastes impressive! Just stir together 5 simple ingredients to make the dressing and chop an apple and red onion before you assemble it all together. 
It's delicious. Homemade salad dressing tastes 100% better than anything you can buy at the store, and when you pair it with creamy feta cheese, crisp apples, and walnuts for crunch, this quickly becomes a salad you'll crave. 
It can be made ahead of time. If you need an easy salad for Thanksgiving or Christmas, you can stir together the dressing up to 5 days in advance. Chop the apple and onion right before serving, and it's ready to place on the table in less than 10 minutes. 
It's easy to customize. If you don't have walnuts on hand, you can easily swap them for pecans or sliced almonds. You can also use another cheese, such as goat cheese or blue cheese, and any other salad greens you love, such as romaine or red leaf lettuce. Top it with baked chicken for a complete meal, or baked tofu for a vegetarian option.
Ingredients You'll Need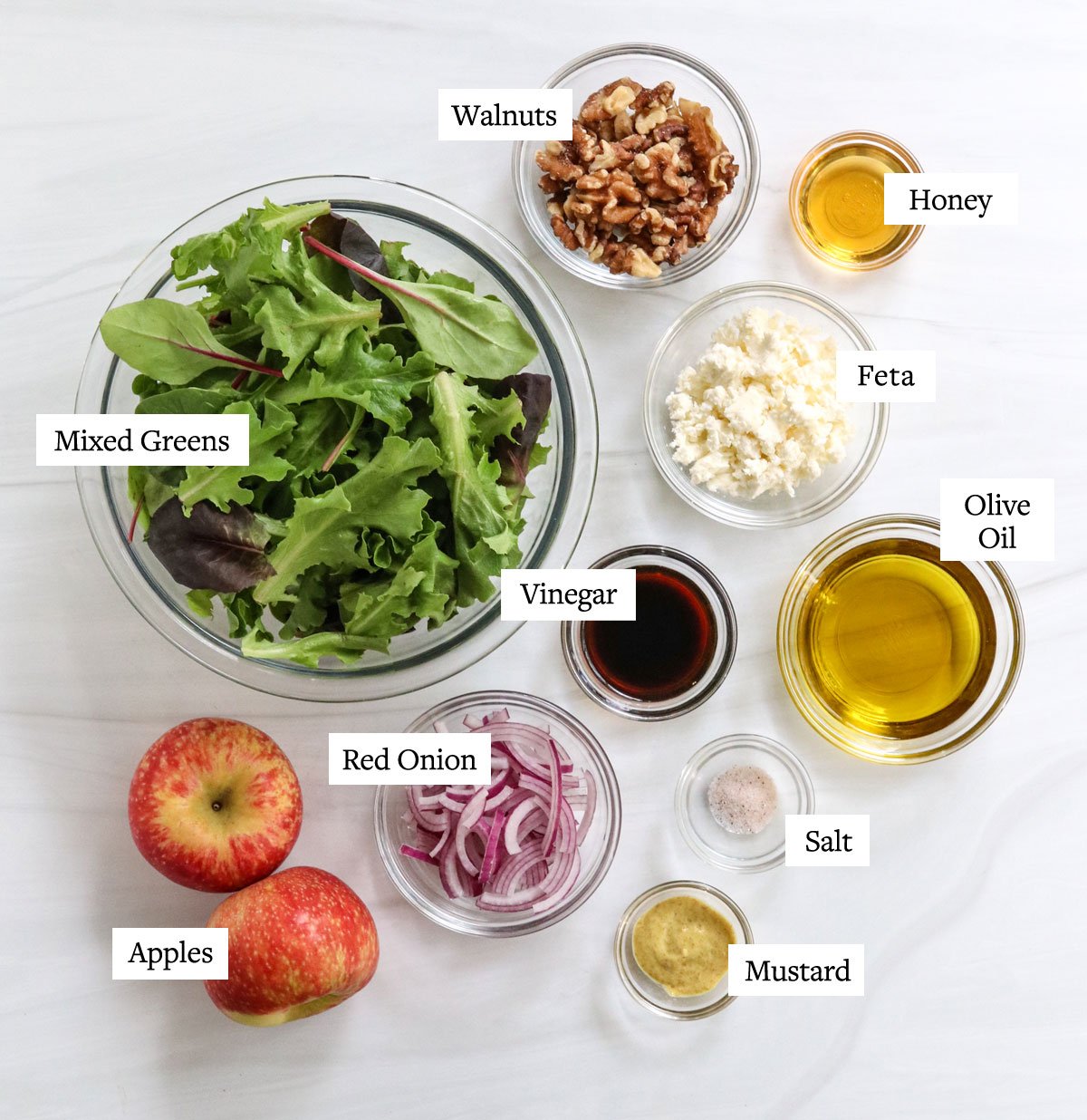 What's in an apple walnut salad? 
Apples
Lettuce
Red onion
Walnuts
Feta cheese
Balsamic vinaigrette (recipe below!)
You can use any type of apples for this recipe, such as Gala, Fuji, or green apple. (I used honeycrisp apples in these photos.)
You can also add any other Fall toppings you love, like dried cranberries or sliced figs. 
How to Make the Best Apple Walnut Salad
1. Mix the dressing. 
In a small bowl, combine the balsamic vinegar, olive oil, honey, dijon mustard, and salt. Whisk well, until the dressing looks thicker and well mixed. 
Note: You can make this dressing up to 5 days in advance, but keep in mind that it may thicken up in the fridge. Bring it to room temperature again by running the sealed jar under warm running tap water, or let it sit on the counter 30 minutes before serving. I purposefully didn't add garlic to this salad dressing recipe because it can become pungent as it sits in the fridge, but feel free to add some if you'd like to.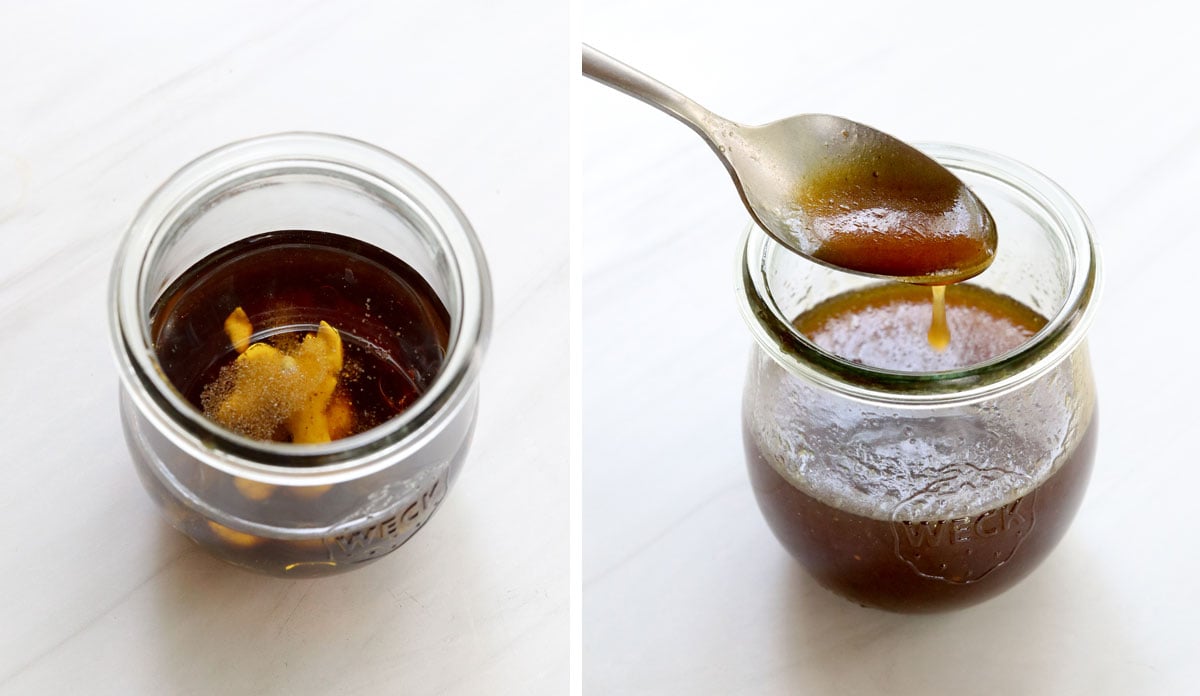 2. Plate the salad. 
The only things you need to slice for this recipe are the apples and red onion.
Thinly slice them for the best texture, then arrange the apple slices and onion on a bed of mixed greens in a large bowl. (Use the store-bought mix that is pre-washed for the fastest results.)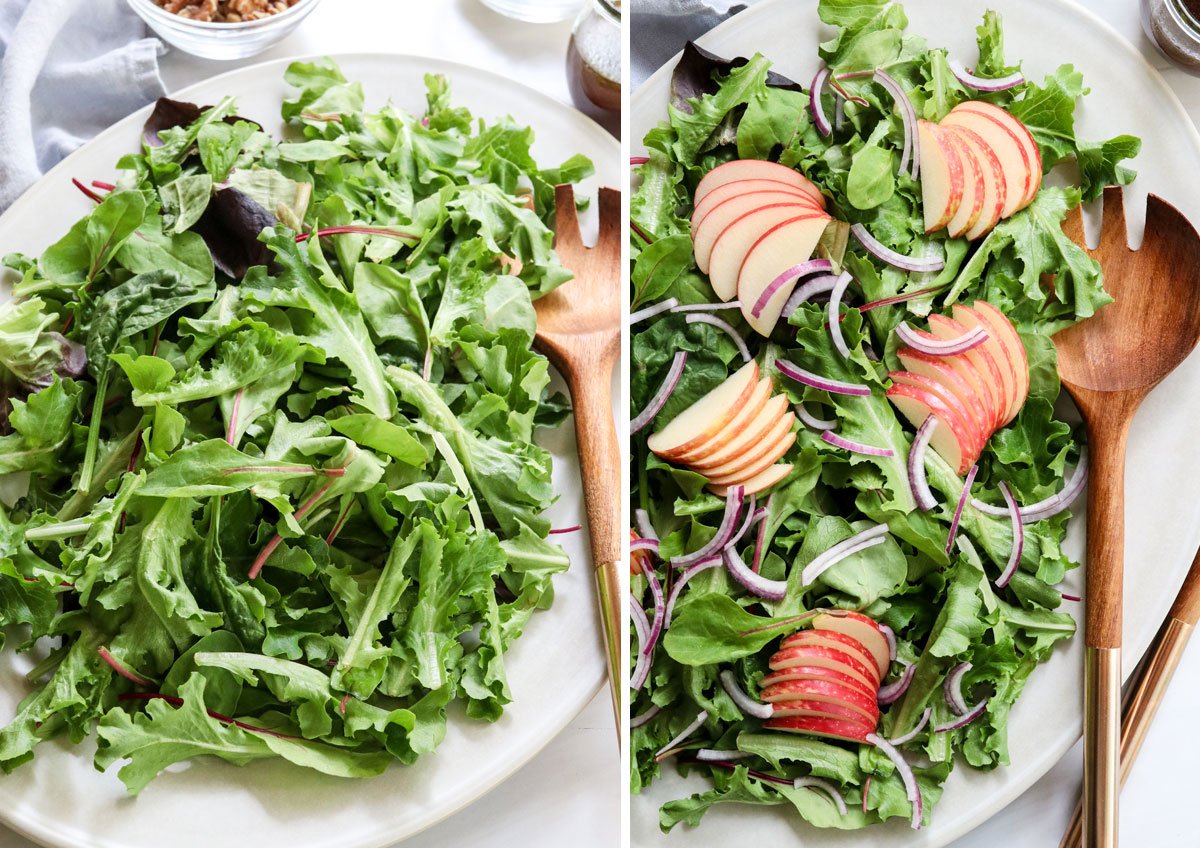 3. Enjoy!
Add the walnuts and feta on top, then drizzle on the balsamic vinaigrette right before serving.
This salad is best served right away once you've added the apples and dressing. If you need the apples to last longer, try squeezing some lemon juice over them to prevent browning after they are sliced.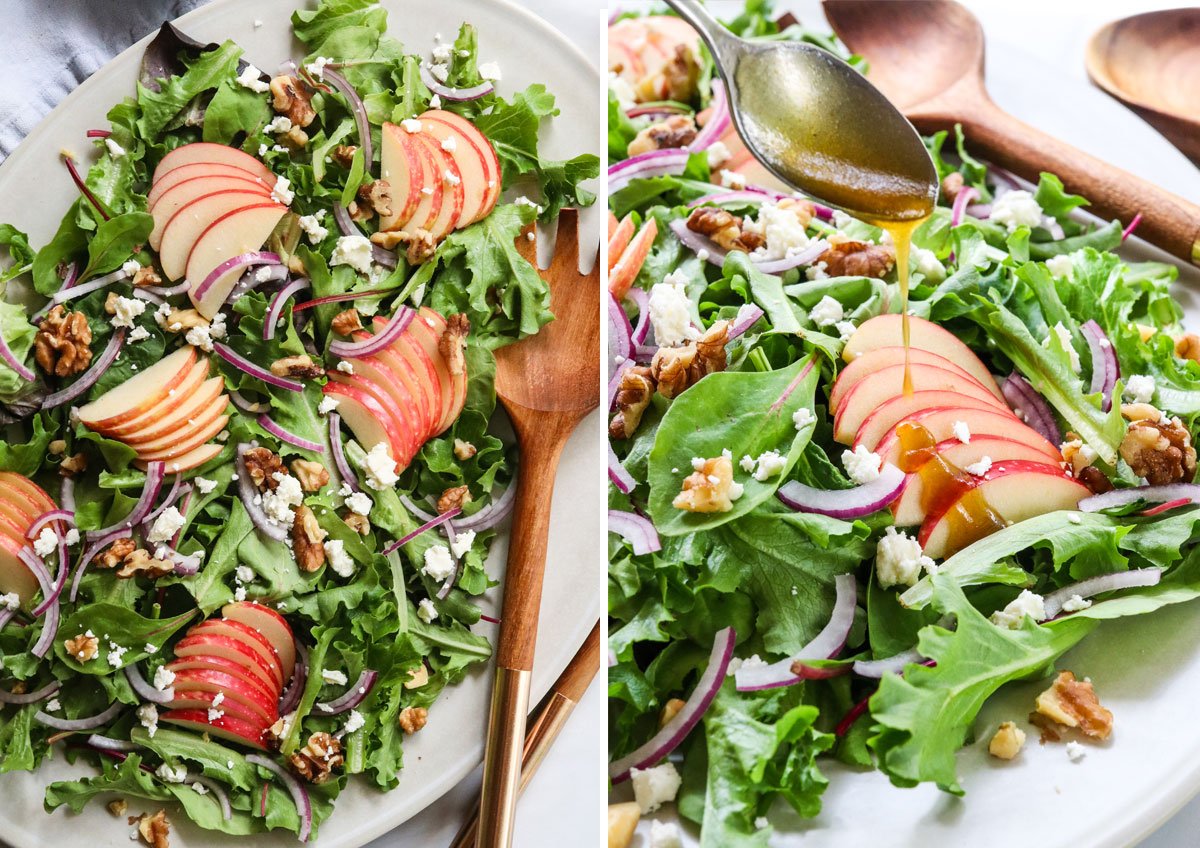 Leftovers can be stored in an airtight container in the refrigerator. The sliced apple and red onion should be used within 24 hours for the best flavor & texture, but the salad greens, feta cheese, and dressing can be stored in separate containers in the fridge for up to 5 days, if you'd like to make this in advance.
Common Questions & Substitutions
Can I make this salad vegan? Yes, you can swap the honey for maple syrup in the salad dressing to make it vegan friendly, and omit the cheese. (Or use a dairy-free option, instead.)
Can I use another vinegar? Yes, you can use red wine vinegar or apple cider vinegar with similar results.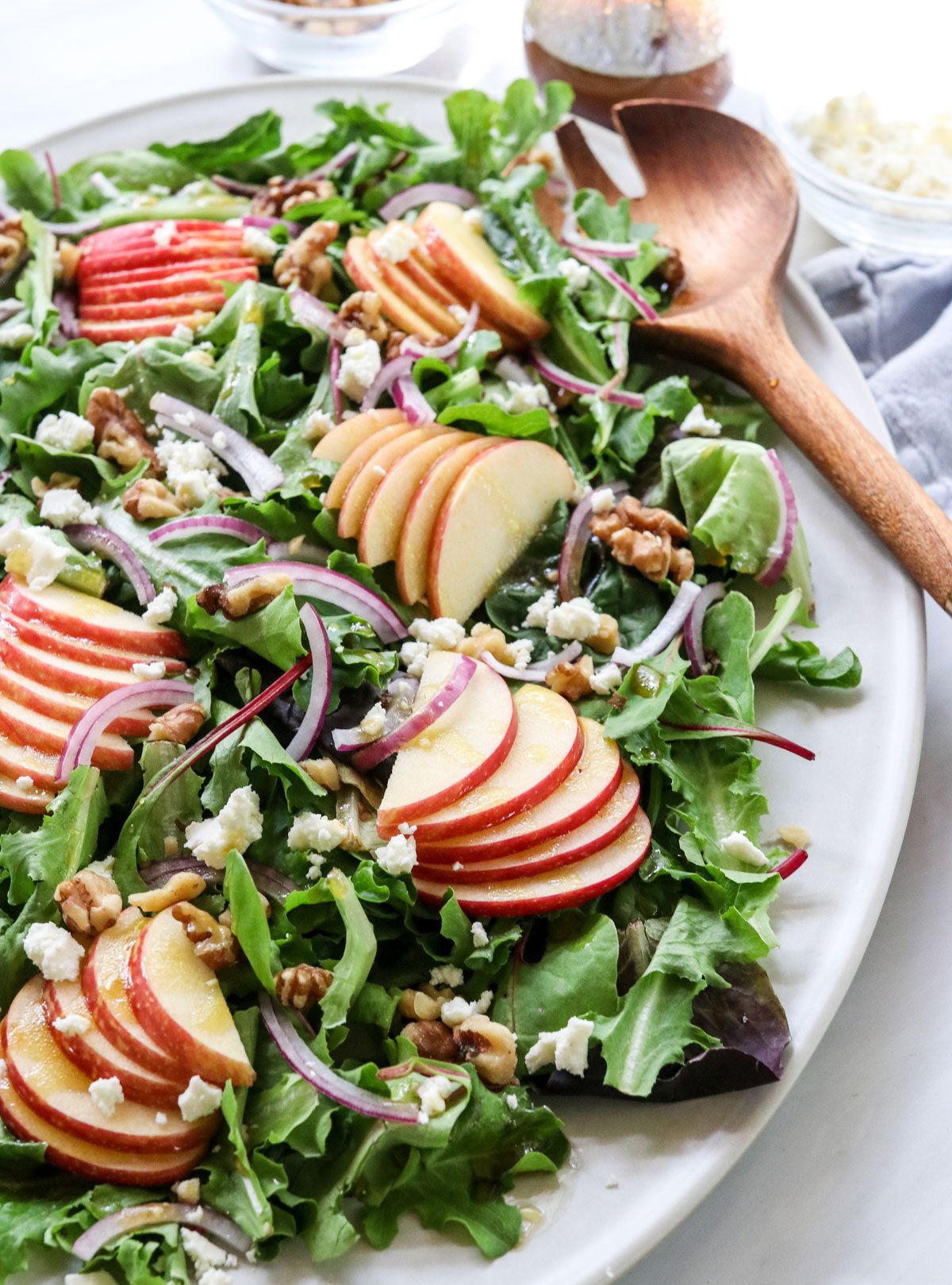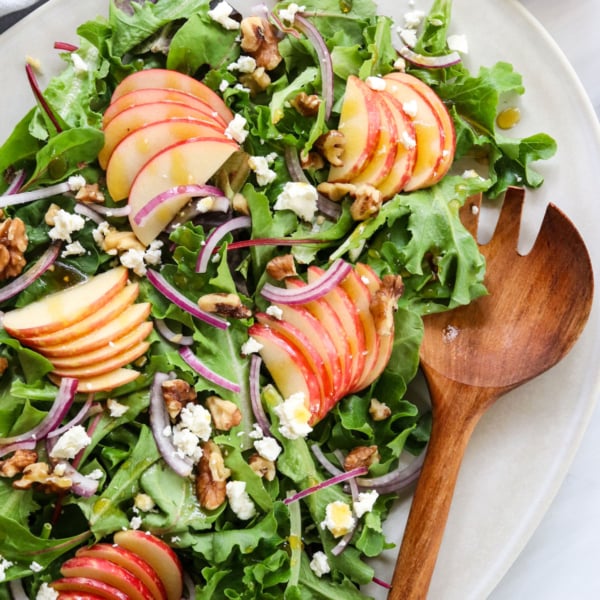 The Best Apple Walnut Salad
This Apple Walnut Salad is topped with crunchy walnuts and a delicious honey balsamic vinaigrette. It's the perfect dish to bring to a holiday party, and will make you crave your next salad.
Servings: 6
Ingredients
Balsamic Dressing
1/4

cup

extra-virgin olive oil

2

tablespoons

balsamic vinegar

(see note)

2

tablespoons

honey

1

teaspoon

spicy brown mustard

¼

teaspoon

fine sea salt
Salad
6

cups

mixed greens

1

medium

apple

, thinly sliced

¼

red onion

, thinly sliced (about ½ cup)

½

cup

raw walnuts

, roughly chopped

¼

cup

feta cheese

, crumbled (optional)
Instructions 
To prepare the balsamic vinaigrette, add the olive oil, vinegar, honey, mustard, and salt to a small bowl. Whisk well, until the dressing looks thicker, then set it aside.

To assemble the salad, add the mixed greens to a large serving plate and top it with the sliced apples and red onion. Then sprinkle on the walnuts and feta, if using.

Drizzle the dressing over the salad just before serving. You might not use all of the dressing right away, but I like to serve the extra on the side in case guests would like to add more. Leftover dressing can be stored in an airtight container in the fridge for up to 5 days. It will thicken when chilled, so run the jar under warm running tap water to thin it out again.
Notes
Nutrition information is for 1 of 6 servings, about 1 heaping cup of salad with dressing. This information is automatically calculated (using all of the dressing) and is just an estimate, not a guarantee.
I used a relatively cheap balsamic vinegar when testing this recipe. If you buy an aged one that is thicker, almost like a balsamic glaze, you should cut-back on the honey, as the vinegar may already be sweet!
For a vegan recipe, omit the cheese and use maple syrup instead of honey.
You can make the dressing up to 5 days in advance if you'd like to plan ahead for a holiday, but I wouldn't slice the apple and onion until shortly before you plan on serving it, for the best flavor and appearance.
Nutrition
Calories: 210kcal, Carbohydrates: 14g, Protein: 3g, Fat: 17g, Saturated Fat: 3g, Polyunsaturated Fat: 6g, Monounsaturated Fat: 8g, Cholesterol: 6mg, Sodium: 190mg, Potassium: 166mg, Fiber: 2g, Sugar: 10g, Vitamin A: 500IU, Vitamin C: 11mg, Calcium: 51mg, Iron: 1mg
Update note: This recipe was updated in October 2022 with a slight tweak to the dressing, in case you don't always keep expensive balsamic vinegar on hand. The original recipe called for 2 teaspoons of honey, a 1/2 teaspoon of spicy brown mustard, and a pinch of salt, if you preferred that version. I think this updated recipe works even better for the holidays, though!
If you try this apple walnut salad recipe, please leave a comment and star rating below letting me know how you like it!